A classic homestyle macaroni salad with a light, creamy dressing and the tasty addition of diced ham, red bell pepper and tomato.
.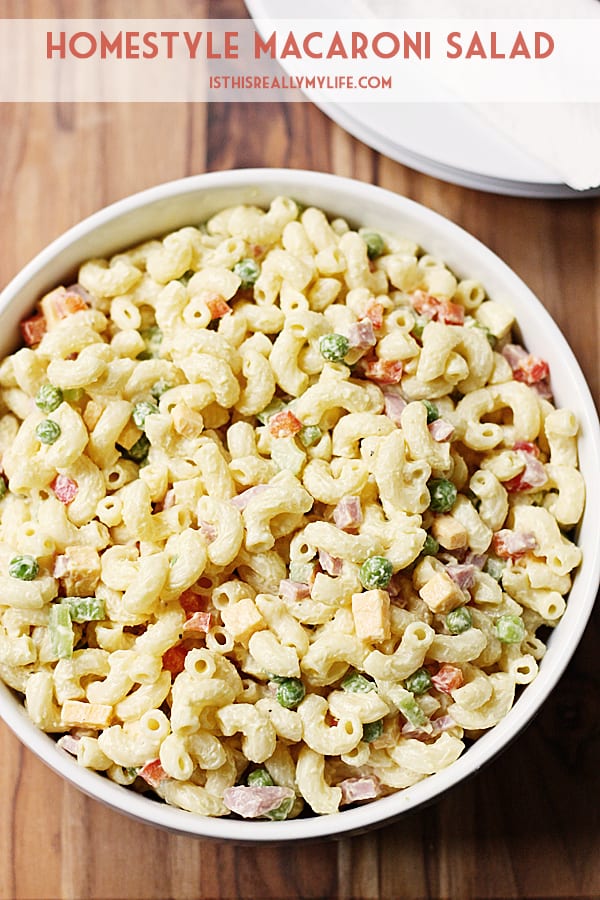 .
When my dad requests macaroni salad for his retirement party, you bet I'm going to scour the Interweb for the best homestyle macaroni salad recipe. I refuse to buy store-bought macaroni salad when we're talking my dad's heard-earned retirement.
.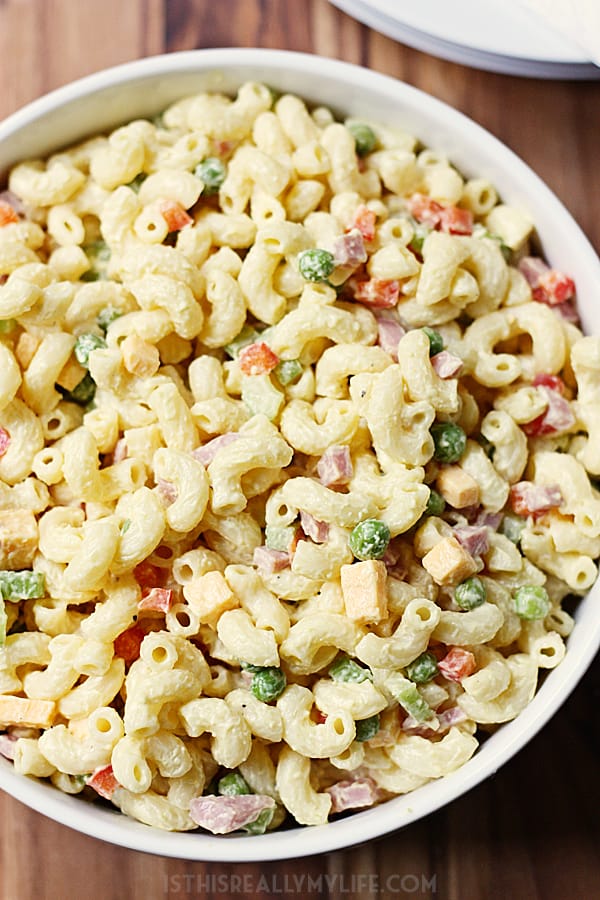 .
After doing a bit of browsing (and pinning), I settled on this macaroni salad from Favorite Family Recipes. Wanting an excuse to taste test the recipe, I served it alongside steak for our family Father's Day dinner.
.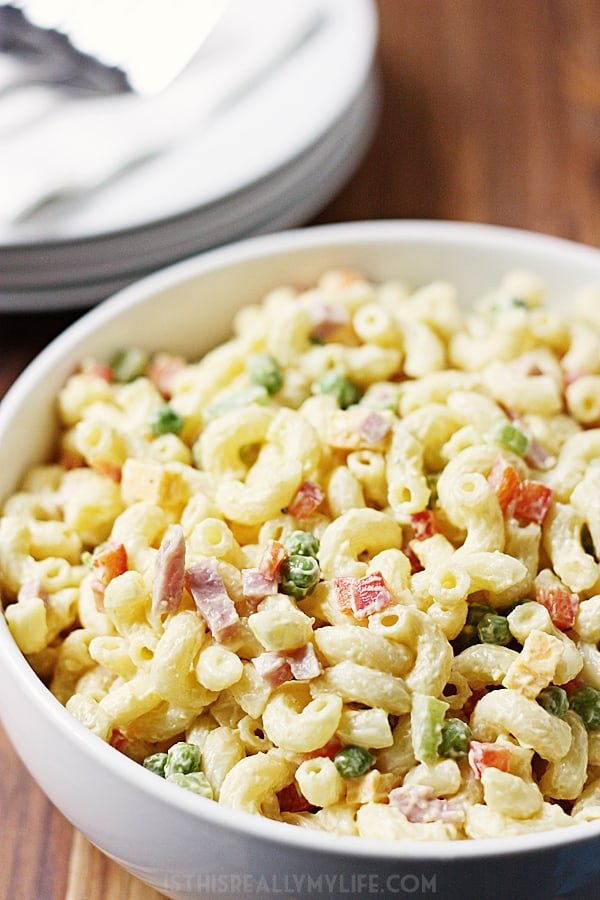 .
It was a huge hit. Like, HUGE.
When I made it, I chose to leave out the carrots (kind of wish I'd left out the peas) and added diced ham, red bell pepper and tomato. Next time I think I'll add in some diced dill pickle too. Heck, I may even throw in some diced avocado just before serving.
Sometimes I get crazy like that.
.

.
But I'm totally going to leave the dressing as is. It was perfect.
Printable recipe for homestyle macaroni salad below.
...

Homestyle Macaroni Salad
Light yet delicious classic macaroni salad. This is my new go-to recipe for backyard barbecues and family parties. Huge hit! Adapted from Mom's Macaroni Salad on FavoriteFamilyRecipes.com.
Author:
Emily ~ isthisREALLYmylife.com
Ingredients
1 (16-oz.) package elbow macaroni
1½ c low-fat mayo
2 T mustard
¼ c low-fat sour cream
2 T apple cider vinegar
2 T sugar
1 cup diced ham
1 cup diced cheddar cheese
1 red bell pepper, diced
1 cup chopped celery
½ tsp kosher salt (or to taste)
Freshly ground black pepper (to taste)
Optional:
⅔ cup frozen peas, thawed
2 carrots, grated
½ cucumber, peeled and diced
¼ to ½ cup chopped dill pickle
1 to 2 roma tomatoes, seeded and diced
Instructions
Prepare macaroni al dente. Drain and rinse in cold water. Set aside.
Combine mayo, mustard, sour cream, apple cider vinegar and sugar in a small mixing bowl.
Combine macaroni with ham, cheese, bell pepper and celery (and any optional additions) in a large bowl. Add mayo mixture and toss until pasta is evenly coated. Season with salt and pepper to taste.
Cover with plastic wrap and refrigerate overnight.
Notes
If macaroni salad appears a bit "dry" after being refrigerated overnight, add milk a tablespoon at a time until desired consistency.
.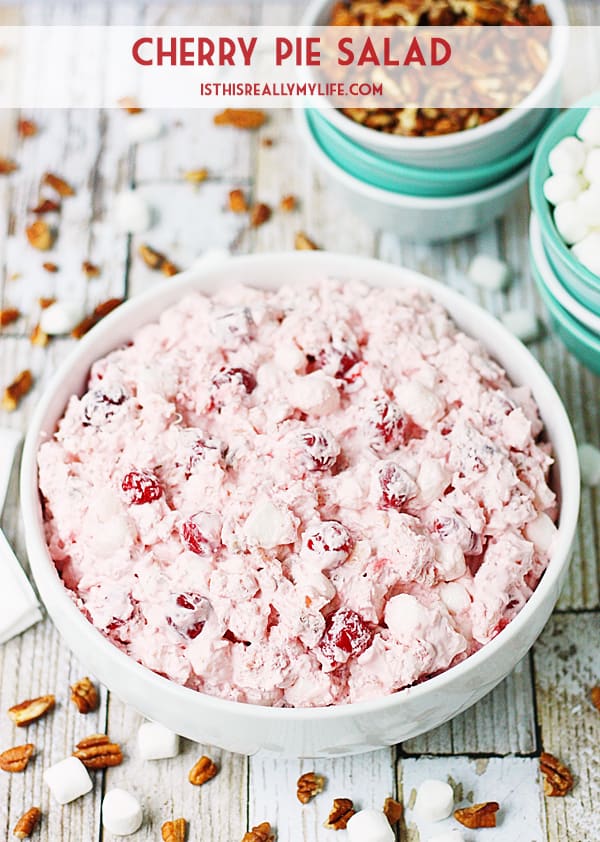 .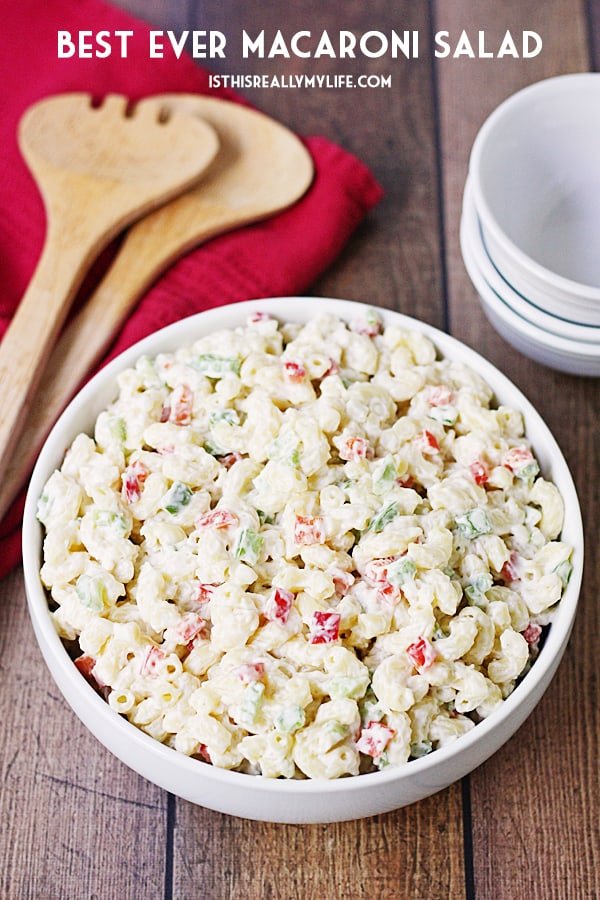 .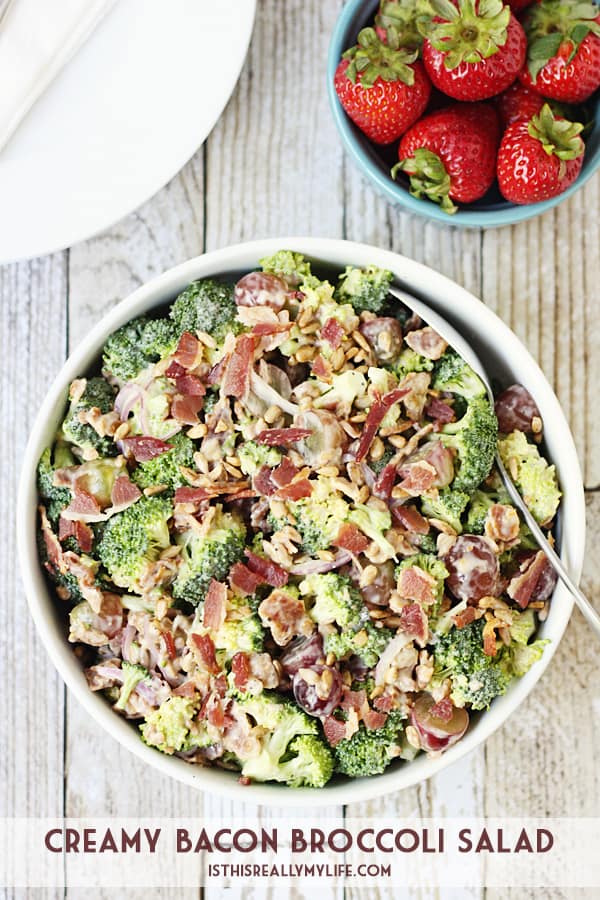 .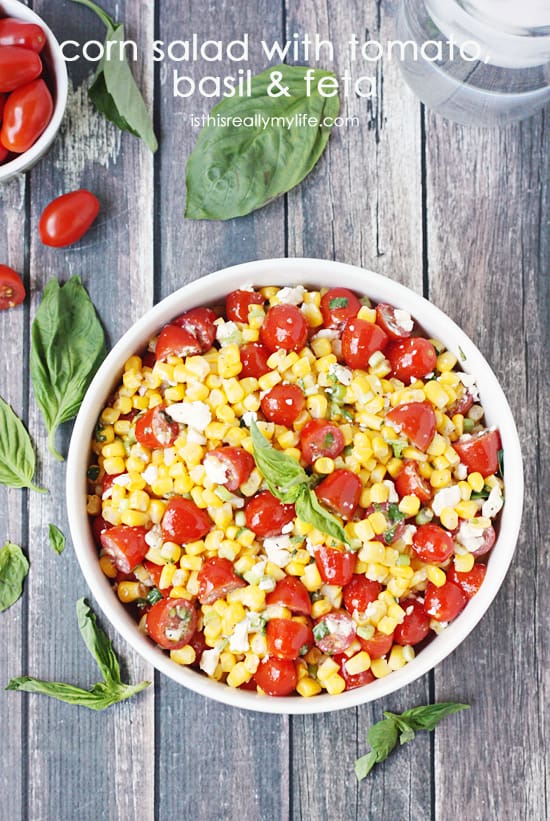 Corn salad with tomato, basil & feta
.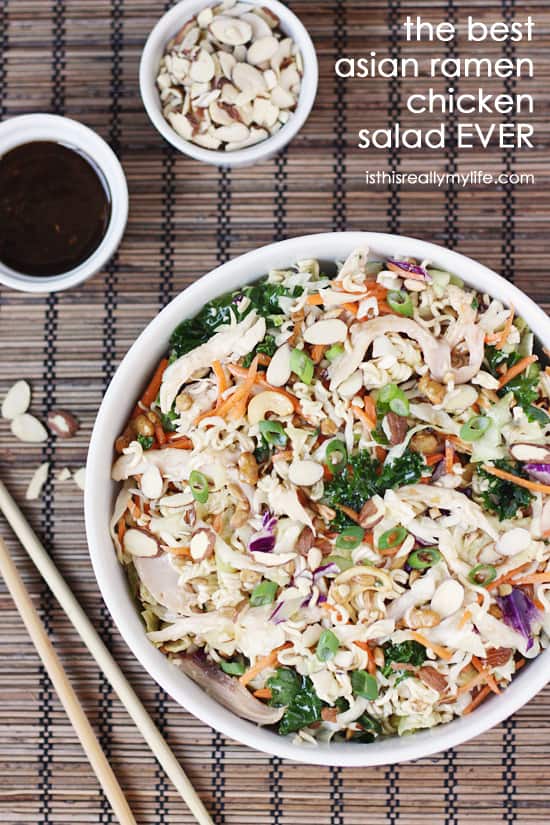 .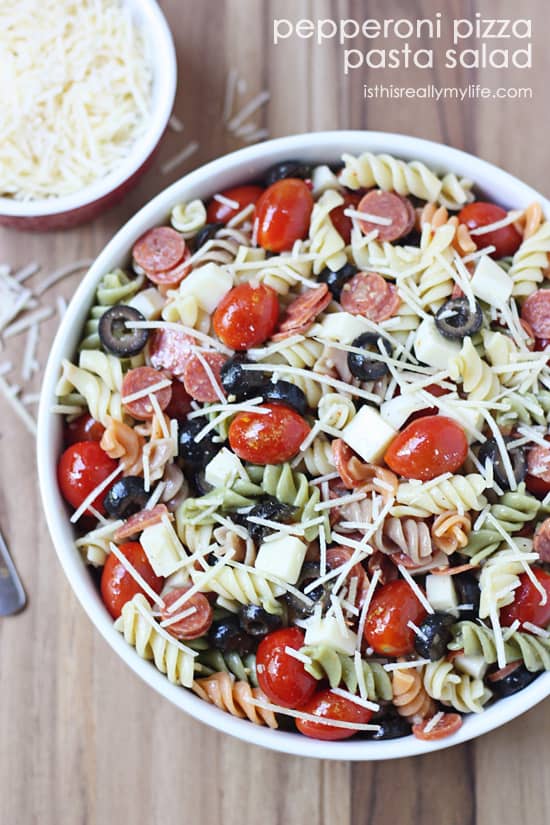 .

.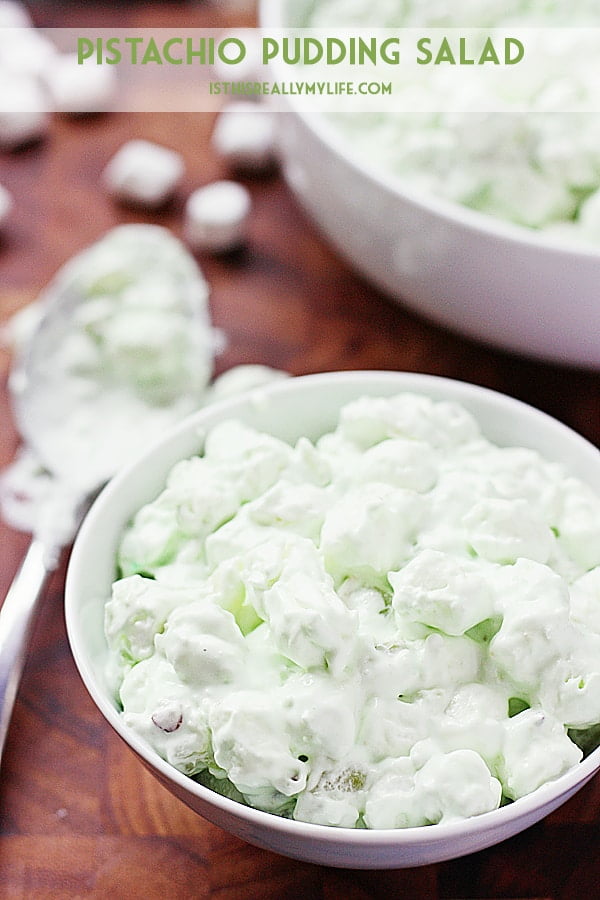 Pistachio pudding salad (my mom's specialty)
.
.
Looking for more yummy recipes? Try browsing my best of Is This Really My Life Pinterest board. I guarantee you'll find quite a few!
.
.

Feel free to "like" is this REALLY my life? on Facebook. It won't always earn you an extra entry in a giveaway but it will give you warm fuzzies.
Don't forget to sign up for free Is This Really My Life updates via RSS or email so you don't miss a single awesome post.
.