It was National Pancake Day on Tuesday, and because our family LOVES having breakfast for dinner, we were more than happy to celebrate! I even busted out all the moves by skipping the Bisquik mix and Mrs. Butterworth's syrup and made the pancakes and buttermilk syrup from scratch. Hey, a national "breakfast for dinner" day is a cause for some serious celebration around here.
For the pancakes, I used the Fluffy Pancakes recipe from Allrecipes.com and quadrupled it so we'd have plenty of leftovers for breakfast the next day (and the next and the next…). By the way, I love how Allrecipes.com makes it easy to scale the recipes on their site. I didn't have to tax any extra brain cells—always a good thing!
For the syrup, I went with the Buttermilk Syrup recipe also found on Allrecipes.com. The reviews were good, the ingredients few and the steps easy. That's my kind of recipe!
Both pancakes and syrup were a big hit, so I thought I'd share them with you. It may be 363 days until the next National Pancake Day, but it's only a few hours until dinner time!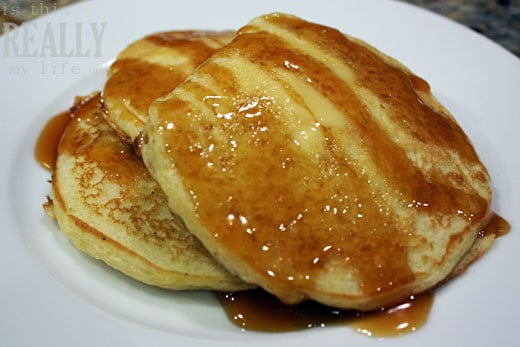 …
Fluffy Pancakes
3/4 cup milk
2 tablespoons white vinegar
1 cup all-purpose flour
2 tablespoons white sugar
1 teaspoon baking powder
1/2 teaspoon baking soda
1/2 teaspoon salt
1 egg
2 tablespoons butter, melted
cooking spray
Combine milk with vinegar in a medium bowl and set aside for 5 minutes to "sour".
Combine flour, sugar, baking powder, baking soda, and salt in a large mixing bowl. Whisk egg and butter into "soured" milk. Pour the flour mixture into the wet ingredients and whisk until lumps are gone.
Heat a large skillet over medium heat, and coat with cooking spray. Pour 1/4 cupfuls of batter onto the skillet, and cook until bubbles appear on the surface. Flip with a spatula, and cook until browned on the other side.
…
Buttermilk Syrup
1 1/2 cups white sugar
3/4 cup buttermilk
1/2 cup butter
2 tablespoons corn syrup
1 teaspoon baking soda
2 teaspoons vanilla extract
In a saucepan, stir together the sugar, buttermilk, butter, corn syrup, and baking soda.
…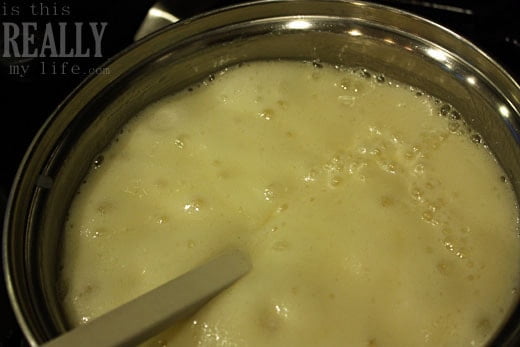 Bring to a boil, and cook for 7 minutes.
…

Remove from the heat, and stir in the vanilla. To serve, pour in a fancy glass pitcher (or the closest mason jar you can find).
…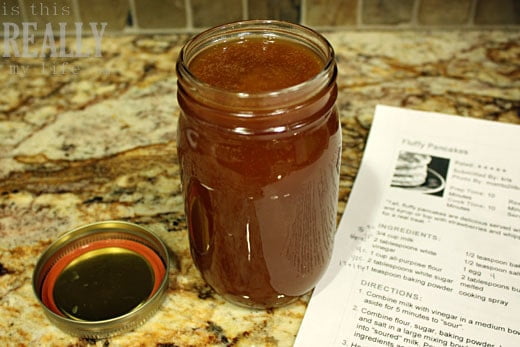 I am thinking this will make a great holiday gift idea for neighbors this year! Tasty syrup, cute little mason jar…and I become the favorite!