Ever since our church Relief Society's annual progressive dinner and bake-off, I've been dying to make this recipe for homemade Deer Valley granola. I sampled it that evening and have had it on my to-make list ever since. And then with delicious granola recipes getting posted here and there, I knew I had to make it sooner rather than later!
I made a trip to Whole Foods Market a couple weeks ago, loaded up my cart with bags and bags of goodies from the bulk food aisle. Funny story there. After loading up on sunflower seeds and pumpkin seeds, I realized I'd bagged the roasted and salted varieties rather than "raw." It's not very easy to restock those seeds, trust me, so make sure you choose the right kinds.
Of course those bags sat on my kitchen counter until some cheeky comments by Madison ("How's that Deer Valley granola coming?" "Made that granola yet?") prompted me to finally make a batch. And I am SO glad I did…and SO glad I tripled it. I have a feeling it's going to disappear quickly with four granola lovers in the family. (Tripling it might have been a bit much, but I'd definitely double it.)
You can eat this Deer Valley granola straight, add milk for a healthy, filling breakfast or use it as a topping on yogurt, frozen yogurt or ice cream. It's sure to be a hit no matter what you do with it—unless you strew it all over the kitchen floor. Then it's not such a hit.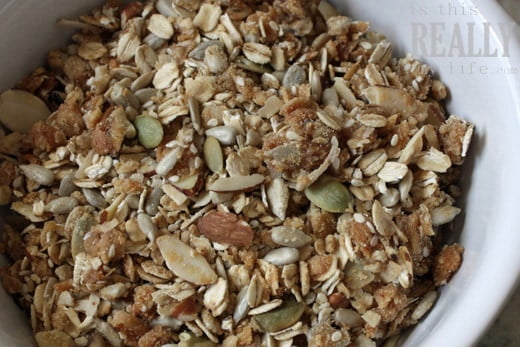 Deer Valley Granola
3 cups old-fashioned oats
1 cup instant nonfat dry milk powder
3/4 cup shelled sunflower seeds
3/4 cup sliced almonds
1/3 cup sesame seeds
1/3 cup pumpkin seeds
1/3 cup flaked coconut
1/4 cup canola oil
1/2 cup honey
1/2 tsp vanilla extract
1/3 cup chopped pecans, optional (but not really…)
1/2 cup brown sugar (and again, not really…)
Preheat oven to 300 degrees. Add the rolled oats, milk powder, sunflower seeds, almonds, sesame seeds, pumpkin seeds and coconut in a large bowl (pecans also if using).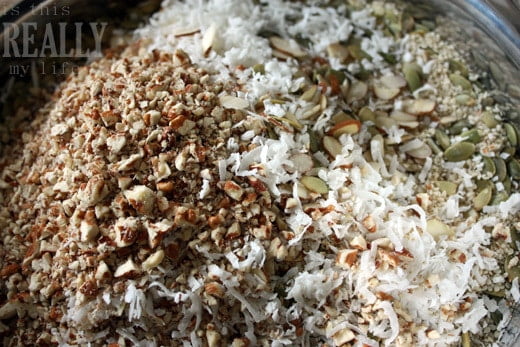 Mix until well combined.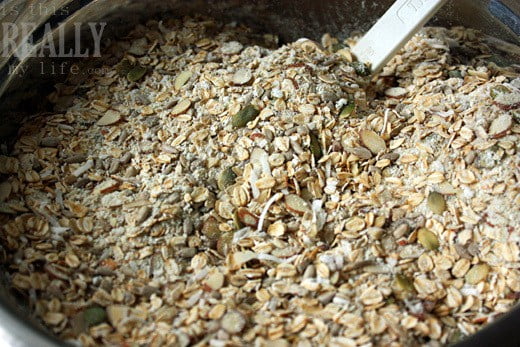 Measure the oil in a 1-cup measure. Swish it to coat up to the 3/4-cup mark, then add the honey to the mark. Add brown sugar if using. Add vanilla. Pour the liquids over the dry ingredients…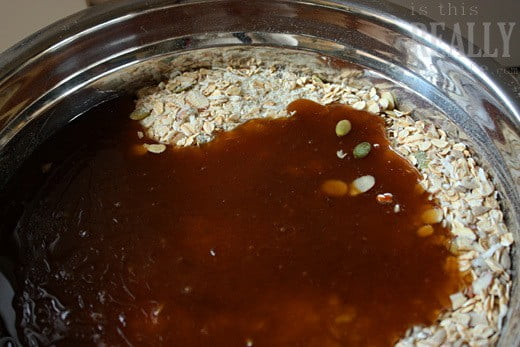 …and mix everything together using your hands. (I found it worked best to use a large silicone spatula first and then mix it by hand—or have your 13-year-old do it!)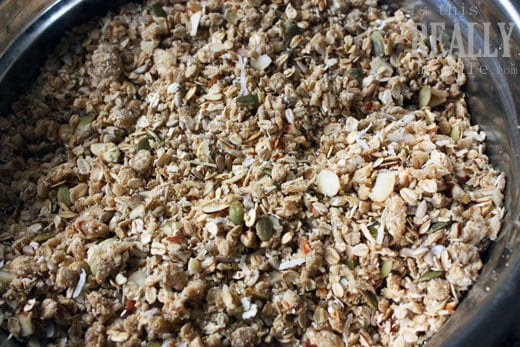 Spread onto a large baking sheet, about 1/2-inch deep. Bake 30 minutes or until golden brown, stirring after 15 minutes so the granola in the middle will brown evenly with the edges. Cool and store in an airtight container. Serves approx. 16