I discovered this homemade chocolate syrup recipe thanks to a serious dessert emergency: we had ice cream, whip cream and even nut topping but NO chocolate syrup.
How could I be completely out of chocolate syrup? I thought for sure I had a year's supply in our cold storage but I was wrong. Sadly wrong. And that night I was craving chocolate sauce, which meant we had to find some...and quick.
I hopped online and came across this quick and easy recipe for chocolate syrup—one that didn't call for heavy cream because I was plum out of that too. The reviews were good, the prep and cook time minimal so I gave it a shot.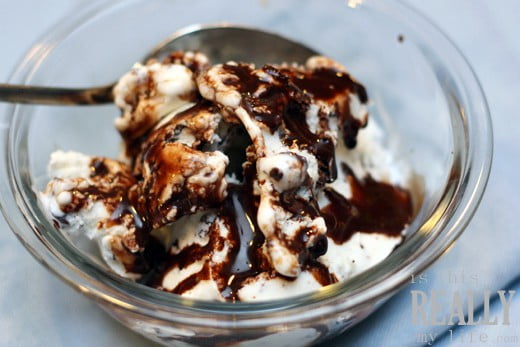 This homemade chocolate syrup may be our 2012 holiday neighbor gift. All I need to do is work on getting it the right thickness. Our first batch was a little runny, but I'm blaming it on Nathan who pressured me into removing it from the heat before I was ready to do so. (I know! What the heck was he doing in my kitchen anyway?)
Next time we'll try boiling the water and sugar until the sugar is completely dissolved (the recipe below reflects the change) and then adding the cocoa powder and dash of salt followed by the vanilla. If that doesn't work, we'll simply boil it a bit longer or possibly try dissolving a tablespoon of cornstarch in some water and then adding it to the simmering syrup. I have no problem taking the time to perfect a chocolate sauce recipe.
I doubt we'll ever buy a bottle of Hershey's Chocolate Syrup again.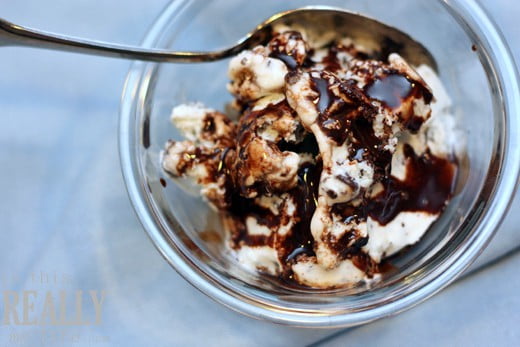 Printable recipe for homemade chocolate syrup below.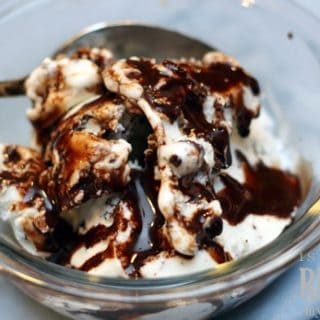 Homemade Chocolate Syrup
This is a quick and easy recipe for chocolate syrup that doesn't require heavy cream yet is still delicious.
Ingredients
1 ½ cups water
1 ½ cups white sugar
1 cup cocoa powder
1 dash salt
1 tsp vanilla extract
Instructions
Combine the water and sugar in a saucepan over medium heat and stir constantly until mixture starts to simmer and sugar is completely dissolved.
Whisk in cocoa powder and salt until thoroughly combined.
Remove from heat and stir in vanilla.
Serve warm or cover and refrigerate until ready to use.
Notes
If the sauce is too thick, next time you make it combine the first four ingredients and bring to a simmer over low heat, whisking constantly. Once the mixture starts to simmer, remove from heat and add vanilla. The syrup should be less thick than if you make a simple syrup (boiling the water and sugar until sugar is completely dissolved) first. If the syrup isn't thick enough, you can try dissolving a tablespoon of cornstarch in a little water and adding it to the sauce. Let it simmer lightly until it reaches the desired consistency.
Nutrition Information:
Yield:

12
Serving Size:

1
Amount Per Serving:
Calories:

125
Total Fat:

1g
Saturated Fat:

0g
Trans Fat:

0g
Unsaturated Fat:

0g
Cholesterol:

0mg
Sodium:

14mg
Carbohydrates:

29g
Fiber:

1g
Sugar:

25g
Protein:

1g