These Cajun style burgers are as far from a dry hamburger as you can get! Although they have Cajun in the title and Cajun seasoning in the recipe, they aren't spicy but they ARE very flavorful.
I seem to admit a lot of things on this blog of mine, from planning the all-too-common last-minute dinners to being overly critical of my children. I seem to have a good thing going, so here's another admission for you: I use frozen hamburger patties more often than homemade Cajun style burgers.
Okay, "more often" is an understatement. Costco's frozen ground sirloin burgers are my patties of choice.
Of course if Carrian (@ohsweetbasil) is coming over for dinner with her family, that's an entirely different story.
When a food blogger who's just become your real-life friend is now your dinner guest, that is the special-est of special occasions and calls for something better than frozen hamburger patties. We're talkin' homemade Cajun-style burgers, my favorite go-to burger recipe.*
I mean, really. How could I serve frozen hamburger patties to a food blogger? I'd rather drink a 2-liter of Diet Pepsi.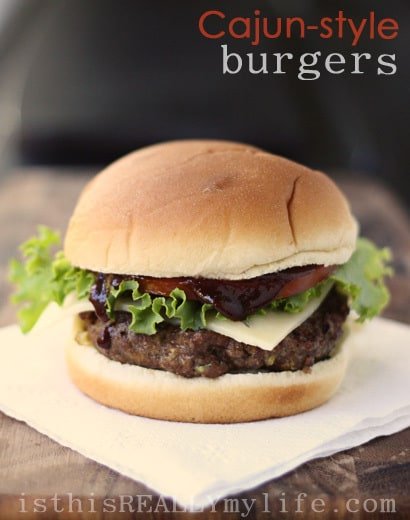 I originally found this Cajun style burger recipe years ago—we're talking like 10 years—on Allrecipes.com and it's always been a hit. Carrian and her husband thought they were absolutely delicious. She might have even said they were the best burgers she'd had in a long time.
Maybe she forgot about her Tillamook bacon cheeseburger with special sauce. I'm telling you, that baby looks de-licious!
Note: Even though the title uses the word Cajun and the ingredients list includes Cajun seasoning, these burgers aren't spicy, just super deliciously flavorful.
Cajun style burgers FTW!
Printable recipe for Cajun style burgers below.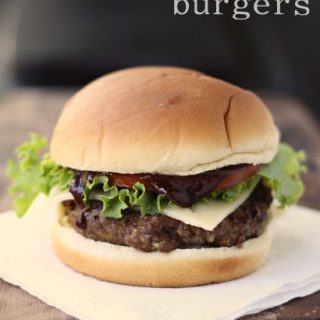 Homemade Cajun-Style Burgers
As far from a dry hamburger as you can get! Although these Cajun-style burgers have Cajun in the title and Cajun seasoning in the recipe, they aren't spicy but they ARE very flavorful.
Ingredients
1 lb lean ground beef
3 T dry bread crumbs
1 egg
3 green onions, chopped
1 T plus 1 tsp Cajun seasoning, divided
4 slices Pepper Jack cheese or Chipotle cheddar cheese
1 T mustard
¼ cup barbecue sauce
Instructions
Preheat outdoor grill on medium high heat.
Combine ground beef, bread crumbs, egg, green onions, 1 T Cajun seasoning and mustard in a medium bowl. Mix well.
Form mixture into 3 to 4 patties depending on the size burger you'd like to grill. (We go for more of a ⅓-lb burger. What can I say?)
Combine barbecue sauce and remaining Cajun seasoning in a seprate bowl and mix well. Set aside.
Grill patties over medium-high heat until desired pinkness (or lack thereof).
Place a slice of cheese on each burger and allow to melt. Serve immediately topped barbecue sauce and other sides.
Notes
FOLLOW HALF-SCRATCHED ON INSTAGRAM (@half_scratched) and share the recipes you're whipping up in the kitchen. Don't forget the #HALFSCRATCHED hashtag so we can see what you've made!
Nutrition Information:
Yield:

4
Serving Size:

1
Amount Per Serving:
Calories:

204
Total Fat:

9g
Saturated Fat:

5g
Trans Fat:

0g
Unsaturated Fat:

1g
Cholesterol:

92mg
Sodium:

915mg
Carbohydrates:

12g
Fiber:

0g
Sugar:

6g
Protein:

12g
By the way, George was my helper for this photo shoot. Can you tell?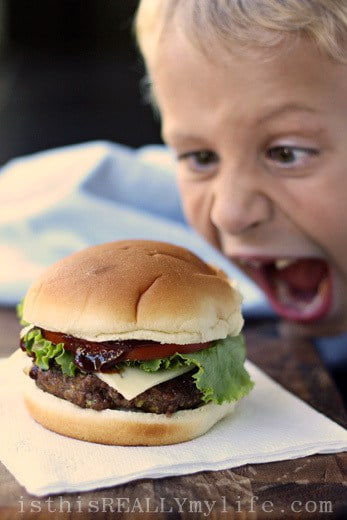 * I have a feeling Heidi's Black and Blue Burger will be my next go-to hamburger recipe but I have yet to try it. I'm determined to get it on an upcoming pinned & prepped post before summer is over.