Christmas came early this year when the February 2012 issue of Salt Lake Magazine hit the local newsstands (and Walmart shelves).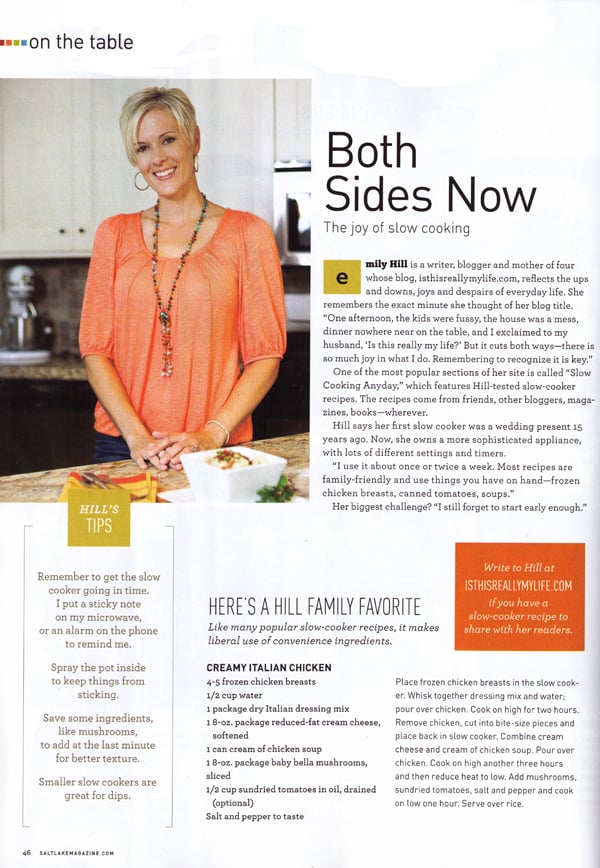 …
I was interviewed back in September and I've been dying to see how it all turned out. (I'd have made a paper chain to count down the days, but that would've been one long, non-eco-friendly paper chain.)  I'd say it's not too bad, though perhaps I could've thought ahead and donned a more wintry outfit.
I highly recommend picking up a copy of the February 2012 issue of Salt Lake Magazine if only for Meditrina's Coq Au Vin recipe on page 44; "The Faces Behind the Voices of SLC's Radio" on page 64; and the dining guide starting on page 73.
It's a great issue…and not just because it's the only time you'll ever see my kitchen that clean.
P.S. A truly heartfelt thank-you to Heidi over at foodiecrush for this surreal moment. She passed my name to Mary Brown Malouf who wrote the 5-page section on slow cooking in which I'm featured.
P.P.S. You simply MUST check out Heidi's debut issue of foodiecrush magazine. It is the most gorgeous—and drool-inducing—thing I've ever seen.