This is a sponsored post written by me on behalf of Holmes® Smart Air Purifier. All opinions are 100% mine.
I'd like to think the quality of the air in our home is fairly decent, but then I remember I have four children ages 7 to 17 (yes, teenage girls can be as stinky as my 9-year-old son) and a dog. Oh, and I live in the Salt Lake City area, which experiences a nasty inversion at least twice a year. And I know the air isn't all that awesome when that inversion rolls into the valley.
I've thought about purchasing an air purifier but it seemed like a bit of a pain to work it—not that the controls were difficult but more the whole turning it on, turning it off, managing it when gone for the day or changing it up depending on the ever-changing air quality outside. And then I heard about the Holmes® Smart Air Purifier…and by "Smart" they mean having the ability to control the purifier using your smart device (in my case, my Samsung Galaxy S4).
With the Holmes Smart Air Purifier, you can control, monitor and adjust your air purifier from anywhere using a smartphone or tablet and that awesome WeMo app. The app comes in handy if you're out and about and find out company is dropping by last-minute and you cooked a Thai dish the night before. Or those popcorn trees burst out in full bloom and your child with seasonal allergies is getting hit hard while at school but you're at Costco delayed by all those free samples.
But how easy is it to set up the purifier and manage it with the WeMo app? Well, it took me about 15 minutes from start to finish, and 10 of those minutes was updating the app's firmware. I removed the purifier from the box and placed it in the ideal location (in the same room as the dog's kennel). Then I popped off the air intake grill so I could attach the new filters.
.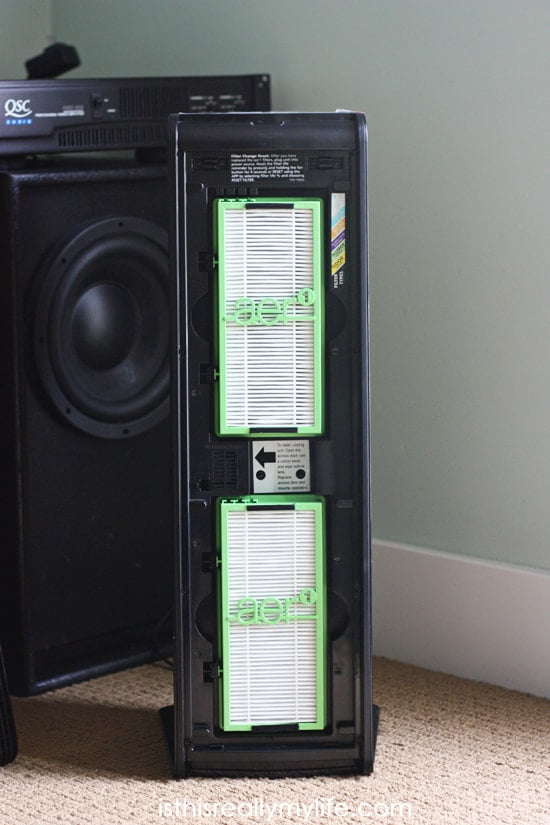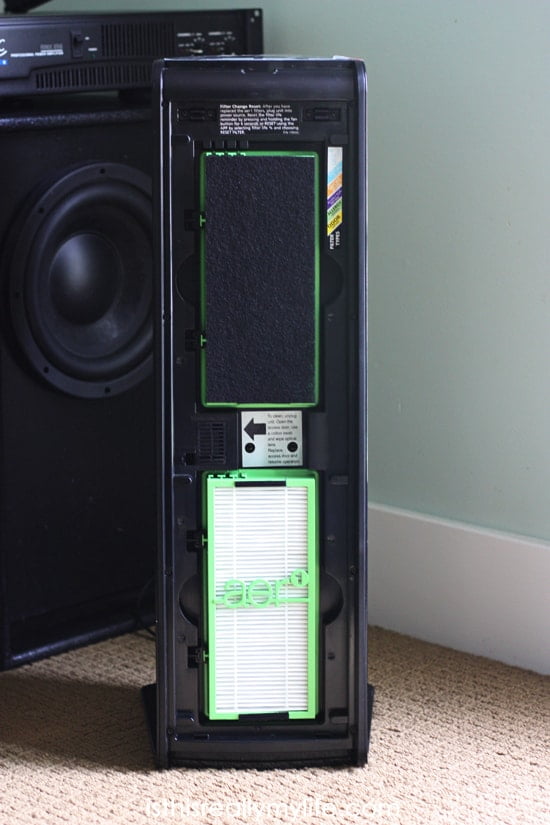 .
Then I downloaded the WeMo app from the Google Play store, opened it and started the process of syncing it with the purifier.
.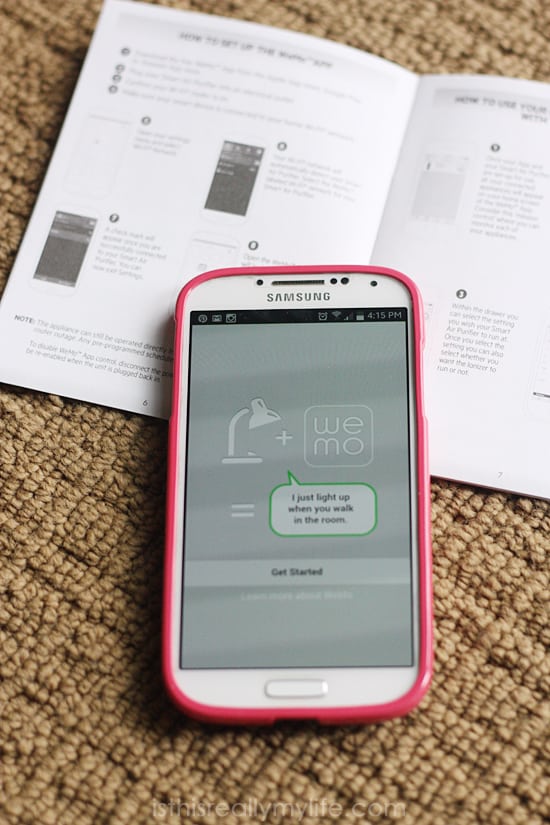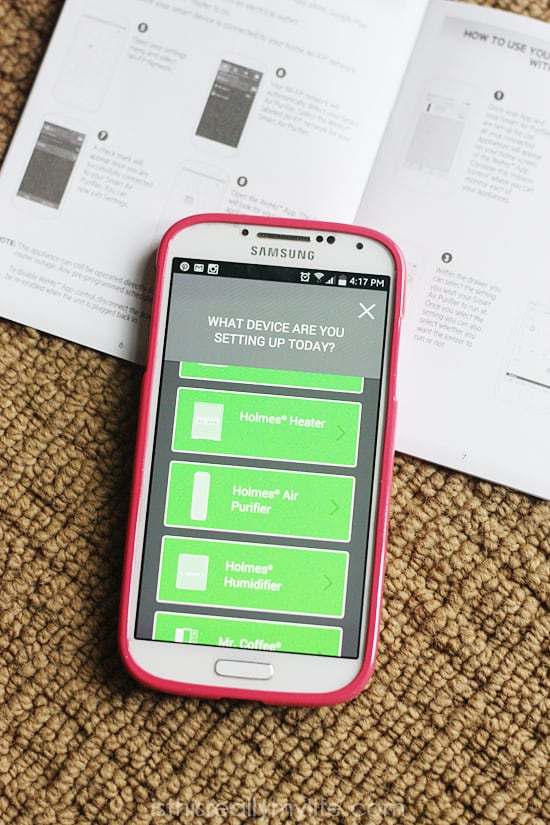 .
After that, it was super easy. Just tap the power button.
Select your fan speed and whether or not you want it to ionize the air. Oh, and you can even check the health status of your filter.
The best part? You can create a custom schedule.
Perhaps you want it to do most of its work during the day while kids are at school. Or maybe you need to crank it up Saturday mornings when lawns are being mowed and pollen is getting kicked up left and right but want it on low during nap time. Whatever your preference, the WeMo app can do it! It can even notify you when air quality is poor and when it's time to change your filter. How cool is that?
Just in case you were wondering how the Holmes® Smart Air Purifier frees the air from odors and allergens, the True HEPA filtration removes up to 99.97% of airborne allergens including pollen, dust, dust mite debris, mold spores, pet dander and smoke/odor. The purifier includes two replaceable True HEPA Allergen-Remover filters, so it's hard to believe even 0.03% gets through.
And all that filtering goodness is hidden in a super sleek design that fits right in with our audio/video equipment in the family room.
Don't tell, but my favorite things to do is sit in my office and put the fan on high speed startling anyone who's sitting in the family room.
For all the purified details about this super smart air purifier and the super smart WeMo app, visit Holmes® Smart Air Purifier online.
.


Feel free to "like" is this REALLY my life? on Facebook. It won't always earn you an extra entry in a giveaway but it will give you warm fuzzies.
Don't forget to sign up for free is this REALLY my life? updates via RSS or email so you don't miss a single awesome post.
.