Disclosure: I was compensated for this post as part of the Whole Foods Ambassador program. All thoughts, opinions and hunger-inducing photos are 100 percent honest and all mine.
Yes, this is my second Whole Foods post this week but you'll totally forgive me because it's all about cheese.
Man, I love cheese.
…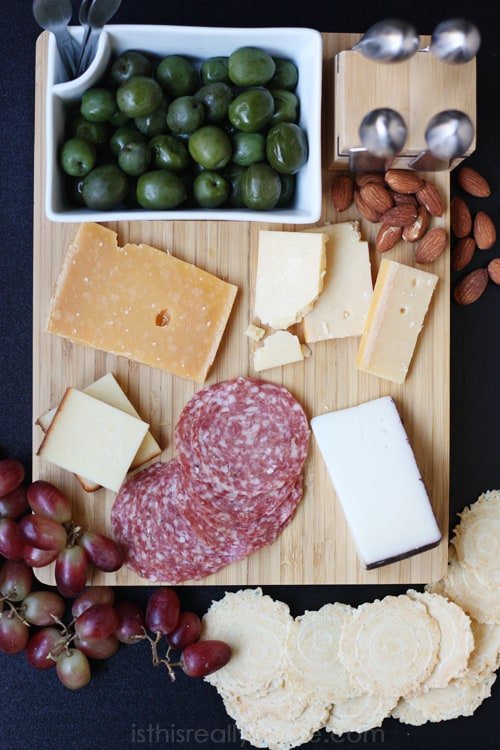 …
I may not love cheese as much as my friend Jyl—she'd eat it for breakfast, lunch and dinner—but I definitely have a healthy affection for it. Any restaurant that offers an amazing cheese platter turns me into a repeat customer faster than you can say Gouda.
I put together a cheese platter for a party once and it wasn't super impressive, which is why I was totally willing to give it another shot. Plus it was my friend Kevin's birthday and we have a tradition of ordering a cheese platter (if the restaurant offers one) every time we go on a double date.
I took to Whole Foods with a shopping list in hand: fancy cheese, almonds, grapes, salami, onion jam. And I knew I'd come to the right place when I saw this upon walking into the produce section:
And then I ran into this one while choosing grapes for the cheese platter:
After grabbing a wedge of cheese, a couple pears and a bag of grapes, I headed to the back of the store to chat with the Whole Foods cheesemonger about his suggestions for completing the perfect holiday cheese platter. The girls and I had a lot of fun sampling a few cheeses and the Castelvetrano olives and I made sure I had a good size slice of Beehive Cheese Co. Big John's Cajun Rub cheese for the platter. Beehive Cheese is one of my favorite cheese makers and not just because they're local.
When all was said and done, here's what ended up on our holiday cheese platter:
…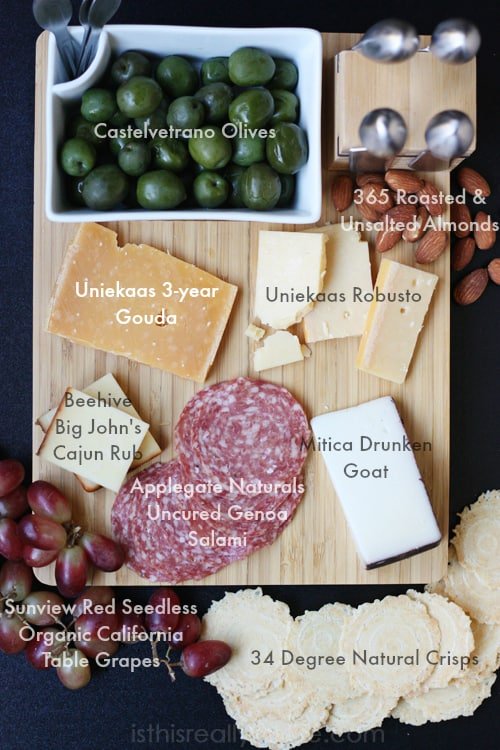 …
The only thing I didn't have on there (because I forgot to buy it) is an onion jam. I love pairing onion jam with a robust cheese and almonds. So. Dang. Good.
But really, it's all about the cheese. And olives.
…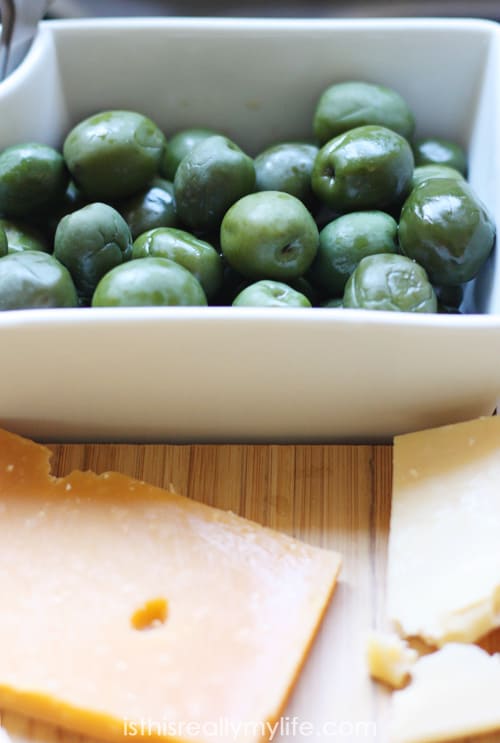 …

Here are my suggestions for a successful—and tasty—holiday cheese platter:
Cheese (duh): Choose your cheeses carefully so you have a nice selection of flavors from mild to more robust. I also like to make sure I have a variety of textures if possible.
Olives: You can go with your typical Greek olives but sometimes it's nice to offer something a bit less salty like the Castelvetrano olives pictured above. Even better, offer a variety!
Almonds: I don't know why, but almonds always seem to fit perfectly with any cheese platter. Almonds and grapes are pallet cleansers for me and a great way to taste various cheeses.
Fruit: I love red grapes because they pair well with most any cheese. But pears (e.g., green Anjou) are a great option too. It's nice to include something on the sweeter side.
Crackers: I love these 34 Degree Natural Crisps. They have a very light flavor and are super thin, which makes them perfect for showcasing the flavor of the cheeses. Stay away from heavier crackers (e.g., Ritz, Wheat Thins, Triscuits) because they'll detract from the cheese.
Cured meats: As much as I love cured meats like proscuitto and pancetta, I find them a bit flimsy for a cheese platter. I prefer a nice salami or pepperoni. There's nothing like the combination of cracker, salami and cheese. Mmm…
Onion jam: Not a must but dang, this stuff is good. I love it with just about anything on the platter. You could also try a savory chutney.
…