My good friend Vanessa was the first of my friends to write a post about the 1st Annual Candlelight Serenade Acoustic Festival, a concert taking place this Saturday at Thanksgiving Point benefiting Child Rescue. She definitely got my attention when she said:
300,000 American children are at risk of sexual exploitation. I wish everyone involved in [the exploitation of children] a slow, painful death followed by a long forever in hell. We need to help end this now so these beautiful children can have a second chance. So that future beautiful children, sweet pure spirits, are not exposed to this absolute FILTH.
Then I read this post by my friend Rebecca who went into more detail about the organization:
What's the cause? Ending childhood sex slavery in America. Yeah, it happens here. It's horrifying, terrifying and disturbing as all get out. But if we pay attention, donate money so law enforcement can focus on combating this dark issue, raise awareness or get involved in the cause in any way, shape or form, we can help end this awful, awful thing.

…

Lindsay Hadley, who has travelled around the world working in different humanitarian efforts, said that when choosing how to help disadvantaged children, the choice became so clear to her. 'This child wants to go to school. This one wants to stop being a sexual slave. What would you do?'"
So what can you do? If you're in Utah you can clear your schedule for this Saturday, August 21st and attend the Candlelight Serenade Acoustic Festival taking place at Thanksgiving Point's Electric Park.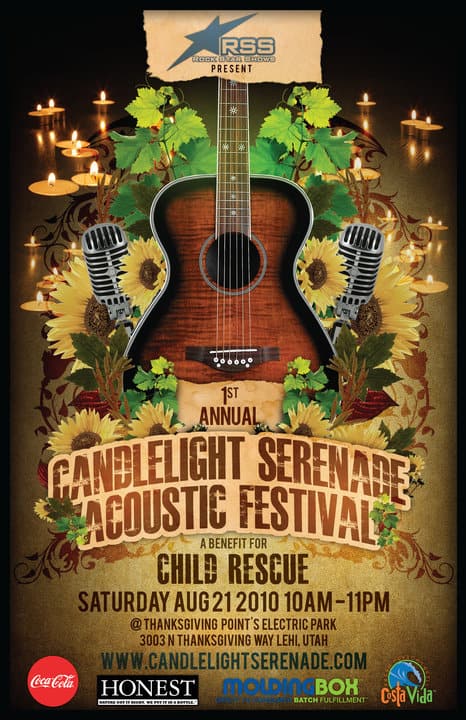 The concert will feature a few artists with whom you might be a bit familiar like Chris Carrabba (Dashboard Confessional), Nick Hexum (311), and Third Eye Blind. And that's just the tip of the musical iceberg!
General admission tickets are just $40 for the entire day (you can buy your tickets here). That's about half of what it could cost to attend a concert by just one of these artists!If you really want to feel like a rock star then go for the $85 Rock Star VIP tickets. These babies include a front-row pass, VIP tent access and a collector's lanyard/laminate. By the way, kids under 5 are FREE!
The festival goes from 10am until 11pm—an all-day rockin' good time complete with live music, international food vendors, giveaways, sports zone, skate park, petting zoo, sandbox pit, live art installations and carnival-style entertainment.
Proceeds from the event benefit Child Rescue…and will help make miracles happen in the lives of thousands of children.
Child Rescue has a goal of "90 by 2020″—by 2020 they will reduce child sex slavery by 90% in the US and Canada. Help them reach their goal!

Rebecca said it best at the end of her post, so I'm going to let her end this one as well:
I urge you (URGE YOU!) to learn about this cause and consider helping however you can, even if it is not in a monetary way. Simply raising awareness will make a world of difference. This issue is one that many Americans don't know enough about. We MUST know about this in order for it to end. So tell everyone. Don't let anyone ignore that this is happening right here in our own backyard.
P.S. You can "like" them on Facebook or follow them on Twitter.