March is almost over and I'm realizing I should have done a better job with the whole New Year's resolution thing…like, actually made one or two. While there's no way I would have set goals to stop drinking Diet Coke or get more sleep (let's be real, people), I definitely could have set one to eat healthier weekday lunches. While avocado on toast is easy and oh-so-delicious, I can eat that only a couple times a week. This girl likes variety! So what do I do the other days? Nine times out of ten, drive thru.
So not good for the someone whose metabolism is not what it used to be and spends half the summer in a swimsuit.
Back in the day I would buy frozen meals as a lunch option (for reals) but found them high in calories and fat and low in fiber, protein and often taste. Nothing like a personal pizza that tastes like the cardboard underneath it. Fortunately those cardboard pizza days are over thanks to the new line of Healthy Choice Simply Café Steamers.
.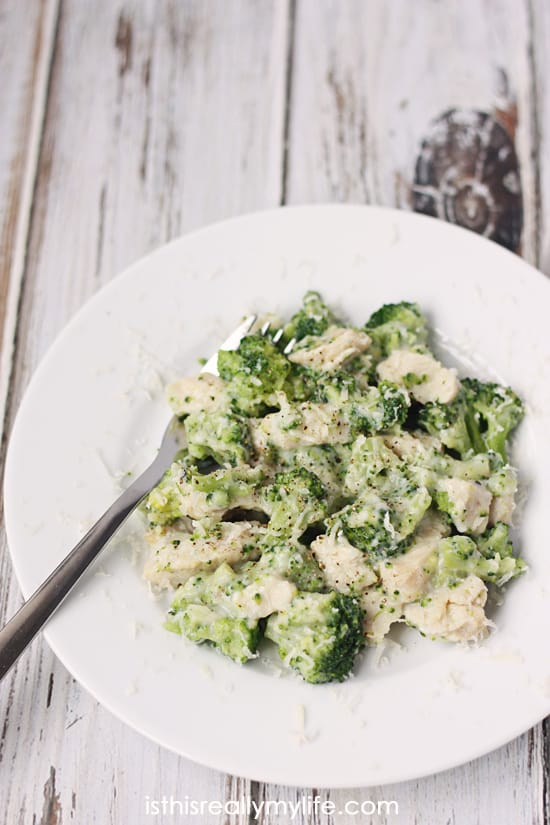 .
I ended up buying at least five flavors of Café Steamers and Simply Café Steamers because they all sounded so yummy. I mean, just look at those flavors!
.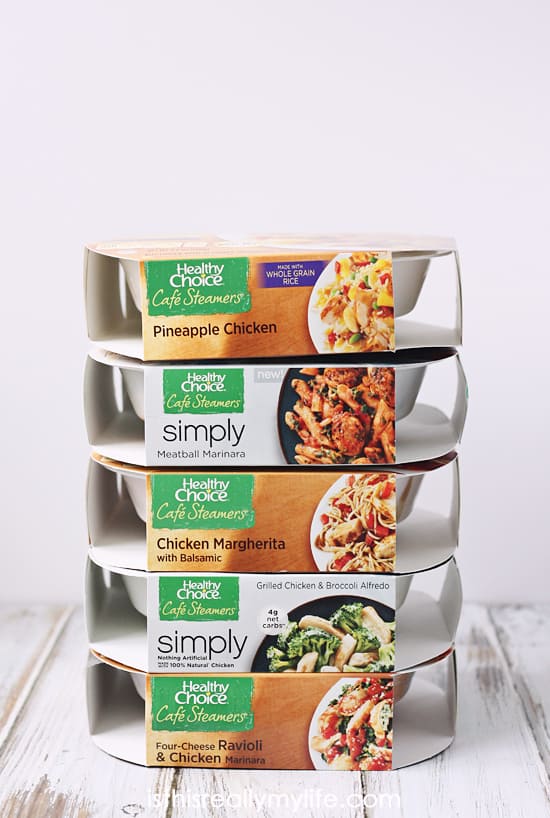 .
I decided to start with the Grilled Chicken & Broccoli Alfredo from the Simply Café Steamers line because it had the fewest calories and net carbs—perfect for a yoga day when I burn about 1/4 the calories I do on spin day.
.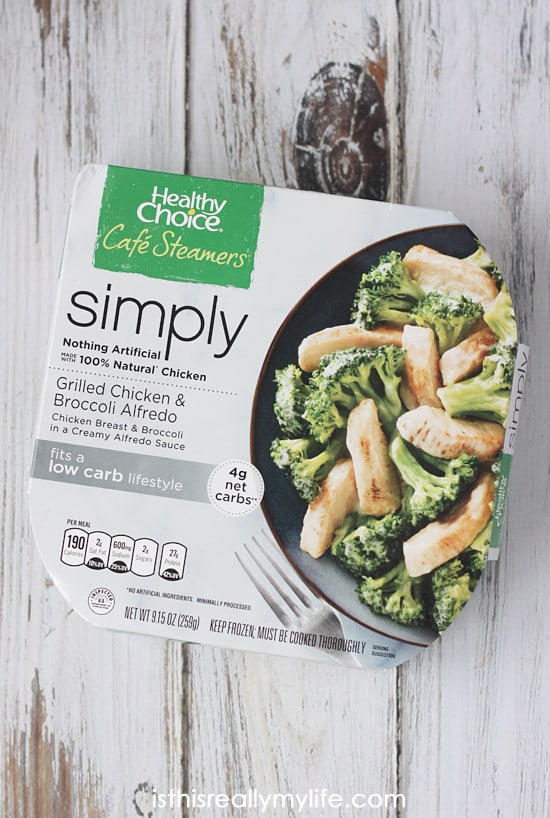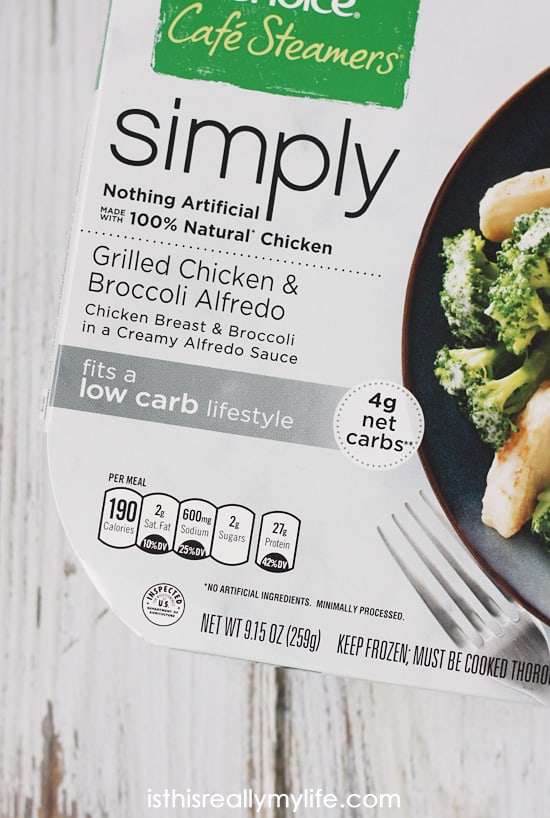 .
Check out the calories, net carbs and protein counts. Pretty impressive. But how does it taste? Thanks to a tray-in-tray steam cooking method that separates ingredients during heating, the broccoli was crisp, the chicken perfectly cooked and the sauce freshly tossed. A little freshly ground black pepper and a light sprinkling of Parmigiano-Reggiano and the dish was delightful!
.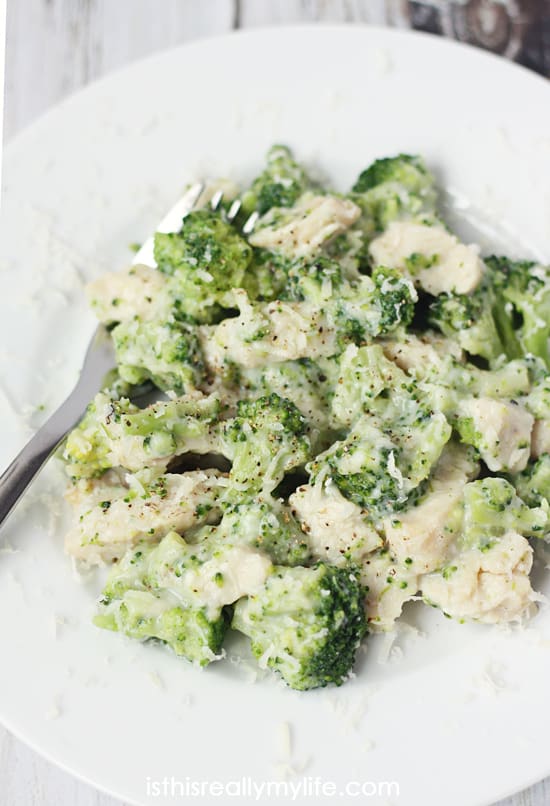 .
This Healthy Choice Simply Café Steamers meal was definitely easier, healthier and more affordable then a fast-food run. The Alfredo sauce didn't have any weird ingredients except for locust bean gum, which is actually comes from the seeds of the carob tree and is used to thicken sauces. Not as scary sounding when you Wikipedia it.
Even better than being a healthier lunch option, I found I was more conscious of what I was eating the rest of the day AND more thoughtful about my lunch choices the rest of the week. Funny how one healthy meal can do that!
.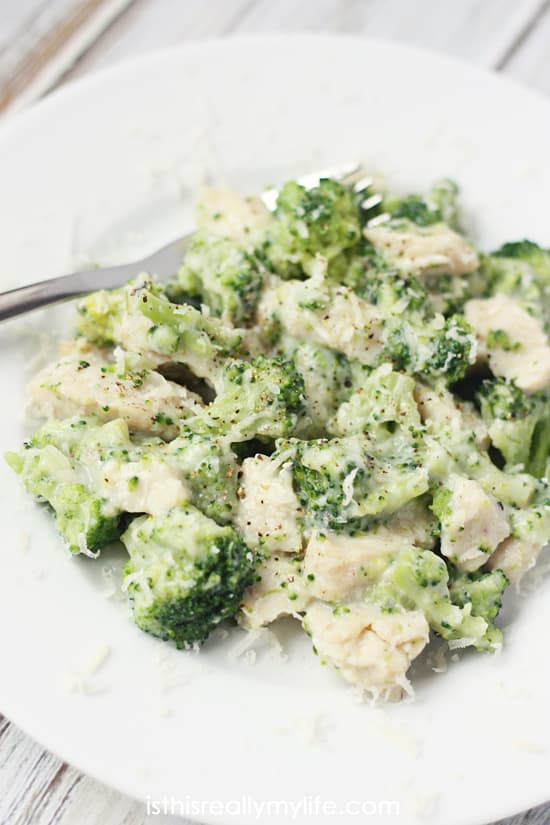 .
With 100 percent natural proteins and absolutely no artificial ingredients, Healthy Choice Simply Café Steamers transform simple ingredients into vibrant, crisp vegetables and juicy proteins for a delicious, fresh taste. The line contains nearly a dozen meals all with fewer than 310 calories and more than 18 grams of 100-percent natural protein in a variety of flavors, such as Meatball Marinara, Chicken Fried Rice, Grilled Chicken & Broccoli Alfredo (yum!), Chicken & Vegetable Stir Fry and Grilled Pesto & Vegetables.
Oh, and did you know Healthy Choice is the only major brand in the frozen meals section that can call 100% of its products "healthy" as approved by the FDA? Kind of makes you rethink your frozen meal purchase.
You can find Healthy Choice Simply Café Steamers in the freezer aisle at grocery stores nationwide for the manufacturer's suggested retail price of $3.29. Or even better, get them on sale like I did at Smith's for about $2 a piece! That's way less than I spend at any of my favorite fast food restaurants. (Way fewer calories and grams of fat too.)
Want to learn more about these amazing tools for fighting the drive-thru habit? Visit Healthy Choice on Facebook or HealthyChoice.com.
I was selected for this opportunity as a member of Clever Girls; the content and opinions expressed are all my own.
.
If you're looking for more honest reviews, check out my ITRML reviews Pinterest board.
.
.

Feel free to "like" is this REALLY my life? on Facebook. It won't always earn you an extra entry in a giveaway but it will give you warm fuzzies.
Don't forget to sign up for free is this REALLY my life? updates via RSS or email so you don't miss a single awesome post.
.