Post may include affiliate links to support my Diet Coke habit.
I am a firm believer there aren't nearly enough uplifting, inspiring movies hitting the box office these days. Okay, Inside Out—even with its sad moments—was an awesome feel-good movie, but it didn't inspire change other than causing me to contemplate changing my hair to look more like Joy's. That's not real change. Real change happens when you stand up for what you believe, speak for those who can't, and empower others to do the same.
Kind of like the change Malala has initiated throughout the world.
Even if you haven't read I Am Malala, I'm sure you've heard of Malala Yousafzai, the girl from the Swat Valley in Pakistan who refused to be silenced and fought for her right—and every girl's right—to an education. Because of her beliefs, she was shot in the head by a Taliban insurgent at point-blank range while riding the bus home from school. She survived and has continued to fight for girls' education; at sixteen, she became the youngest nominee ever for the Nobel Peace Prize.
Malala's story is an incredible one and I have no doubt it started when her father named her after Malala of Maiwand, a national folk hero of Afghanistan who rallied local Pashtun fighters against the British troops at the 1880 Battle of Maiwand (thank you, Wikipedia).
Here's where I interrupt and tell you Malala's father, Ziauddin, is incredible in his own right. I was as intrigued by him as I was his daughter. Truly.
He Named Me Malala tells Malala's story—the story of how "one child, one teacher, one book and one pen can change the world." And it's all kinds of amazing.
.
.
I attended a screening of He Named Me Malala a couple weeks ago and loved every minute of the movie. In fact, there were so many noteworthy moments I finally had to take out a notebook and write them down (hoping they'd be legible in daylight). Fortunately they were, which means I can share my favorite takeaways with you.
Education gives people the power to change things.
Awards don't matter; change matters. (Ziauddin, Malala's father, in reference to her winning the 2014 Nobel Peace Prize).
"Mother isn't free because she is not educated." (Malala speaking of her mother)
A person didn't shoot her, an ideology did. (Ziauddin speaking of the man who shot his daughter)
"There is a moment you have to choose to be silent or stand up." (Malala)
"We realize the important of our voice when we are silenced." (Malala)
A consciousness exists in the world that extends all boundaries and it says

every child has the right to go to school.
.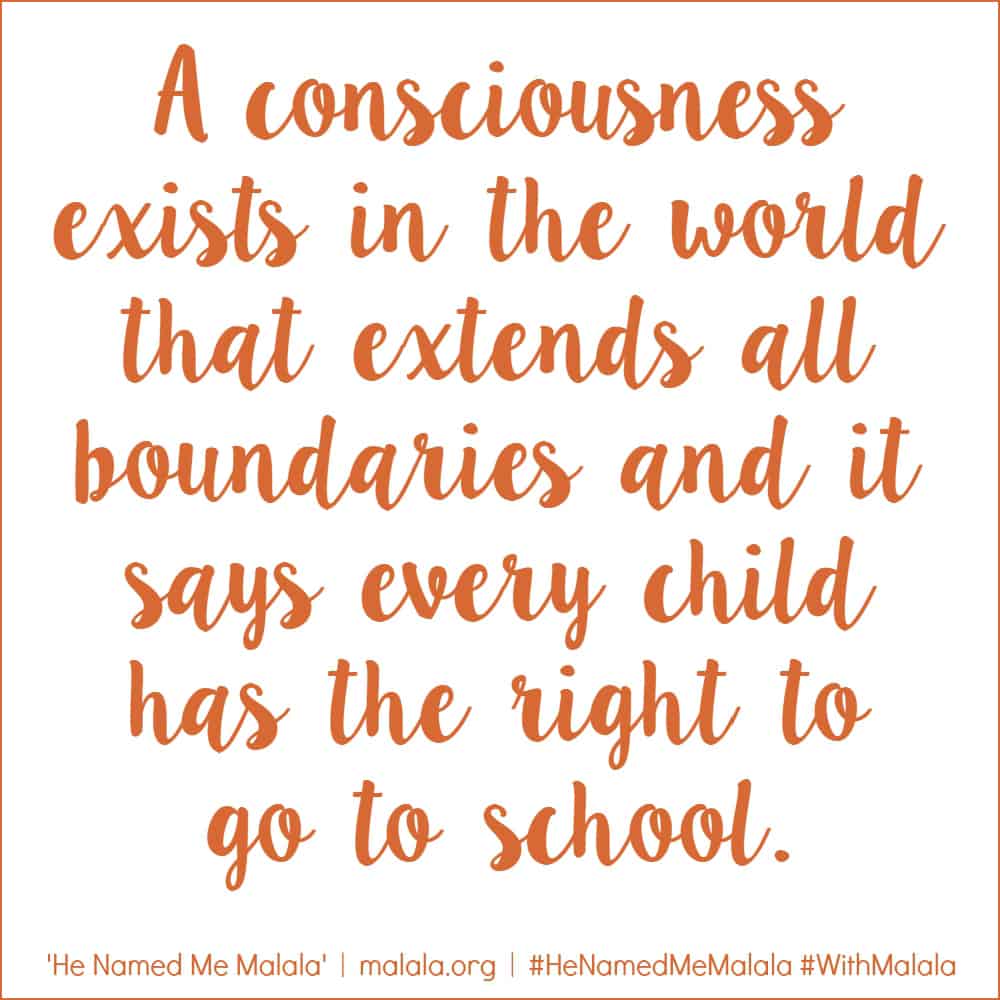 .
One of the things that touched me most was discovering that Malala, a powerhouse for change, is also a normal teenage girl. She teases her brothers (her youngest brother had Lauren and me in fits), she giggles with friends, she worries about whether her classmates will like her and she has crushes on cricket players.
Oh, and Roger Federer. But who doesn't?
But as a typical teenager, she is atypical in her humility. She refuses to speak of her suffering because that is not her story. Her story is about remembering children without access to education.
He Named Me Malala opens in New York and LA on October 2nd and nationally on October 9th. Put it on your calendars NOW. I'll be taking Madison because she missed the screening and I'm all too happy to see it again.
Here's where you can find all things Malala online. When joining the conversation, use the hashtags #HeNamedMeMalala & #WithMalala.
.

Feel free to "like" is this REALLY my life? on Facebook. It won't always earn you an extra entry in a giveaway but it will give you warm fuzzies.
Don't forget to sign up for free is this REALLY my life? updates via RSS or email so you don't miss a single awesome post.
.