Post may include affiliate links to support my Diet Coke habit.
A few weeks ago I shared my thoughts about He Named Me Malala, a film that tells the story of Malala Yousafzai, the girl from the Swat Valley who believes "one child, one teacher, one book and one pen can change the world." This documentary film combined with her written story, I Am Malala, makes for one powerful force for good.
.
.
In He Named Me Malala…Because One Child CAN Change the World, I shared my favorite takeaways from the film and one of my favorite quotes. (She and her father share so many noteworthy insights, I have a dozen favorites.) This is another quote from Malala I love…because it's so very true.
.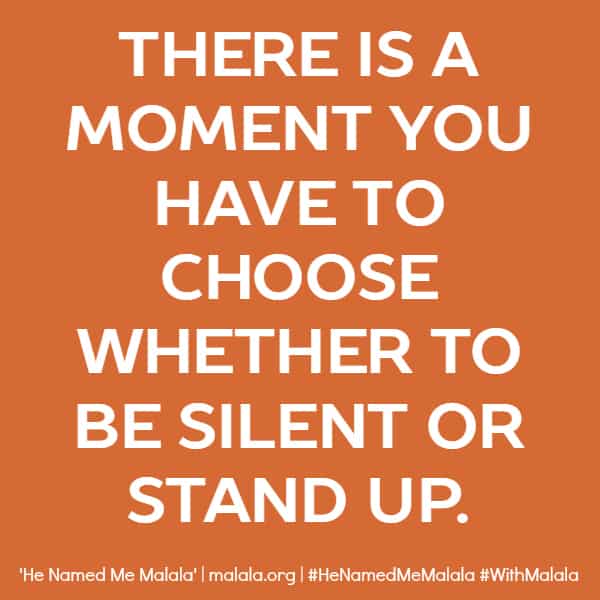 .
I had the once-in-a-lifetime opportunity to join a conference call with Malala a couple weeks ago. (Her voice? Just like you'll hear it in the movie. Crazy awesome experience.) We submitted questions and we listened as she gave her thoughts on everything from what gives her strength when she's having a bad day (the support of people like YOU carries her) to where she sees herself in 10 years (celebrating because every child is in school or still working hard to ensure someday they are).
Two themes came through loud and clear during the call:
Believe in yourself; your potential is limitless.
Don't clip your daughters' wings; instead, help them fly.
.
That last one spoke true to my heart and reminded me of a beautiful watercolor Lauren painted recently. I couldn't help but pair the two.
.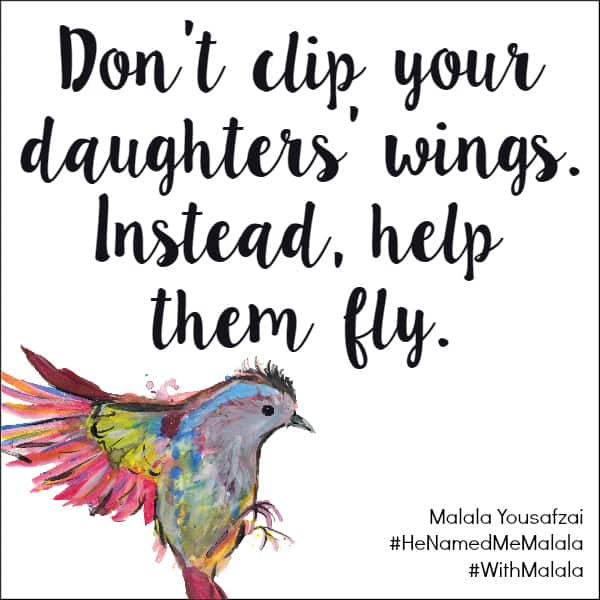 .
#AMEN
He Named Me Malala opens this Friday, October 9th, in theaters across the U.S.
DON'T MISS IT.
And don't miss the opportunity to take your children (I suggest 10 and up) to this amazing story of faith, hope and courage. You can even use this awesome Parent Discussion Guide to talk with your kids in age-appropriate ways about Malala, her work and the film's themes. You can find showings near you here: http://theaters.henamedmemalalamovie.com/.
If you want to do more than watch Malala's story, help spread the word about International Day of the Girl taking place this Sunday, October 11th. International Day of the Girl provides an opportunity for activist groups to join together to advance rights and opportunities for girls everywhere. Raise enough awareness and it goes from movement to revolution…kind of like what Malala and her father have done.
Here's where you can find all things Malala online. When joining the conversation, use the hashtags #HeNamedMeMalala & #WithMalala.
.

Feel free to "like" is this REALLY my life? on Facebook. It won't always earn you an extra entry in a giveaway but it will give you warm fuzzies.
Don't forget to sign up for free is this REALLY my life? updates via RSS or email so you don't miss a single awesome post.
.