I know, I know. I should've posted these Halloween recipes last week, but these days I'm lucky to make a holiday meal on the actual holiday. Perhaps you could pin this now and use it next year. Or run out really quickly and pick up all the ingredients to make it tonight. You still have time!
...
Spider Web Dip
1 pkg cream cheese, softened (I used reduced fat)
3/4 cup salsa
1/2 cup guacamole (store bought or your favorite recipe)
1 to 2 T sour cream
In a small bowl combine cream cheese and salsa. Spread in a 9-inch pie plate. Gently spread guacamole to within 1 inch of the edge.
Place sour cream in a small Ziploc bag and cut off one corner. Pipe thing concentric circles about an inch apart on top of the guacamole. Beginning with the center circle, gently pull a knife through the circles toward the edge.* Wipe knife clean and repeat to complete your spider web pattern. Serve with tortilla chips or tortilla bats (recipe below).
* Don't do what I did and start from the outside in unless it's spring and you're looking for a nice flower pattern. The slightly drunken-looking spider web in the photo above is what happens when you pull the knife in the wrong direction and then try to fix it.
Tortilla Bat Chips
20 chipotle or plain flour tortillas
cooking spray
3/4 tsp garlic salt
3/4 tsp ground coriander
3/4 tsp paprika
3/8 tsp pepper
Preheat oven to 350 degrees. Cut tortillas into bat shapes with a 3- to 4-inch cookie cutter. Place tortillas on baking sheets coated with cooking spray. Spritz tortillas with spray. Combine the seasonings and spirnkle over tortillas. Bake for 5 to 8 minutes or until edges just begin to brown.
...
Creepy Breadstick Fingers*
2 cans refrigerated crescent roll dough
Sliced almonds
Preheat oven according to package directions. Lightly spray cookie sheet. Open cans and lay out crescent roll dough. Shape each triangle into a creepy finger complete with knuckles. Using a sharp knife, make three small slices on each knuckle. (Be careful not to cut too deeply.) Press one sliced almond into the end of each finger.
...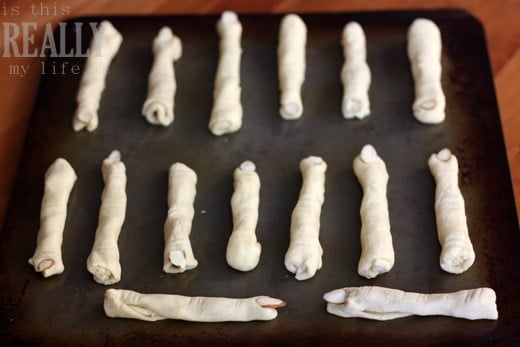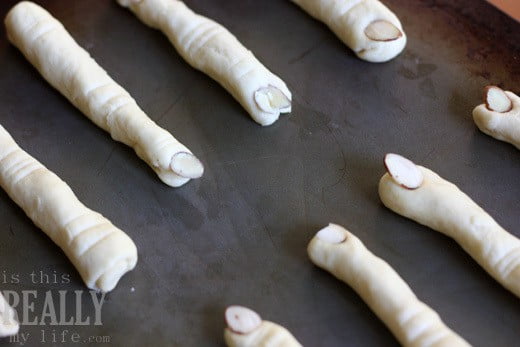 ...
Bake according to package directions. Serve with marinara sauce for an extra gruesome treat!
...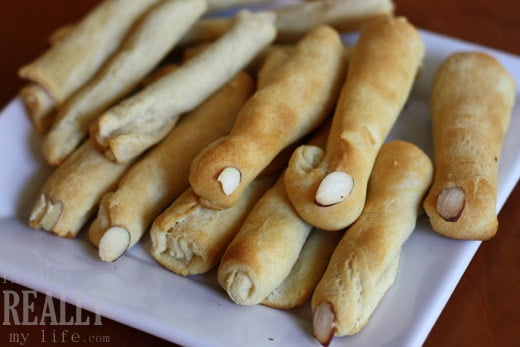 ...
* You can make these from scratch and then add green food coloring. I did not have time, so this was Plan B. It was actually a very quick and tasty Plan B! To make a cookie version of this recipe, check out Spooky Withches Fingers.
...
Witch's Hat Soup
1 envelope chicken fajita seasoning mix
1 lb boneless, skinless chicken breast, diced
2 T vegetable oil
1/2 cup chopped onion
1/4 cup butter
1/3 cup flour
2 (14-oz) cans chicken broth
1/2 cup canned diced tomatoes with chilies
1 cup cubed processed cheese (Velveeta)
1 1/2 cup (6-oz) shredded Monterey Jack (or Colby Jack) cheese
1 1/2 cup half-and-half
Blue corn tortilla chips
Guacamole
Sour cream
Shredded cheese
Prepare fajita mix according to package directions; add chicken and marinate as directed. In a large skillet, cook chicken in oil until juices run clear; set aside.
In a large saucepan saute onion in butter until tender. Stir in the flour until blended. Gradually stir in broth and bring to a boil. Cook and stir for 2 minutes until thickened and bubbly. Add the tomatoes, processed cheese and 1 cup shredded cheese. Cook and stir until cheese is melted. Stir in half-and-half and chicken. Heat through. Garnish with blue corn tortilla chips, guacamole, sour cream and shredded cheese.
* I like to double this recipe because it's a huge family favorite. Doubled, it feeds about 10 adults without any leftovers!