See the bag pictured below? The Halloween candy inside fills the Trader Joe's bag all the way to the ship's flag. That's what happens when you require your kids to place all their Halloween candy in one big bag. No individual stockpiles (except for Mom's) in this home!
….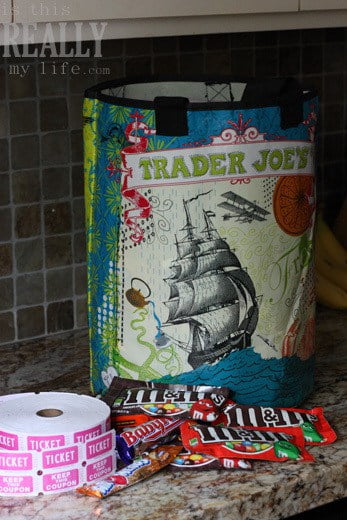 ….
I'm not kidding about how much candy they hauled in this year.
….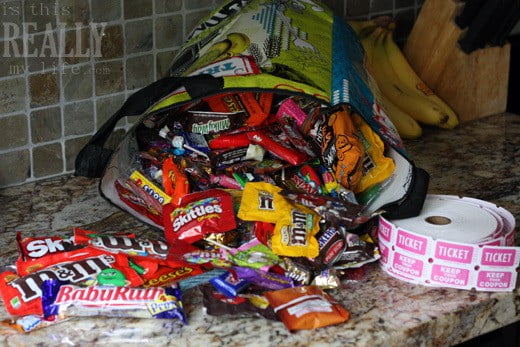 ….
See the roll of pink raffle tickets on the right? That is how we dish out the spoils from Halloween's trick-or-treating extravaganza. Every morning the kids receive three tickets for the day. Each ticket is good for one piece of Halloween candy. If they'd like one of the few regular-size candy bars (on the left), it will cost them six tickets.
I had each child decorate a small envelope in which to store their tickets. The first day, Olivia's tickets lasted her about one hour, but she's since learned how to space them a bit better as the days go by. George is doing the same thing.
The first day of tickets, Lauren went upstairs, gathered some candy she had from who knows what school  party and asked if she could cash in those pieces for tickets. I obliged but the ratio for trading in candy wasn't quite as tasty as the other way around: two candies for one ticket. It didn't take long for her to trade in pieces she didn't like—even at the lower rate—for ones she did. Smart girl.
Who knows what Madison is doing with her tickets. Maybe she's selling them on the black market.
Me? I'm the keeper of the candy and work on commission. I earn one candy every time someone makes a transaction. My job is awesome.
…


Feel free to "like" is this REALLY my life? on Facebook. It won't always earn you an extra entry in a giveaway but it will give you warm fuzzies.
Don't forget to sign up for free is this REALLY my life? updates via RSS or email so you don't miss a single awesome post.
…