This post brought to you by Hallmark Hall of Fame. The content and opinions expressed below are that of is this REALLY my life?.
Okay, Hallmark Channel fans. I have a must-watch Hallmark Hall of Fame premiere for you—it's perfect for warming the heart during January's non-stop wintry weather.
.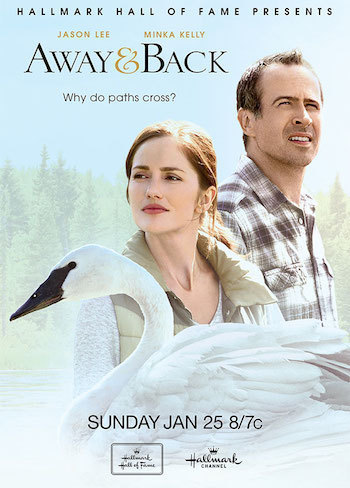 On Sunday, January 25th at 8/7 Central, the film AWAY & BACK, starring Jason Lee and Minka Kelly, will be front and center on the Hallmark Channel. This family-friendly film is directed by Jeff Bleckner (director of Hallmark Hall of Fame fan favorites like Remember Sunday and Loving Leah) and tells the story of a family of swans as they make their home on the Peterson farm. Of course it's love at first sight for Frankie, the 10-year-old daughter. (It would be love at first sight for my animal-loving 17-year-old daughter as well.) It's the opposite of love at first sight for Frankie's dad Jack (Jason Lee) when no-nonsense ornithologist Ginny (Minka Kelly) rushes in to "save" the majestic birds.
.
You'll have to watch the AWAY & BACK premier to find out what happens next. Can't wait that long? Maybe this AWAY & BACK trailer will help…
.
Speaking of winter, you could win a family vacation by entering the AWAY & BACK Trailer – Share to Win Sweepstakes! Visit here watch the trailer, sign up and share the trailer for a chance your chance to warm your heart someplace other than your family room.
A few more details…
For more than 60 years, the Hallmark Hall of Fame has presented original films that entertain, enlighten and inspire. AWAY & BACK is the latest in the series and is no exception to the Hallmark Hall of Fame legacy! Following the premiere, DVD sales of the movie will be available online at hallmarkhalloffame.com.
.
.


Feel free to "like" is this REALLY my life? on Facebook. It won't always earn you an extra entry in a giveaway but it will give you warm fuzzies.
Don't forget to sign up for free is this REALLY my life? updates via RSS or email so you don't miss a single awesome post.
.