One of THE BEST Christmas presents Nathan and I received was a season ticket package to Hale Centre Theatre. In fact, we loved those performances so much, we asked for the same thing the following year.
Those tickets made for fabulous date nights, and not just because we saw plays like The Diary of Anne Frank (totally needed Kleenex), The Pirates of Penzance (love me a modern major general), The Adventures of Tom Sawyer (an amazing stage that disappeared to reveal a river complete with floating raft), Singin' in the Rain (a classic) and countless other amazing performances. (Check out the list of HCT's previous performances; recognize a few?)
This month Hale Centre Theatre is performing one of my most very favorite musicals, My Fair Lady.
...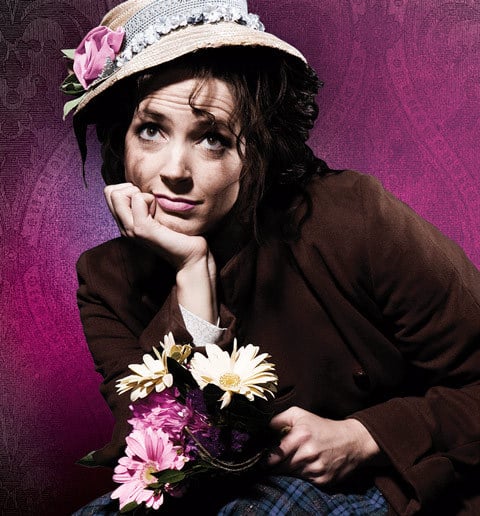 ...
While watching the classic movie starring Audrey Hepburn and Rex Harrison, I've wanted to throat punch (a phrase I adopted from Steph) Professor Higgins a time or two...or three or four. And I've seen Eliza Doolittle tell that racehorse to move his "bloomin' arse" more times than I can count—and laughed out loud every time. Here's to hoping that same scene will be just as enlightening when I watch it in-the-round on November 3rd.
Here's to hoping you'll be there too!
Hale Centre Theatre has generously given me 5 pairs of tickets to give away for their VIP Blogger Social to be held the evening of November 3rd!
That's right! It's a very fair girls' night out for you and a friend! Here's what's on the schedule for the evening:
     6:30 p.m. ~ Hors d'oeuvres and socializing
     6:45 p.m. ~ HCT creative team shares with us the staging of My Fair Lady
     7:15 p.m. ~ Seating for the 7:30 p.m. show
     10:00 p.m. ~ Afterparty*
* Who am I kidding? There's no afterparty; I totally just threw that in there. Thursday's a school night after all.
For your chance to win, leave a comment telling me your favorite play and/or musical.
For extra entries, you can do any/all of the following. Please leave a separate comment for each one you do (each one earns you an extra entry).
~ "Like" Hale Centre Theatre on Facebook.
~ "Like" ITRML on Facebook.
~ Tweet about this giveaway and leave the URL of your tweet.
This giveaway will end at midnight on October 31st.
Note: Winner will be notified via email. If no reply is received, a new winner will be drawn.
Disclosure: A big thank-you to Hale Centre Theatre for the fab girls' night out and continuing excellence in all things theatrical.