You read that correctly. In today's post you'll see me getting ready for this summer's sprint triathlons thanks to the H2O Audio Interval 4G and my bathtub.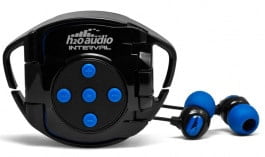 I've been dying to try the Interval 4G ever since I started training for triathlons two summers ago. As much as I adore swimming (it's my favorite part of the tri), swimming 40+ laps can get a bit old, especially if you've just finished a 60-minute spin class.
This summer it's going to be different, because this summer I'll have an iPod shuffle chock full of my favorite workout music stowed securely inside a waterproof headphone system. This will be me come June:
It's about freakin' time.
Okay, that's not really me; it's Natalie Coughlin. But that totally could be me in another life.
Before I share my video review—complete with awesome swim cap, goggles and a bubble bath—let me tell you why H2O Audio's Interval 4G is so dang cool:
Specifically designed for the 4th generation iPod shuffle.
Submersible to 12ft underwater (i.e., waterproof).
Integrated goggle loops.
Short headphone wires.
Simple push buttons for volume and playback.
Five (5) sets of flexible earplugs so headphones stay in place while swimming.
Fancy Surge 2G headphones (i.e., superior sound and fit, dynamic bass and less drag).
I know, I know. Now YOU want an Interval 4G.
I'm happy to share if you're willing to do half the laps.
Without further ado, here's my video review of the Interval 4G waterproof headphone system by H2O Audio shot by my in-house, professional (14-year-old) videographer.
This is why I pay her the big bucks.
…
…
I haven't had a chance to test how the Interval 4G holds up during flip turns due to lack of space in the bathtub, but I'll let you know come June when the outdoor pool opens. Until then I'll stick to using it to tune out the family while I'm in the shower. (I only take baths for special occasions like product reviews.)
P.S. I apologize if any of you are traumatized after watching the video. At least I left the part with me climbing into the bathtub (thanks for the butt shot, Madison) on the cutting room floor.
P.P.S. I should have placed both goggle straps through the headphone loops. My bad.
Disclosure: H2O Audio provided me with an Interval 4G waterproof headphone system for this review. I provided the smokin' hot swim cap, goggles, camo Speedo swimsuit, bubbles and smudged mascara.