I'm pretty sure you could figure out how to make a grasshopper pie without my help, but I'm still going to post the recipe because it features my very favorite Oreo crust. It also uses my favorite mint-flavored ice cream, which is Breyer's Oreos Cookies & Cream Mint.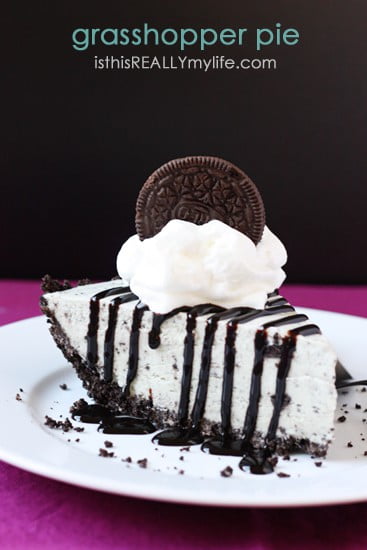 This grasshopper pie is a joy to make because it takes such little effort yet is one of my family's favorite desserts. It's also a joy to photograph because I always eat a slice post photo shoot. I mean, why put a partially melted slice of perfectly good ice cream back in the freezer?
It's too late to eat this "green" ice cream pie for St. Patrick's Day, but that's okay because it's dang good any time of year...even the dead of winter.
Printable recipe for grasshopper pie below.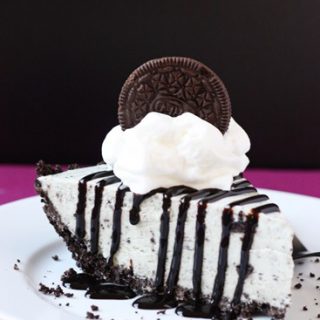 Grasshopper Pie
Total Time:
4 hours
10 minutes
Ice cream pies are one of my most favorite desserts and this one is by far my fave. The chocolate peanut butter ice cream pie I posted last August is a close second.
Ingredients
Crust
25 Oreo cookies, crushed
¼ cup butter, melted
Pie
1 carton Breyer's Oreo Cookies & Cream Mint ice cream (or your favorite mint ice cream)
Whipped cream
Chocolate sauce
Optional toppings: Hot fudge, chopped nuts, chocolate chips, crushed Oreos
Instructions
Crust
Place crushed Oreo cookies and melted butter in a medium bowl. Mix until thoroughly combined.
Press into a 9-inch pie pan. Set aside.
Pie
Soften ice cream by letting sit on counter for 10 to 15 minutes or microwaving on low power (30%), stirring between 30-second intervals.
Gently scoop into pie crust and spread evenly.
Place in freezer until set (approximately 3 to 4 hours).
Remove a few minutes before serving so ice cream softens enough to slice. Serve topped with chocolate sauce and whipped cream.
Notes
* I like to use my food processor to crush the Oreo cookies. You get a much finer crumb and texture that way, but a good ol' rolling pin and Ziploc bag work well too.
Our family's other favorite ice cream pie is this
chocolate peanut butter ice cream pie
with the same delectable Oreo crust. It features Tillamook's Chocolate Peanut Butter ice cream. And it's to die for.