WARNING: This is a doozy of a post but I encourage you to read it in its entirety.
What do all these things have in common? They are the latest goodies you'll find over at SassyScoops.com. It's time for the monthly recap and do I have some sweet treats for you!
Utah Kernels
First we have Utah Kernels, maker of some seriously gourmet (and fun and tasty) popcorn. My favorite is the Chocolate Avalanche but you might be partial to the Cherry Cordial or Salt & Vinegar.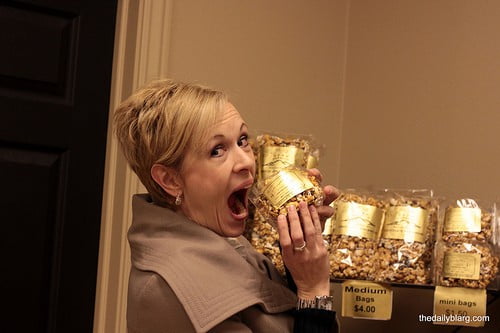 You could even place a custom order if you have an upcoming wedding or corporate event; they have a great variety of colors and flavors.
...
Blickenstaff's & a GIVEAWAY
The Sassies had a total blast at Blickenstaff's toy and candy store in the Riverwoods shopping center (Provo, Utah). From the fun selection of old-fashioned candy and bulk candy (we LOVE the Lego-style building blocks) to the ceiling-mounted train, this store has something for kids of every age. You'll even find toys imported from Europe you'd be hard-pressed to find anywhere else. Blickenstaff's even has proof unicorns exist: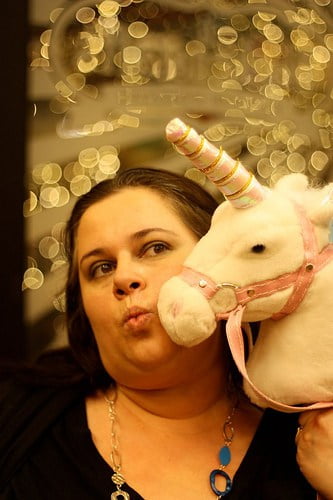 True to its spirit of fun and games, Blickenstaff's has an awesome giveaway for our readers: a custom treasure hunt for your family! Check out the post to enter for your chance to win!
...
ShayBee's boutique & a GIVEAWAY!
Talk about your hidden treasure! ShayBee's, a boutique tucked away on Main Street in Springville, is fabulous enough to change even the biggest boutique skeptic (aka our Sassy Jenny). Inside you'll find homemade fudge, dipped strawberries, accessories, clothing, baby gifts, home decor and the cutest couple ever to own a business together (Lisa and Clint). I came home with a shirt, jeans, earrings, headband, caramel apple, old-fashioned soda and cute "you are my sunshine" sign currently sitting atop my bookshelf. (Budget? What budget?)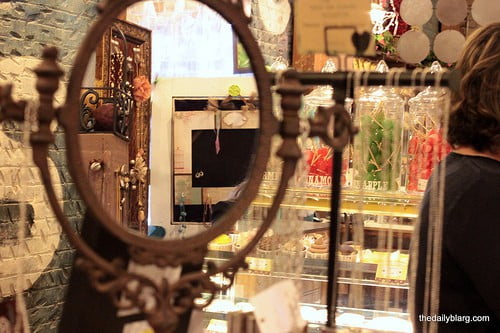 ShayBee's is offering our readers one of our sweetest giveaways: a $50 Chocolate Overload gift basket AND a $50 gift card! Head over to Friday's post and enter for your chance to win!
...
Yogurtland: Froyo (and a BOGO) for you!
SassyScoops.com has a new sponsor: Yogurtland in Orem! The Sassies visited the new location and tried pretty much every flavor and every topping and loved every bite. You'll have to wait for our official review, but until then you can enjoy a special SassyScoops/Yogurtland deal: buy one froyo, get one free! (The deal is only good through April 30th and only during 11am to 4pm.) Click on the image below to open a PDF file of the coupon you can print and take with you when you visit.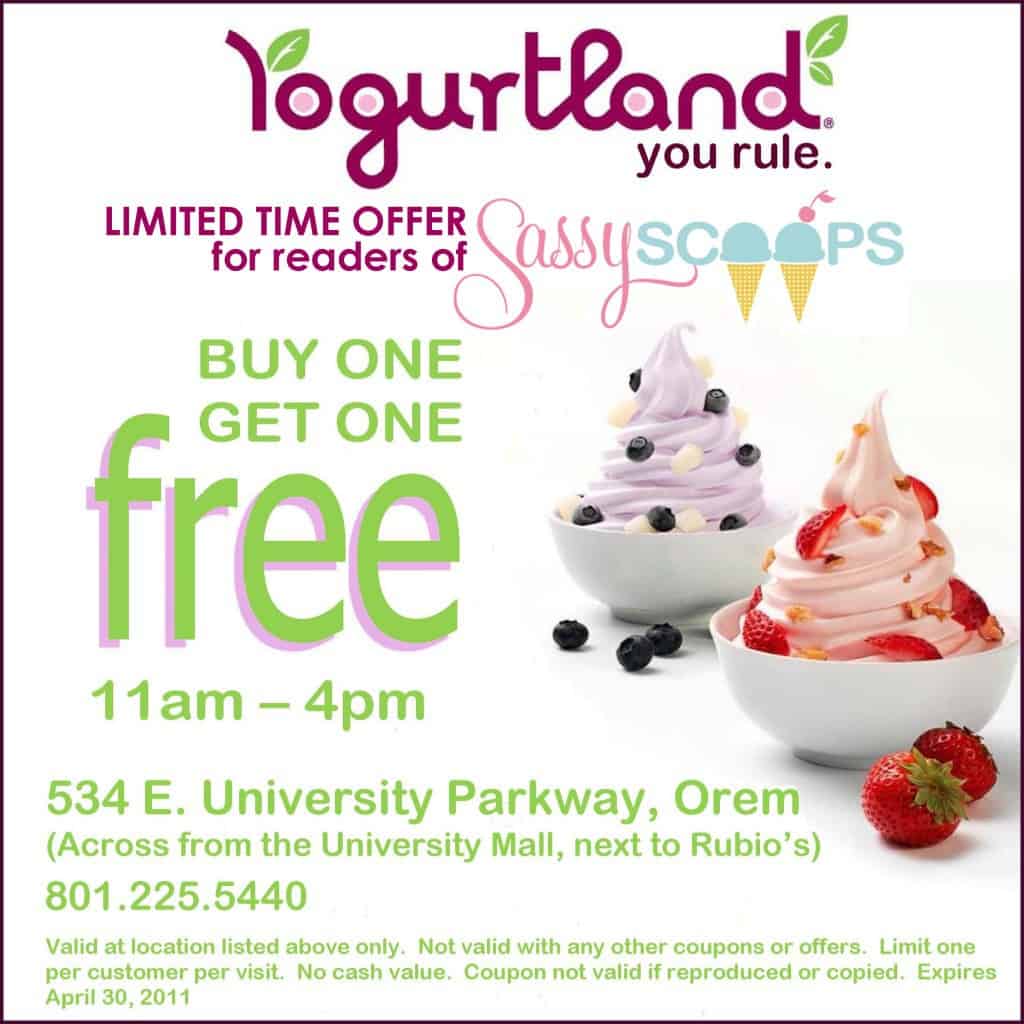 ...
Super sassy Facebook contest: win a $300 VISA gift card!
It wasn't too long ago we gave away a $250 VISA gift card and now we're doing it again, only this time we've upped the ante. We're jonesing for 5,000 Facebook fans and need your help to get there.
Want to be the lucky follower who wins? It's simple: just message your friends a link to our Facebook page at http://www.facebook.com/sassyscoops and encourage them to "like" us. You could even let them know they could win $300! When we reach 5,000 "Likes" we'll draw a winner for the $300 prize!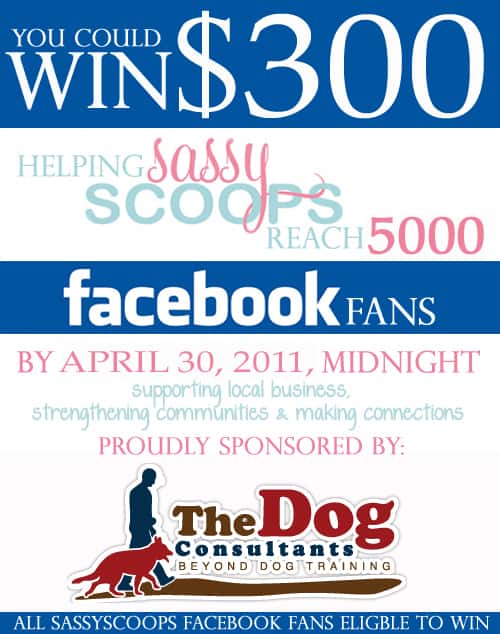 ...
Spring Sassy Girls' Night Out! Mark your calendar now!
Ready for another super fun girls' night out? Grab your Sharpie and mark your calendar for Thursday, May 19th from 6:30 to 9:00 p.m. We are partnering with Tom & Lucy's Art Shoppe to bring you one simply fabulous event. We'll have giveaways, good food, live music and lots of fun plus a little shopping on the side. More details to follow, but for now, here you go: