This post is part of a social shopper marketing insight campaign with Pollinate Media Group® and GODIVA, but all my opinions are my own. #pmedia ##GiveGODIVA http://my-disclosur.es/OBsstV
Does anyone else feel like Thanksgiving can't really be happening this week, and it can't really be only 31 days until Christmas? Every year the holidays seem to arrive more quickly and every year our schedules seem to overflow with school events, church parties and family and friend get-togethers. It leaves little time for thinking deep thoughts about gift giving at Christmas or and even less time to check everything off your holiday shopping list. It's enough to drive a person insane…which is why a GODIVA holiday survival kit is a necessity.
Without one, you may not live to see New Year's Day.
.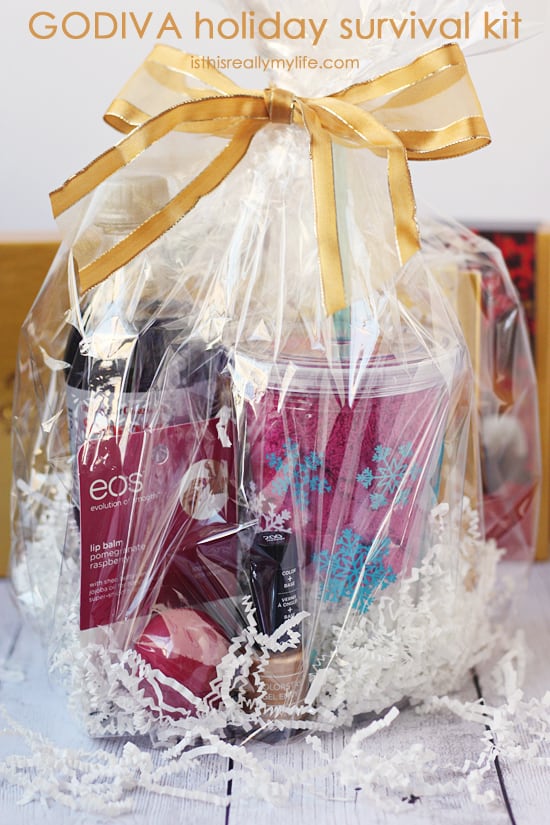 .
You'll find this GODIVA holiday survival kit simple and quick to assemble and the ROI totally worth it. Whether you're gifting sanity to a friend, family member, co-worker or neighbor, she'll not only love what's inside but also your thoughtfulness. Making one of these kits obviously shows you're concerned about her sanity. Now that's love.
.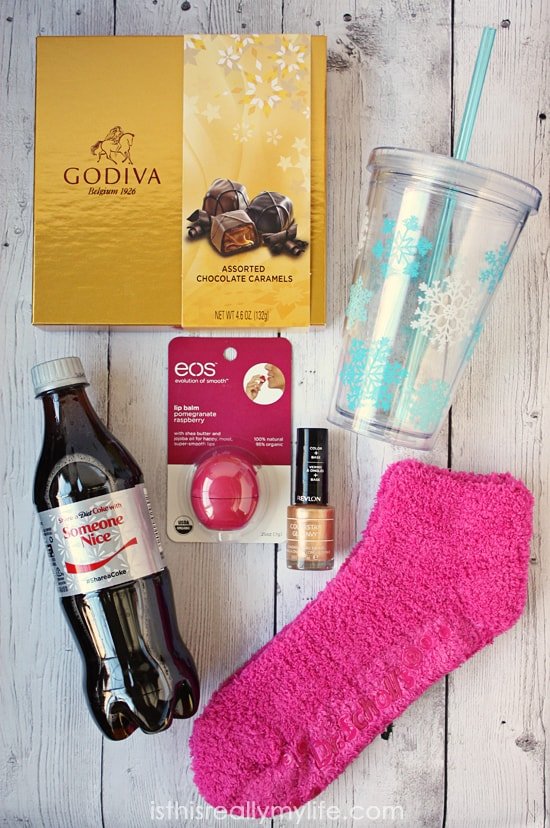 .
For this holiday survival kit, I included what I felt were essential sanity savers. You can find everything at your local Walmart:
GODIVA Assorted Chocolate Caramels gift box (no explanation needed)
Diet Coke (it's not the holidays without caffeine)
Reusable BPA-free cup (I own a bazillion of these and adore them)
Fuzzy socks (I also own a bazillion of these)
EOS lip balm (gotta be prepared for all the mistletoe)
Festive gold nail polish (because a girl likes to feel pretty even when she's elbow deep in a turkey)
.
Tell me you wouldn't love to put this holiday survival kit to good use…because I sure would.
Okay, I may have dove into one of the extra Diet Cokes and sampled one of the gift boxes while putting the kit together.
Those GODIVA gift boxes are awesome. Throw on a red bow and they make it easy to cross off so many people on your holiday shopping list—co-workers, party hosts and hostesses, stylists, teachers, yourself… Visit Walmart this holiday season for GODIVA Chocolate Gift Boxes. Available in three 9PC varieties and also a 15PC Dark All-of-a-Kind (while supplies last).
For more GODIVA goodness, visit GODIVA online, "like" them on Facebook or follow them on Twitter, Instagram and Pinterest.
If you're looking for more holiday fun, check out my happy holidays Pinterest board.
.
.

Feel free to "like" is this REALLY my life? on Facebook. It won't always earn you an extra entry in a giveaway but it will give you warm fuzzies.
Don't forget to sign up for free is this REALLY my life? updates via RSS or email so you don't miss a single awesome post.
.