When Lauren request this glazed lemon poppy seed bundt cake for her birthday this year, I couldn't say no. This is one of the most decadent poppy seed cake recipes EVER. It's a good thing I make it only once a year or so; it probably has your yearly requirement for butter and sugar in one slice.
…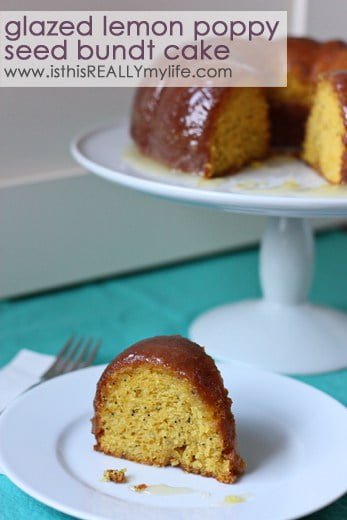 …
The only step I find a bit tricky in this lemon poppy seed bundt cake is boiling the sugar glaze. I either do it too long or not long enough. You want the sugar crystals completely dissolved, so keep a close eye on it as it boils.
Here are a couple other cake recipes you might enjoy:
…
Printable recipe for glazed lemon poppy seed bundt cake below.
…

Glazed Lemon Poppy Seed Bundt Cake
Super decadent lemon poppy seed bundt cake with a boiled sugar glaze.
Author:
Emily ~ isthisREALLYmylife.com
Ingredients
Cake
1 box lemon cake mix
1 large (or 2 small) package instant vanilla pudding mix
½ cup fruit juice
1 T poppy seeds
½ cup water
½ cup oil
4 eggs
Glaze
1 cup granulated sugar
¼ cup water
1 cup butter
Instructions
Cake
Preheat oven to 350 degrees. Grease and flour bundt pan.
In a large mixing bowl, combine cake mix, pudding mix, fruit juice, poppy seeds, water and oil. Beat until combined.
Add eggs one at a time, beating after each addition. Beat on medium speed 2 minutes.
Pour mixture into bundt pan and bake for 45 minutes or until a toothpick inserted into center of cake comes out clean.
Remove from oven; leave in pan.
Glaze
Start glaze last 10 minutes of baking.
In a large saucepan, combine sugar, water and butter. Bring to a boil and boil 5 to 7 minutes or until sugar is completely dissolved.
Pour over bundt cake in pan, gently pulling the sides away to allow the glaze to settle to the bottom (top) of cake.
Let sit at least 45 minutes to an hour before turning onto serving platter. Enjoy warm or let cool.
…

Feel free to "like" is this REALLY my life? on Facebook. It won't always earn you an extra entry in a giveaway but it will give you warm fuzzies.
Don't forget to sign up for free is this REALLY my life? updates via RSS or email so you don't miss a single awesome post.
…