I totally got my craft on.
I know! I can hardly believe it myself. That makes a total of three crafts this year if you count my flower cabochon rings and the little crafty thingy I made at SNAP!
Baby, I'm on a roll!
…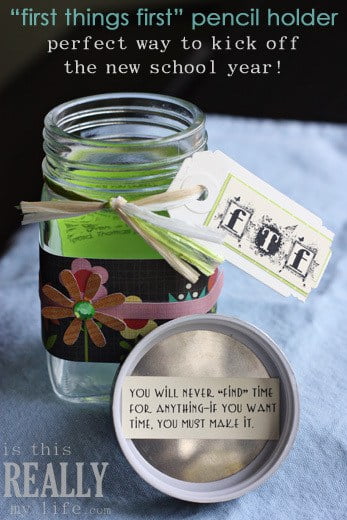 …
Thanks to my position as the Personal Progress specialist in Young Women, I get to teach the entire group of 12- to 17-year-old girls once a month. My lesson is taken from the Personal Progress book and helps the girls pass off one of their value experiences.
This month's value was Knowledge (color = green), and with it being back-to-school time, I focused on Value Experience #2, which has the girls learn a new skill. My skill of choice? Prioritization and time management.
That's where the "ftf" tag comes in. It stands for "first things first." Oh, I'm clever!
Because the lesson wasn't going to take the entire 45 minutes, I tried to think of a back-to-school craft the girls could easily do in class. (Modge podge was definitely out!) A pencil holder came to mind—you know, those cute ones where you cover a soup can with scrapbook paper.
But alas, I didn't have 20 empty soup cans and that craft would take all of 2 1/2 minutes.
That's when I came up with the idea of using a glass jar and covering it in adorable scrapbook paper. I should mention I don't scrapbook but adore scrapbook paper; any excuse to buy some is fine by me, especially when it's 50% off at Hobby Lobby.
The jars were 50% off too—bonus!
To be completely honest, I had a little help turning my craft idea into craft reality. My dear friend Molly not only suggested the double-stick tape and varying sizes of paper strips, she also loaned me the punch for the flowers and the fancy tag edges. I know, it's hard to believe I don't own any cool craft punches. (Are they even called craft punches?!?)
Molly is an awesome Pinterest-er. You should follow her.
So here's how you make these super easy, super cute "first things first" glass jar pencil holders. Of course, you could use these jars for just about anything—candy, buttons, loose change, single earrings, fortune cookie fortunes. Change up the tags, the punches, the raffia…whatever floats your boats. Crafts are cool that way.
…
Back-to-School Glass Jar Pencil Holder
Supplies
Glass jar with smooth surface (with or without lid)
Colored raffia (you can also use grosgrain ribbon)
Small tag
Coordinating scrapbook paper
Flower punch
Adhesive gems (mine were green to go with the Knowledge value color)
Quotes (see "notes" at end of post for links to quotes I used)
"ftf" accent for tag
Double-stick tape
Glue stick
…
Prep work before assembly
Cut scrapbook paper into two sets of strips long enough to wrap around the jar. Add 1 inch to the length so they will overlap. Widths will depend on the size of your jar. My large strips were 2 inches wide by 10 inches long; small strips were 1/2 an inch to 1 inches wide by 10 inches long.
Use the flower punch to create a variety of flowers.
For the tags, cut scrapbook paper just larger than the "ftf" accent but small enough to still fit on the tag. Using a glue stick, attach the piece of scrapbook paper to the tag and then the "ftf" to the paper. Use a decorative punch to scallop the corners.
Cut the raffia or ribbon long enough so you can tie it around the neck of the jar into a square knot.
Remove the lid and stick the smaller quote to the underside. (Shhh…it's a surprise!)
Slip the larger quote inside the jar. Replace the lid.
…
Now you're ready to have the girls put together their back-to-school jars!
Assembly
Take a larger strip of scrapbook paper and place a piece of double-stick tape on either end of the wrong side of the paper. Place a few pieces along the top and bottom of the strip as well. This will help secure the paper to the jar.
Wrap the paper around the jar and press down to secure it well.
Follow steps 1 and 2 for the smaller strip of scrapbook paper. (If it's really thin, you may need to trim the tape a bit.)
Use a small piece of double-stick tape to secure the flower to the scrapbook paper. Attach the gem to the center.
Slip the raffia or ribbon through the tag and tie it in a square not around the neck of the jar.
…
I loved watching the girls get all creative with their jars. Some added more than one flower or staggered the flowers on top of each other before attaching them. Another girl placed the gems all along the paper. They had a fabulous time and those jars meant more to those girls than if I'd made them.
Can you see the little quote tucked inside the jar and another hiding inside the lid? To die for!
NOTES
…
P.S. Feel free to "like" is this REALLY my life? on Facebook. It won't earn you an extra entry in any giveaway but it will give you warm fuzzies. Even better.
P.P.S. Don't forget to sign up for free is this REALLY my life? updates via RSS or email so you don't miss a single awesome post.
…