This post is part of a social shopper marketing insight campaign with Pollinate Media Group® and Glad, but all my opinions are my own. #pmedia #pressnsealhacks http://my-disclosur.es/OBsstV
.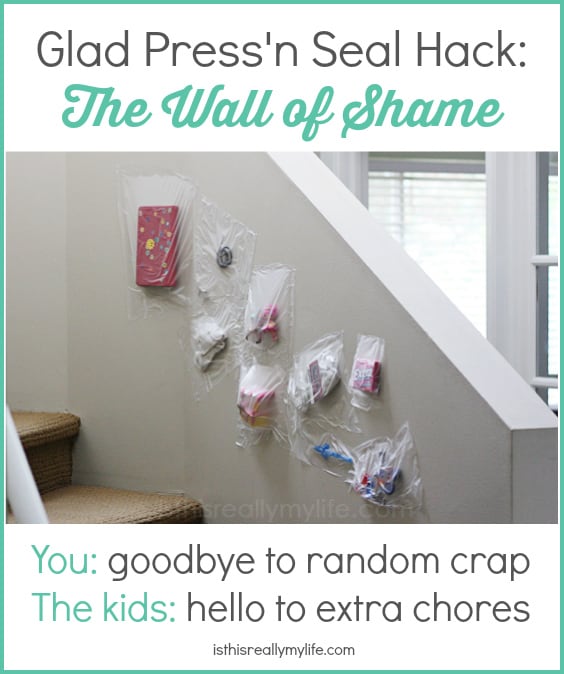 .
This is quite possibly the best Glad Press'n Seal hack of all time, at least as far as this mom is concerned. And believe you me, I'm concerned.
I'm concerned my sanity isn't going to last much longer if my kids continue to leave crap lying around our home. No matter how many times I ask—and yes, even beg—them to pick up their dirty socks, sure-to-be-stepped-on miniature toys, hairbands, bobby pins and assorted accessories, I still find them scattered to the far corners of every room in the house. Or at least every room on the main floor.
If there were scattered to the far corners of their bedrooms, I'd have high hopes for my sanity.
Desperate times call for desperate measures. Or in this case, Glad Press'n Seal hacks.
I'm not gonna lie. This YouTube video had something to do with my idea for this hack. That dad was a genius. If he can use Glad Press'n Seal to baby proof his home, I sure as heck can use it to create a wall of shame.
Now, you can't have a wall of shame without content to feature. Good thing our home is brimming with as much content as my fridge is brimming with Diet Coke.
.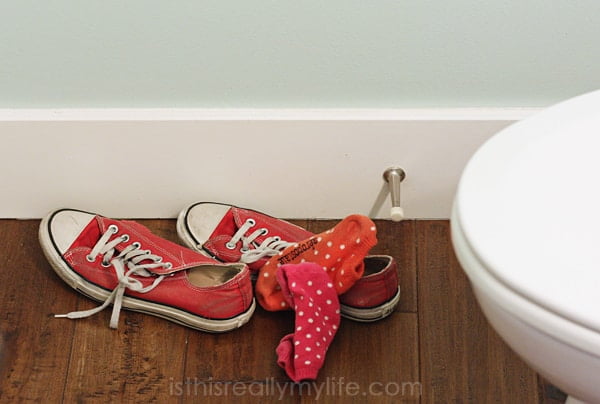 I don't know why, but you can always find a pair of socks and shoes in the guest bathroom.
.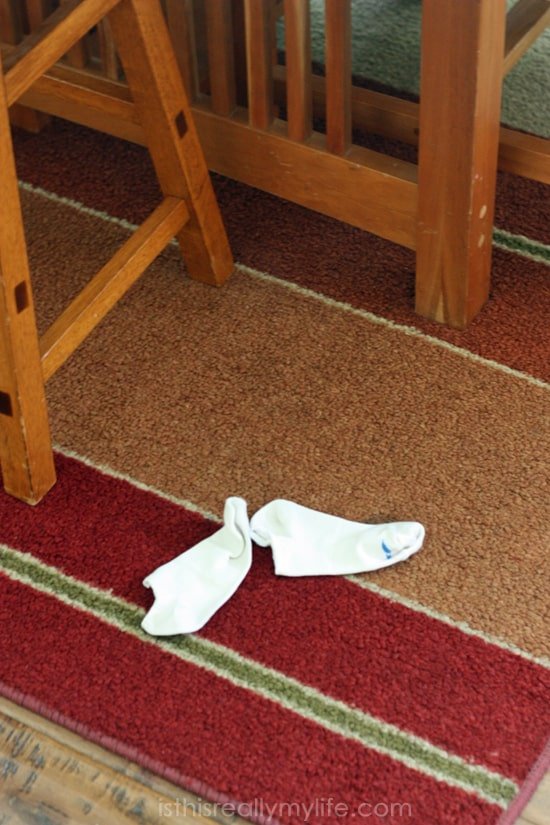 And another pair under the dining table.
.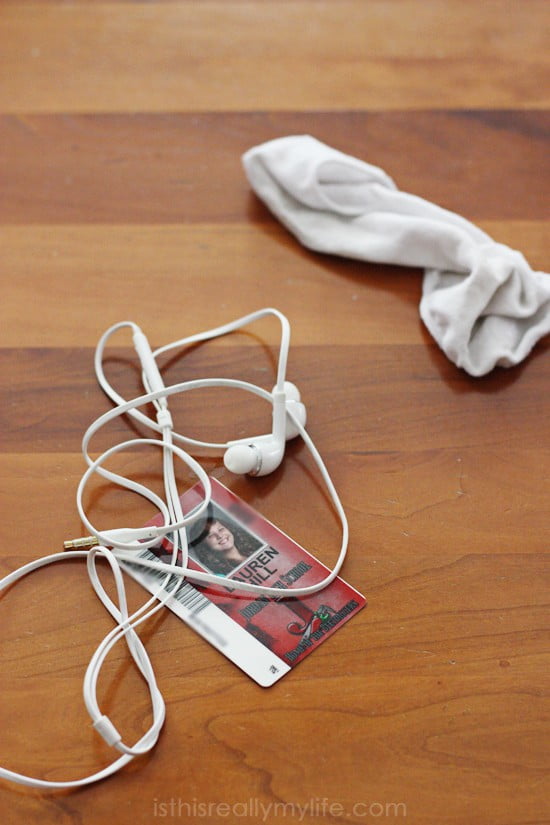 I don't know how many times Lauren has searched for her headphones and school ID. Perhaps if she left them in her backpack…
.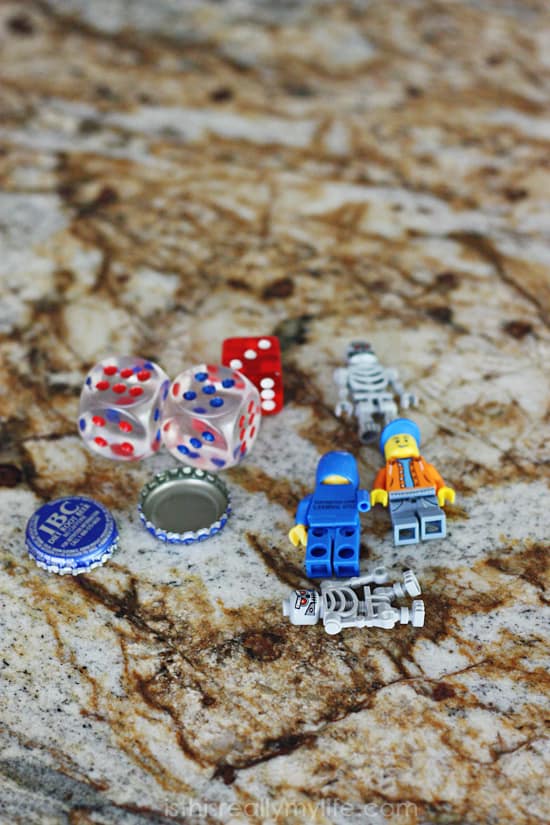 I've stepped on my fair share of LEGO minifigures. And dice.
.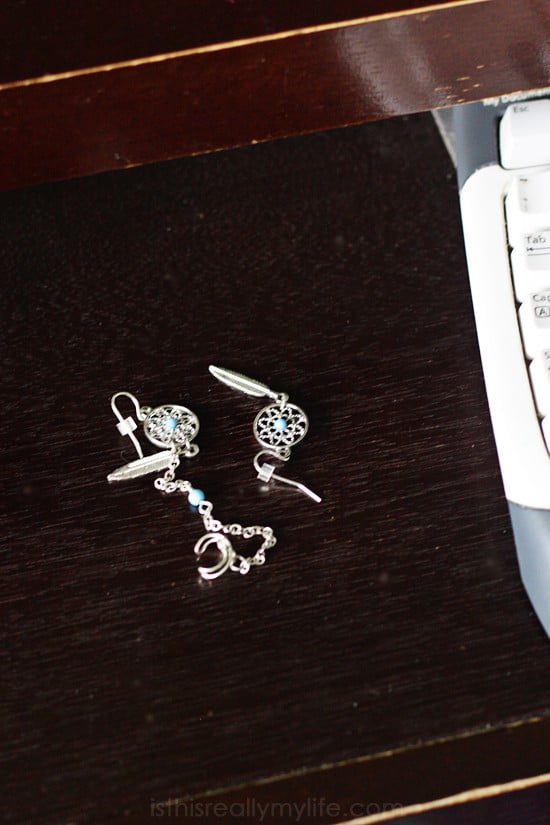 Both Lauren and Livi like to leave their earrings on Nathan's desk.
.

I could start my own hair accessories business with all the hairbands and bobby pins I've found around the house.
.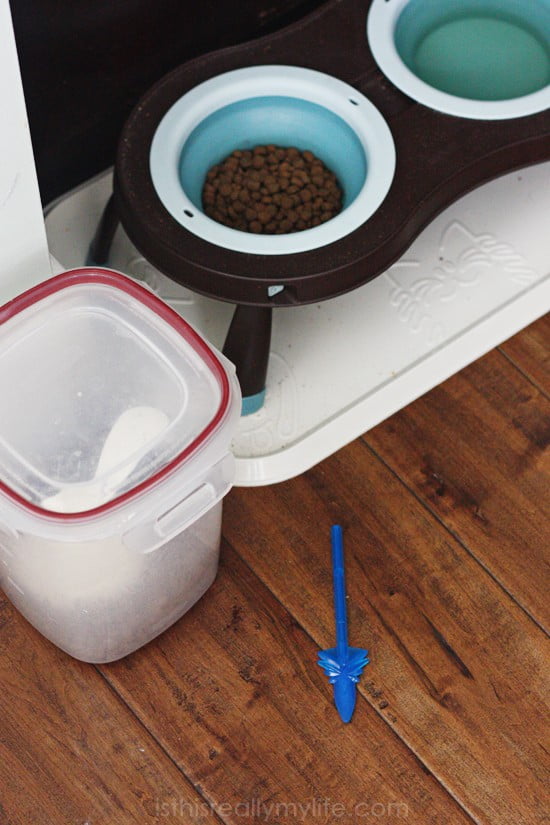 I have no idea what this is or why it's right next to the dog's food bowl.
.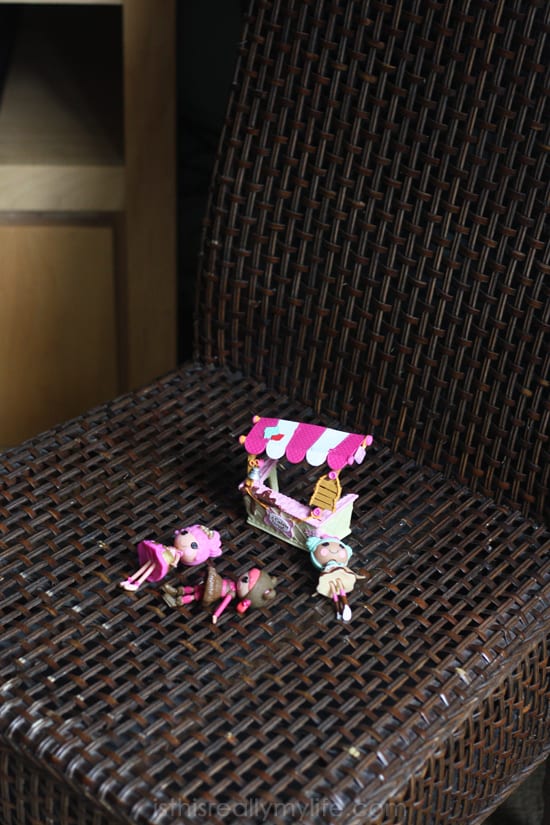 Yep, stepped on these lovely ladies too.
.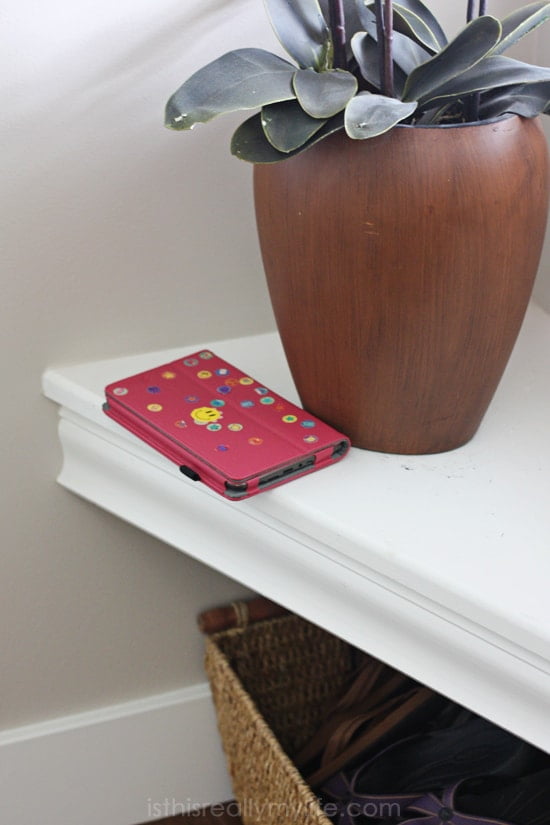 Tablets end up in the most random places; this is one of the least random.
.
I've always wondered what I should do with this crazy curving staircase. Who knew it would turn out to be the perfect backdrop for the aforementioned wall of shame thanks to Glad Press'n Seal, which I found at my local Walmart.
Though it took a little bit of time, the effort was well worth it.
Speaking of effort, if my kids want their forgotten items back, it will take a little effort on their part.
You'd like your LEGO minifigures back? Feel free to vacuum the office and family room.
Wish you could play with your Lalaloopsy dolls? Better hurry and sweep the kitchen floors.
Searching for a pair of clean socks? My kitchen counters could use a good wipe down.
Need those noise-canceling headphones? Grab some Clorox wipes and head to the guest bathroom.
The possibilities for chores are endless! And because my kids love chores so much, I have a feeling it won't be long before the wall of shame ceases to exist.
A mom can only hope.
I did discover Glad Press'n Seal is no match for tablets. That baby came down within seconds. That doesn't mean it couldn't hold a smartphone if said smartphone is left lying around OR the teenager needs an intervention with her screen.
Okay, so maybe it's not the best Glad Press'n Seal hack of all time, but anything that makes parenting a little more fun is a win in my book.
You can visit the Glad website to learn more about Glad Press'n Seal. You can also engage with Glad on Facebook, Twitter, Instagram and Pinterest.
.


Feel free to "like" is this REALLY my life? on Facebook. It won't always earn you an extra entry in a giveaway but it will give you warm fuzzies.
Don't forget to sign up for free is this REALLY my life? updates via RSS or email so you don't miss a single awesome post.
.