georgie tees is finally closing its doors. Life and all its excitement/craziness/joy/projects/endeavors has us moving on from the business we started five years ago. It is time and though a bittersweet ending, we are excited to see what the future will bring.
To help us close our doors as soon as possible before the holidays, we are having a GINORMOUS SALE on our site!
$10 infant tees (reg. $24)
$20 infant twin sets (reg. $45)
$20 mom & baby set (reg. $48)
and
FREE PRIORITY MAIL SHIPPING on all orders over $50!
That's a good 60% off or so and even better than our friends & family discount–whoo hoo! Now is the time to stock up on all those baby shower gifts and stocking stuffers for the holidays. Heck, stock up on our great infant tees for your kids as well!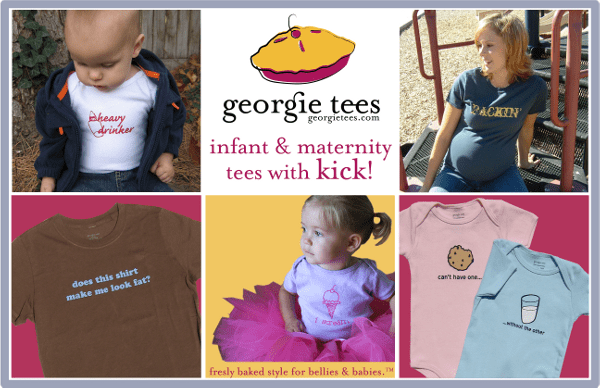 To shop and support the cause (i.e., help us break even on our inventory investment),please visit georgietees.com.
P.S. All maternity tees are SOLD OUT.
P.P.S. You just might find our maternity tees on BabySteals.com in October.
P.P.P.S. A few of our styles/sizes in our popular infant tees have already sold out, so don't wait too long!