This post is sponsored by FitFluential LLC on behalf of Blendtec and contains affiliate links.
We have been fans of Blendtec
since we received our first Blendtec blender nearly three years ago from my in-laws. Nathan's been a fan of gingersnaps since he tasted his first gingersnap over 30 years ago at his great-grandmother's home in Idaho. I figured what better way give you the most honest Blendtec Designer 725
review than by test driving a recipe for some seriously thick gingersnap cookie butter.
Mmm…cookie butter.
.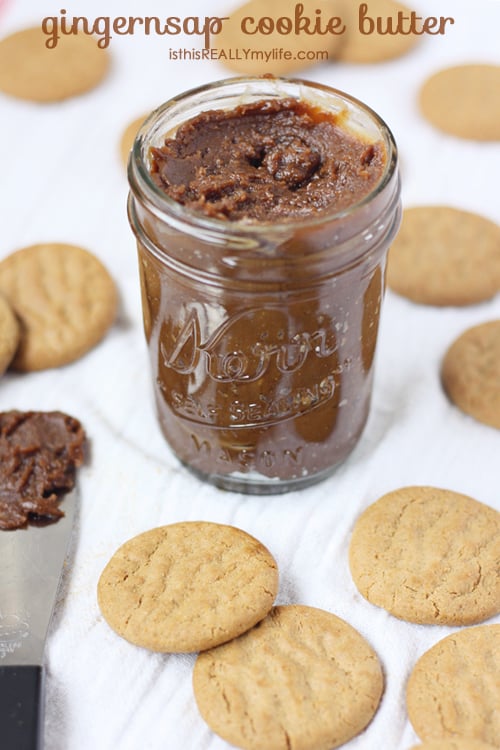 .
Before we get into the gingersnap goodness, let me tell you why the Blendtec Designer 725 needs to be on your holiday wish list. Ready? Here goes…
It is the best. blender. EVER.
No, really. And not just because it's so very, very pretty.
It also has some pretty awesome features. See if you can tell which are my favorites.
I loved my old Blendtec but I had no idea what I was missing, and I'm not just talking about SmartBlend technology, which senses and identifies possible blending problems like loading errors, overheating, or air pockets and then tells me how to fix them. I'm talking about the niftiest touchscreen known to the small appliance world. One touch of this little button…
…and my mind was blown. Blown, I tell you. The screen lit up and the digital tutorial started guiding me through the ins and outs of my new Blendtec Designer 725. The tutorial taught me all the nifty tricks this blender can do including reward me for achieving milestones in my blending career.
It's about time I was recognized for my mad smoothie- and dressing-making skills.
Those are just a few highlights from a rather entertaining tutorial. My most favorite feature of the Blendtec Designer 725 touchscreen? The ability to change the speed of the blend or pulse by sliding your finger along the line at the bottom of the screen. Apparently it's a 100-speed capacitive touch slider. That's 100 speeds, people.
I could have played with that feature ALL DAY. But daylight was fading quickly (darn you, Daylight Savings!) and I had some gingersnap cookie butter to blend into submission. The Blendtec was ready and waiting.
I decided to use the Blendtec Blendtec Twister Jar
for this project. This little jar is designed for thicker recipes like nut butters, hummus, baby food and thick shakes. When you use the jar, you twist the lid counter-clockwise while the blend cycle is running, forcing the ingredients from the sides into the blade for a smoother blend. So cool, right?
Throw in the Spectacula spatula (designed specifically for the Twister Jar) and you can scrape the sides of your jar cleaner than beaters after my kids have licked off the brownie batter. I also love the size of the Twister Jar–it's perfect for single-serve smoothies and smaller batches of dips and dressings.
Or a batch of gingersnap cookie butter.
.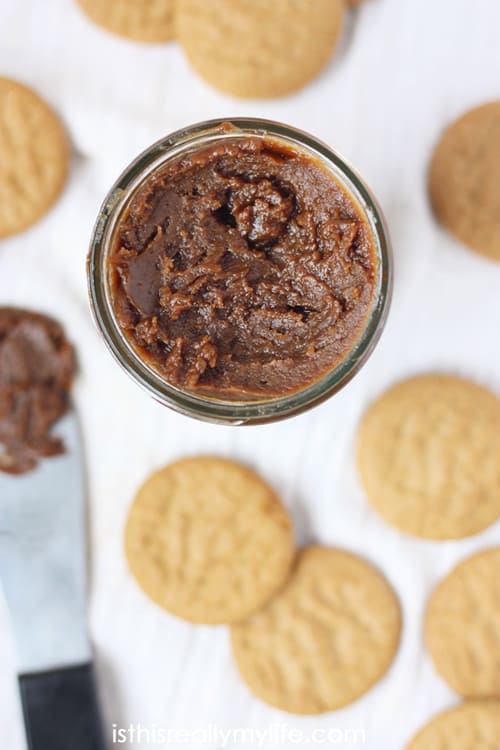 .
The Blendtec Designer 725 and Twister Jar had no problem turning 30 gingersnaps into crumbs so fine I wanted to play with them like magic sand. The true test came when I added the other ingredients, which included very little liquid.
This was my first time blending something as thick as a cookie butter, but I got the hang of it pretty quickly. I used a combination of the Pulse and Blend, adding a little liquid as needed for desired consistency.
The one mistake I made was letting it blend the cookie butter too long, as the butter got pretty hot. I had no idea what I was doing; the Blendtec didn't know what I was doing either. I know because it gave me a virtual high-five in the form of a digital congratulations on my first successful blend.
How can you not love this blender?
Though the gingersnap cookie butter got a bit toasty due to operator error, it was just as gingery and sweet as it should be and a huge hit with Nathan. Next time I think I'll try adding a little more milk or water to make it a bit easier to spread.
Next on the list? Oreo cookie butter and maybe even Samoa cookie butter…because I'm crazy like that.
On Monday I'll be sharing a recipe for a scrumptious eggnog milkshake because, hello, it wouldn't be a Blendtec Designer 725 review without trying the Blendtec WildSide Jar
.
Oh, and hosting an UH-MAZING giveaway.
Between making this gingersnap cookie butter and waiting for the eggnog milkshake recipe, you should check out Blendtec on Facebook, Instagram, Twitter, YouTube (their "Will It Blend?" videos are my fave!), Pinterest and Google+.
.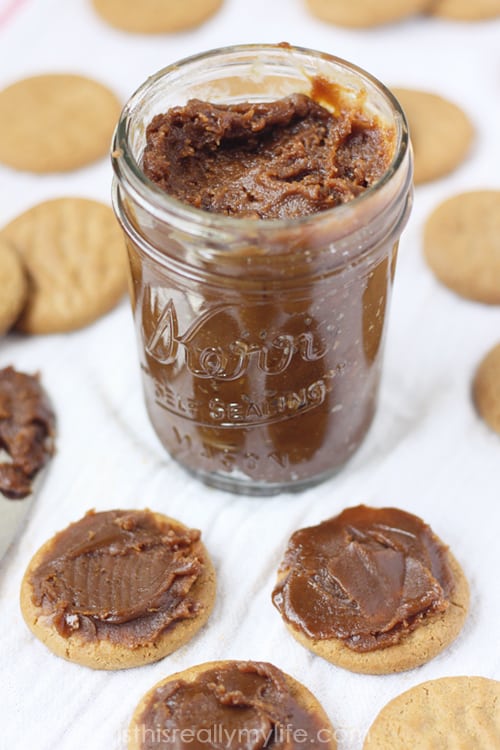 .
Printable recipe for gingersnap cookie butter below.
.

Gingersnap Cookie Butter
If you're a fan of gingersnap cookies, then you'll love this gingersnap cookie butter. Adjust the milk until it reaches your desired consistency. Top on cookies or toast or eat with a spoon. Note: If you're worried about the milk in the recipe (this is best kept at room temperature), you can try substituting water.
Author:
Emily ~ isthisREALLYmylife.com
Ingredients
30 gingersnaps
1 tsp dark brown sugar
½ tsp vanilla
¼ to ½ cup unsweetened vanilla almond milk (or regular milk)
2 T coconut oil
¼ tsp cinnamon
Pinch of salt
Instructions
Place cookies in blender and pulse until cookies resemble super fine crumbs.
Add the sugar, vanilla, ¼ cup of milk, coconut oil, cinnamon and salt and pulse or blend for another 1 to 2 minutes, adding more milk until cookie butter reaches desired consistency.
Serve at room temperature.
Notes
If refrigerated, bring a small amount to room temperature before using as the coconut oil will go super solid in the fridge (see Summary).
.
.