I make funeral potatoes maybe once a year and only when I know at least four other people are joining us for dinner. That way I don't eat my weight in potatoes, butter, cheese and cornflakes.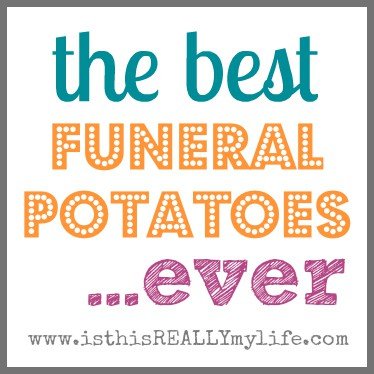 Because I don't make them for less than a party of 10, I'm not planning on whipping up a batch until Easter Sunday, which means I don't have a photo for you to pin drool over. I did find plenty of photos via Google images but I didn't have time to contact the photo's owner, ask for permission and explain I wanted to use the photo so I could post my recipe, not hers (even though I'd totally cite the source and everything). It sounded just a wee bit tacky.
Instead you get a photo-less super awesome image I created using PicMonkey.
Once in a while I even surprise myself.
This funeral potatoes recipe takes your standard recipe using frozen hash browns and kicks it up a notch by substituting Ore-Ida Potatoes O'Brien (the ones with peppers and onions) for some of the frozen hash browns. The O'Brien potatoes add just enough zing without being too peppery for the kids. I combine that with a bag of Ore-Ida Southern Style Hash Browns for a 9x13 pan of deliciousness!
And no, I am not being compensated by Ore-Ida. I really and truly prefer using their potatoes in this recipe.
These funeral potatoes are always a hit, which is why I sometimes make two pans—as long as at least 15 people will be in attendance.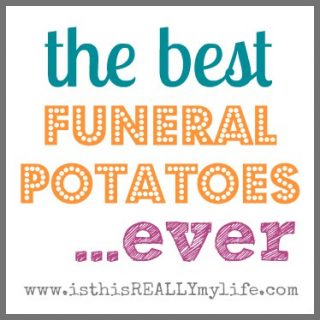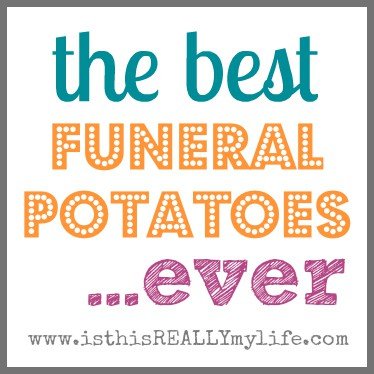 Funeral Potatoes O'Brien
This is my favorite funeral potatoes recipe that uses frozen hash browns. The trick is to use Ore-Ida Potatoes O'Brien to add a little zing (but not too much spice) to the pan. You should have a total of 2 lbs of frozen hash browns, so feel free to add more O'Brien potatoes and less of the other or visa versa according to your personal preference.
Ingredients
Potatoes
2 cups grated medium cheddar cheese
½ a 28-oz bag Ore-Ida Potatoes O'Brien (so approx. 1 lb)
½ a 32-oz bag Ore-Ida Southern Style Hash Browns (so approx. 1 lb)
2 cans cream of chicken soup
¼ cup chopped onion
1 pint sour cream
½ cup butter, melted
Topping
3 cups corn flakes
¼ cup melted butter
Instructions
Preheat oven to 350 degrees. Spray a 9x13-inch pan with non-stick cooking spray.
Combine grated cheese, hash browns, cream of chicken soup, onions and sour cream in a large mixing bowl and mix well.
Add melted melted butter and stir until combined.
Spread in 9x13-inch pan.
Combine corn flakes and ¼ cup melted butter. Layer on top of potatoes.
Bake in preheated oven for 30 to 40 minutes until hot and bubbly around the edges.