This week is all about back to school thanks to guest posts by some of my dearest blogging friends. Today's post is from Leisha; she shares with you a recipe for soft French bread recipe reminiscent of her mom's homemade bread hot from the oven after school.
…
I grew up in a house with eight kids which meant that summertime was more than psychotic. I am certain my mom was barely staying afloat as she kept all of us busy. She was definitely celebrating when school would start and she could get back into a more normal routine (if you can really ever call life with 8 kids normal!).
I always knew that she was getting settled in the new routine when we would would come home from school to fresh, hot out of the oven, homemade bread. You could smell it as you walked up the sidewalk and couldn't wait to get inside and have a piece. It was always a treat in our house.
…

…
While I have never ground my own wheat or mastered bread making like she has, I still like to make homemade bread on occasion. I only wish my mom wrote her recipes down (or measured for that matter) as I cannot recreate the bread that she made. Until I can pin her down on that, we go to our favorite—a really easy, super soft French bread. It is so delicious and super simple to make. Did I mention how delicious it is?!?!?! I really can never make enough.
Printable recipe for soft French bread below.
…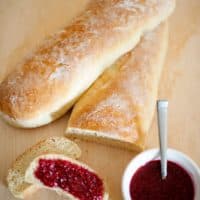 Soft French Bread
Yield: 12

Prep Time: 2 hours

Cook Time: 15 minutes

Total Time: 2 hours 15 minutes

Super soft French bread. You'll want to make multiple loaves!
Ingredients
2 1/2 cups warm water, divided (110 degrees)
2 T yeast
3 T sugar
1 T salt
1/3 cup oil
6 cups flour
Instructions
In a small bowl, mix together 1/2 cup warm water and 2 T yeast. Let yeast proof for 5 minutes.
In a separate bowl, combine sugar, salt, oil and flour. Mix well until flour is blended. Dough will be sticky which is okay.
Let set for 10 minutes, knead and repeat 4 more times (i.e., letting it rise for 50 minutes and kneading 5 times).
Knead one last time before shaping into loaves. This recipe makes 3 French bread loaves or you can make 4 smaller loaves.
Let the loaves rise for 45 minutes (or until double in size). Bake for 15 to 20 minutes at 400 degrees. Enjoy!

…

…
I always make sure the water temperature is spot on to make sure the yeast will rise perfectly. It has never failed me at 110 degrees.
The dough seems way too sticky. Resist the urge to add extra flour.
Let it rise, knead and rise again. If you are trying to speed it up, don't skip this step; see a speedy rise tip below.
To make the loaves, you'll have to sprinkle it with a bit of flour. While I like perfect loaves, the more you knead it and try to even it out, the less fluffy and light the bread will become. So, at this stage I try not to touch it too much.
Once you have divided the loaves, form them into long, narrow loaves. The more narrow the better and they rise and double in size.
It's OK if they aren't all the same (or your pan is well loved), they will be lighter and fluffier. Resist the urge to straight them all up. Let them have a little character.
It is going to be delicious, I promise!
We love ours with homemade raspberry jam or homemade honey butter. Honey butter might win out at our house but I think they are equally delightful.
Quick rise tip: After the loaves are formed, you can quick-rise the loaves by putting them in the oven at 175 degrees for 10 to 15 minutes (until double in size).
…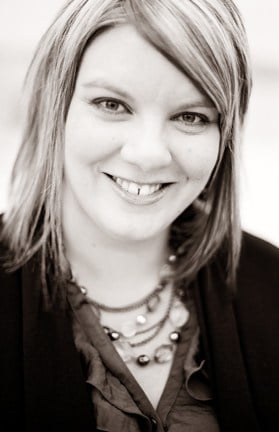 Leisha Kelsey makes Chick-fil-A play dates a heck of a lot more fun. I have had many conversations with her over waffle fries and Chick-fil-A sauce, and I always come away remembering why I like her so very much. Not only is she super talented (she along with Kim and Lindsey are the women behind the r house couture and Spotted Owl Soap), she is an awesome mom with an even more awesome outlook on life.
…
…


Feel free to "like" is this REALLY my life? on Facebook. It won't always earn you an extra entry in a giveaway but it will give you warm fuzzies.
Don't forget to sign up for free is this REALLY my life? updates via RSS or email so you don't miss a single awesome post.
…