Having a LEGO party? Attach this free printable LEGO gift tag to one of the new collectible LEGO minifigures or any LEGO minifig for the perfect party guest thank-you!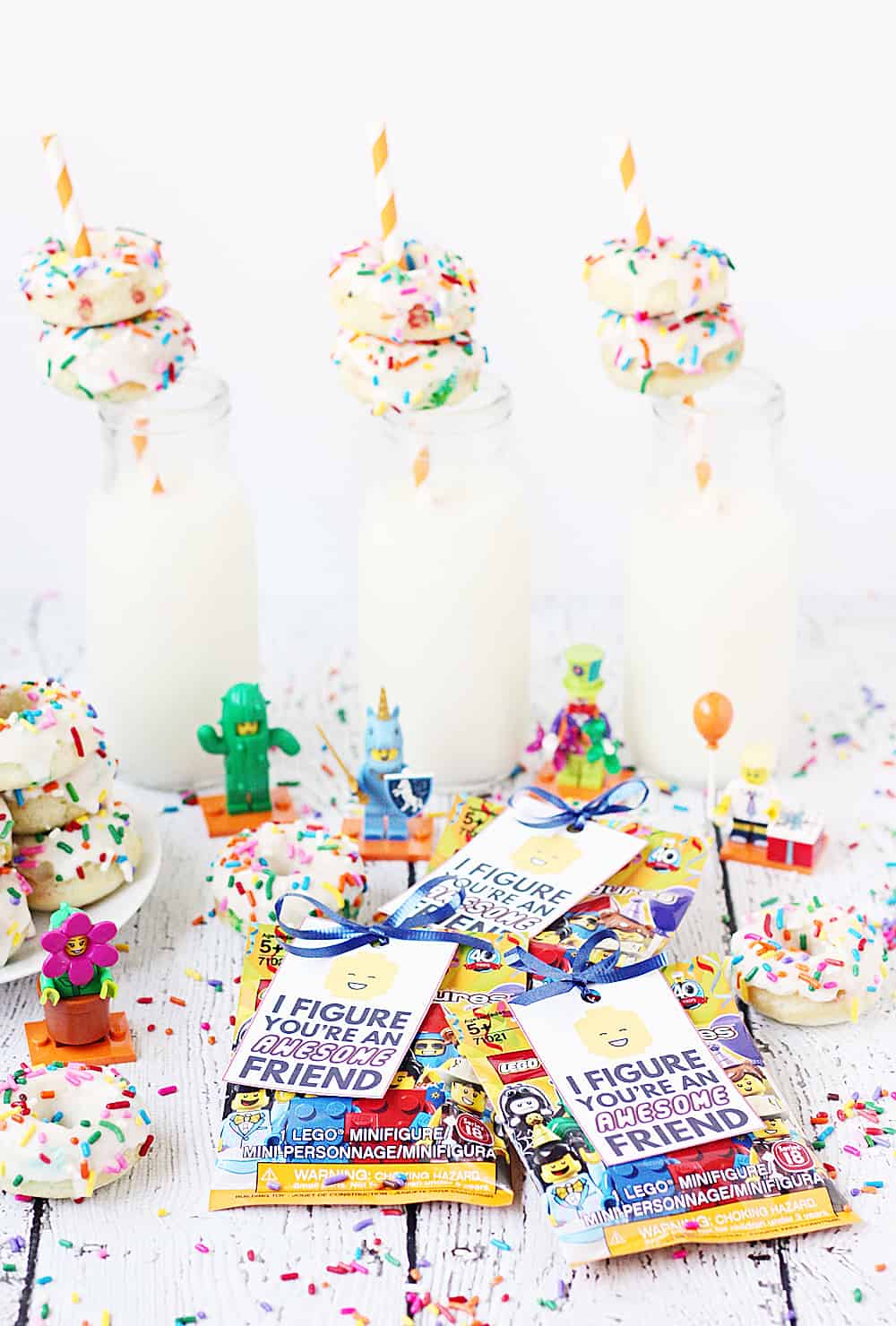 Disclosure: This is a sponsored post for LEGO; the content and opinions expressed are my own.
Did you know the LEGO minifigure is celebrating its 40th birthday this year? I had no idea those adorable LEGO minifigs were that old.
Heck, we're nearly the same age, which isn't all that cool considering they look like they haven't aged a day. I mean, where are the wrinkles?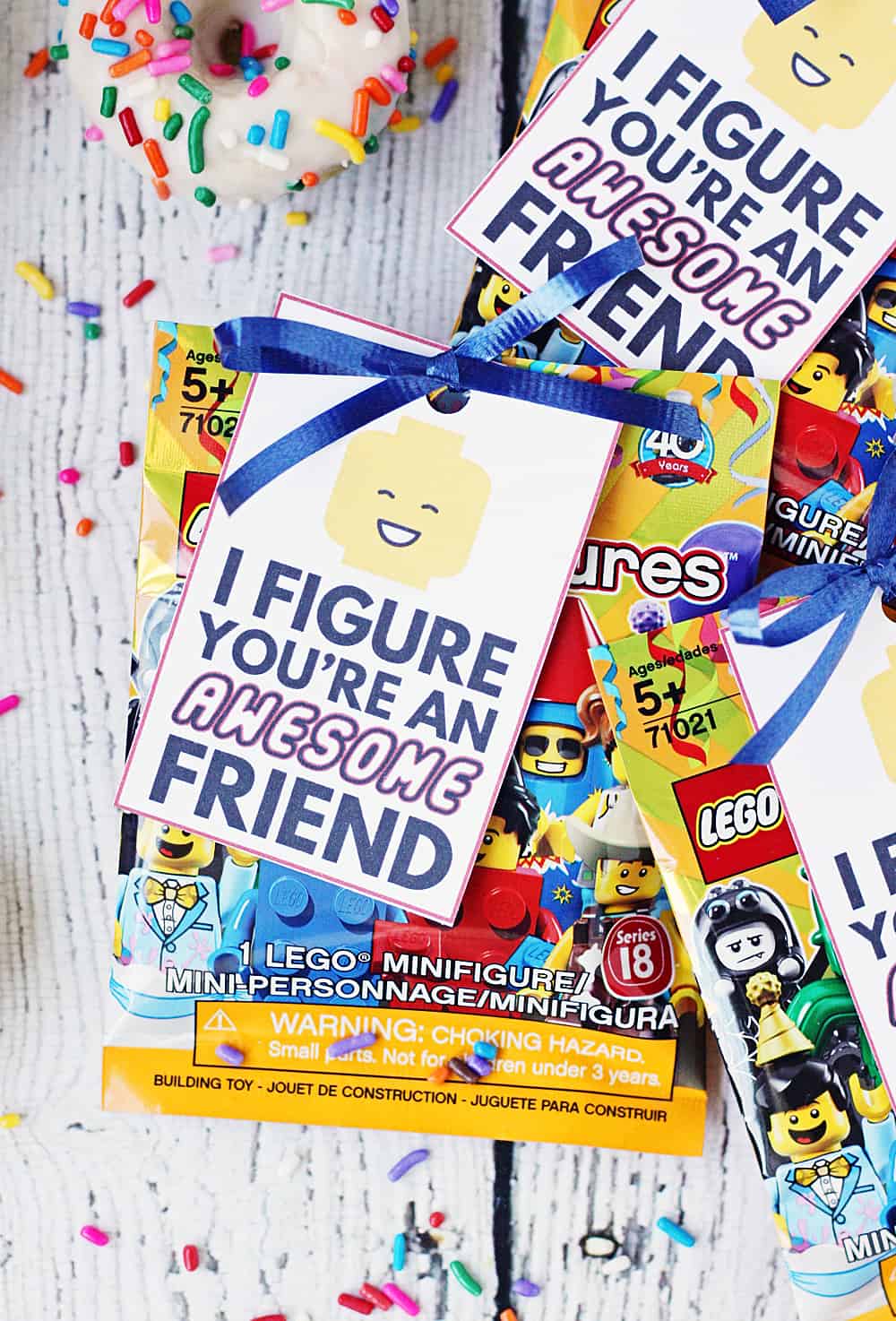 I love any excuse to celebrate LEGO. Last year I shared these delightful mini funfetti bundt cakes to celebrate the LEGO Friends 5th anniversary.
The whole stepping on a LEGO thing is a sign of true friendship. It might also be a sign you're slightly crazy because it's a super painful experience... perhaps more painful than childbirth. Just sayin'.
But back to the LEGO minifigure. When the first minifigs were released in 1978, they included a castle, space, and town set. I am a big fan of the space set because I'm pretty sure that was where Benny, a.k.a. 1980-Something Space Guy, got his start. And I love Benny.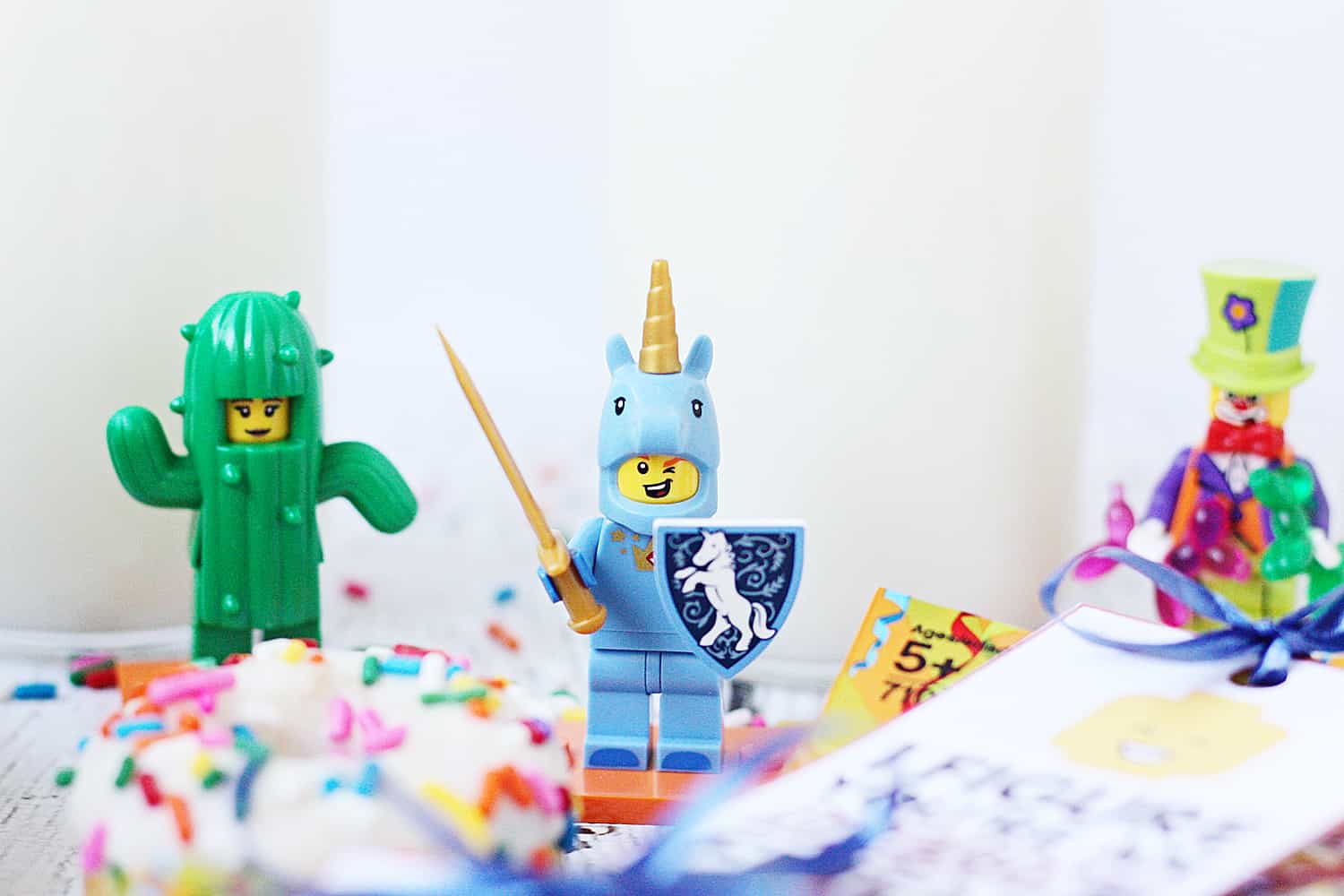 Since LEGO launched its line of minifigures, they've produced over 3.7 million of those little guys. And gals. And superheroes. And ninjas. And princesses. And hobbits. And adorably cute winking knight dressed in a unicorn costume.
They even have a caveman and cavewoman set AND a Guardians of the Galaxy Vol. 2 Baby Groot minifigure!
I feel like its 40th birthday is something to celebrate if only to try to collect every one of the characters from the LEGO Minifigures Party series. Yes, even the creepy clown with his balloon dogs should be in your collection. (He's out of focus in the photo above because, hello, clowns.)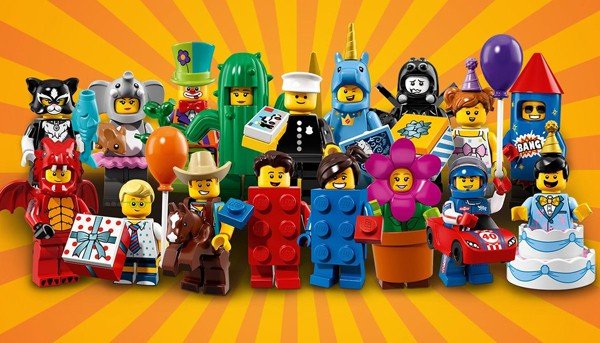 The LEGO Minifigures Party series includes Dragon Suit Guy, Firework Guy, Elephant Costume Girl, LEGO Brick Suit Guy, LEGO Brick Suit Girl, Cactus Girl (love this one!), Party Clown (not as creepy as real crowns but still), Cake Guy, Unicorn Guy (another fave), Flowerpot Girl (my overall fave), Birthday Party Girl, Birthday Party Boy, Spider Suit Boy, Cowboy Costume Guy, Race Car Guy, and Cat Costume Girl. But that's not all!
Cue the infomercial music!
The series also includes a rare replica of one of the first minifigures ever produced... the 1978 Police Officer. So awesome!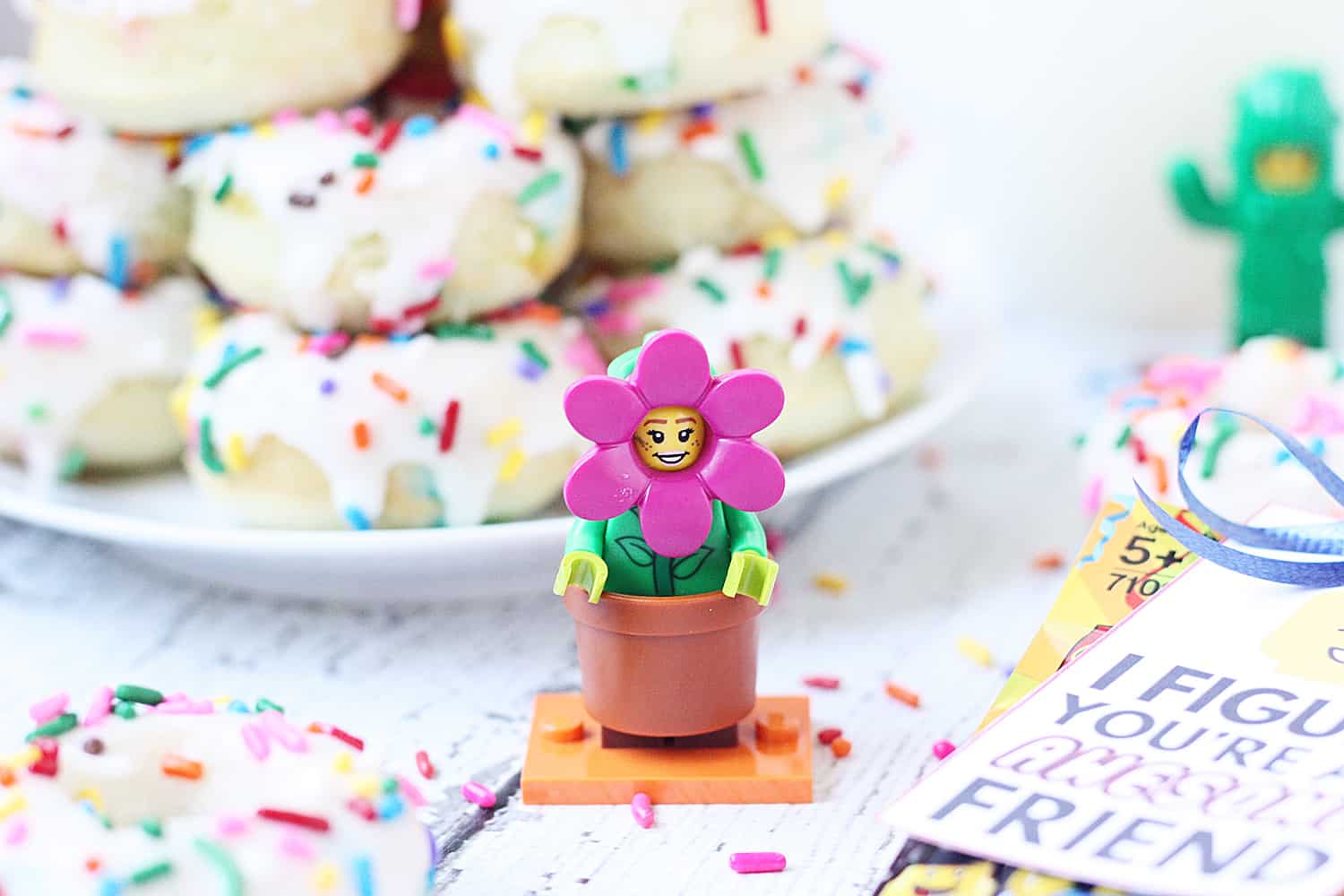 If you're planning to celebrate the minifigs' birthday or incorporate LEGO minifigures into a LEGO party, you'll want this free printable LEGO gift tag for those LEGO party favors. You can attach it to LEGO minifigure packs, minifigure keychains or magnets, or even to a LEGO set that includes a minifig.
You'll also want these amazingly easy and adorable mini funfetti cake mix donuts to go with those adorable minifigures. Nothing says a party like funfetti, and nothing is more irresistible than a mini-sized dessert!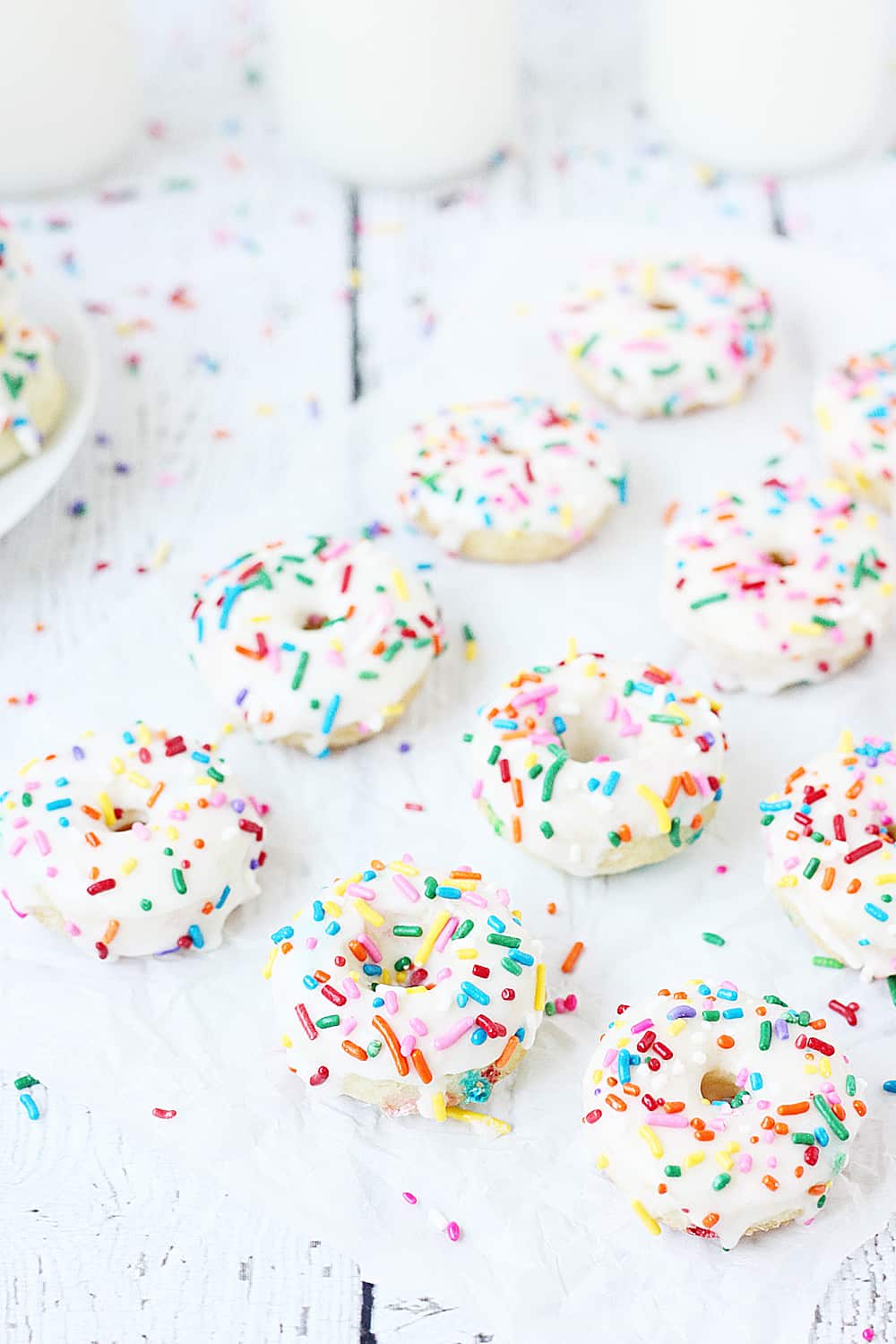 Here's what you'll need to make the LEGO gift tags:
"I figure you're an awesome friend" printable gift tag file (PDF)
White cardstock
Color Printer
Paper trimmer
Blue curling ribbon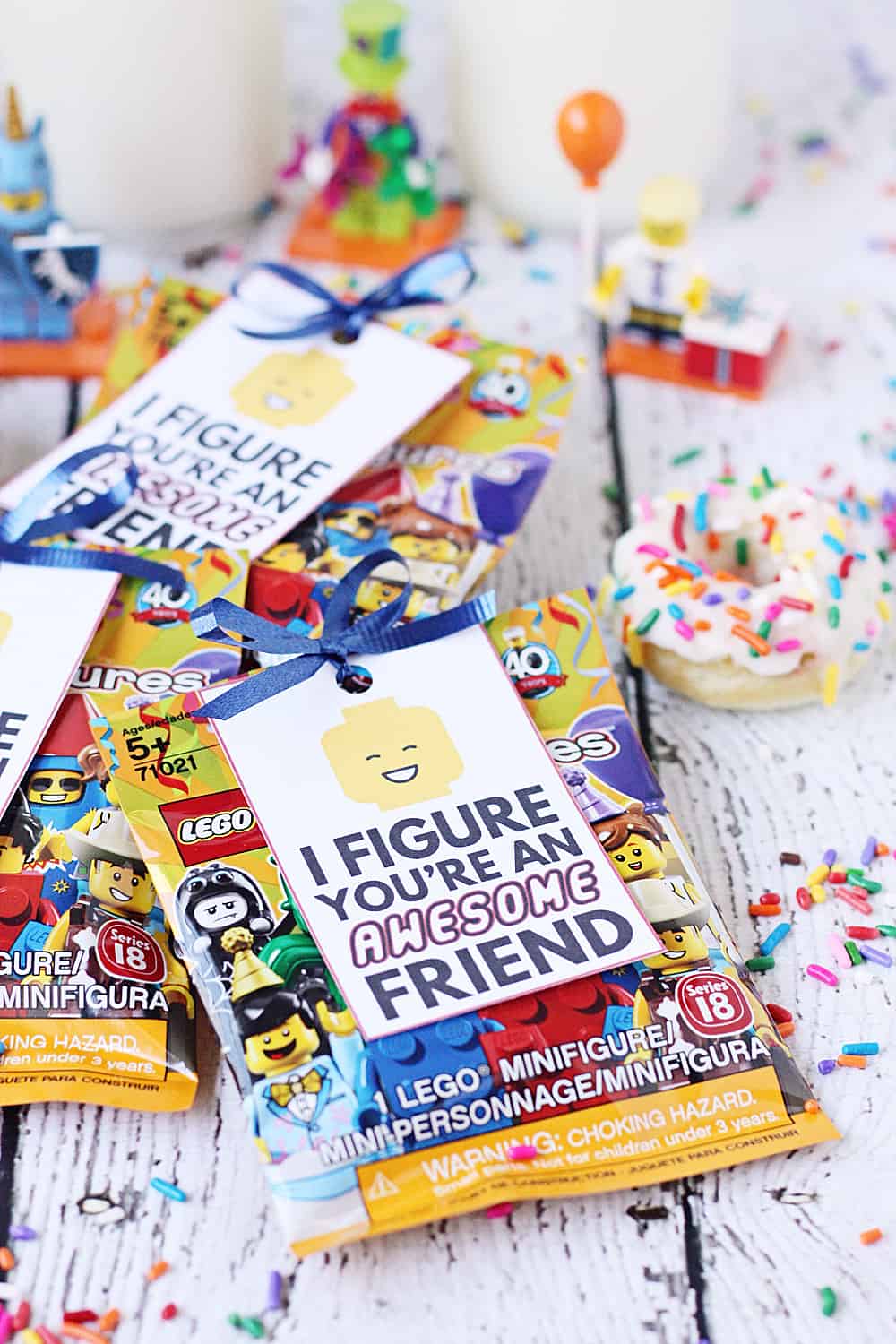 Here's how to create the gift tag:
Download the "I figure you're an awesome friend" LEGO gift tag file (link above).
Print the printable gift tag on a color printer on white cardstock and trim the tags to size.
Punch a hole in the gift gag and attach using blue curling ribbon or your favorite ribbon.
Please read the following relating to the free printable:
Half-Scratched printables are for personal use only.
If you decide to re-post or use the image, you MUST cite the source and include a link to this post.
Customizations are not available on free printables; they're offered "as-is."
Here are a few other free printable gift tags you might like!