Show the true meaning of friendship with this free LEGO printable gift tag. Attach to LEGO Friends sets, bags of loose LEGOs or a pair of minifigures!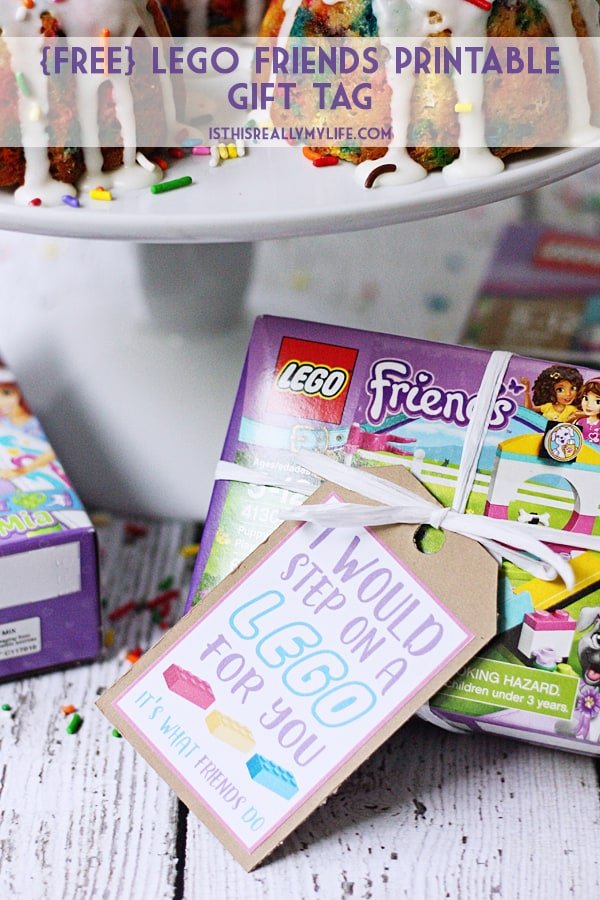 Disclosure: This is a sponsored post for LEGO; the content and opinions expressed are my own. Post may include affiliate links, which means if you click on a link and purchase something, you won't pay anything extra but it will help support this blog.
When LEGO Friends celebrates its fifth anniversary, you totally have to join the celebration. We've been LEGO Friends fans since they first arrived on the scene and have a pretty decent collection of sets. (And yes, we always buy anything Olivia; it's what you do when your daughter has the same name.)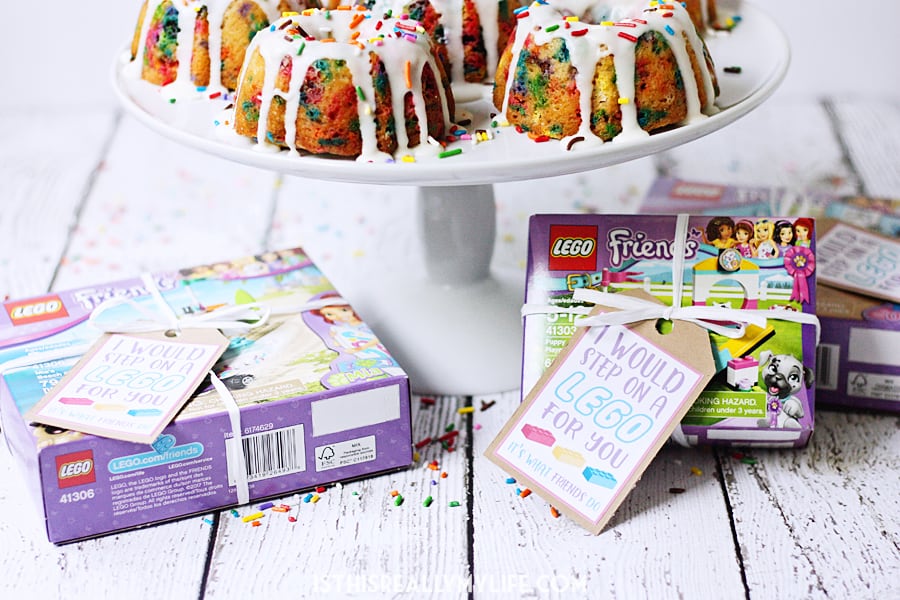 Of course you don't have to wait until LEGO Friends is celebrating an anniversary to have a party. LEGO Friends makes for a great birthday party theme or any celebration theme—kindergarten graduation, back-to-school party, just got my first round of braces party.
You can find plenty of awesome ideas on Pinterest if you want to host a LEGO Friends party, but I'm more of a simple gal. That's why mini funfetti bundt cakes (get it? "mini" because of those darling LEGO minifigures) and a small LEGO Friends set with the cutest printable gift tag would be perfect.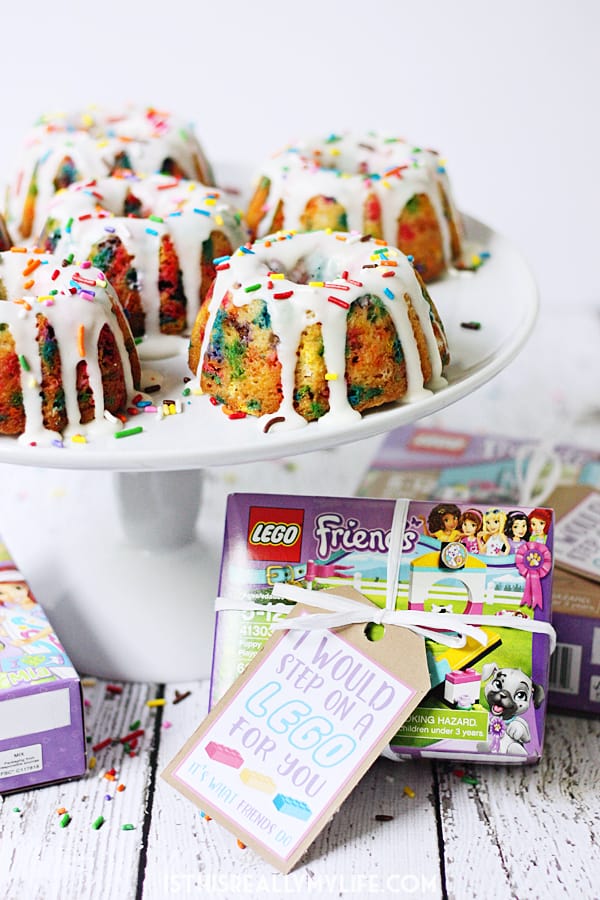 As for party gifts, if you want more pizzazz than a LEGO Friends set tied with raffia ribbon, wrap the set in cellophane and throw in some loose LEGOs and crinkle paper (purple, of course). Don't forget the super cute LEGO printable gift tag; it's an example of true friendship!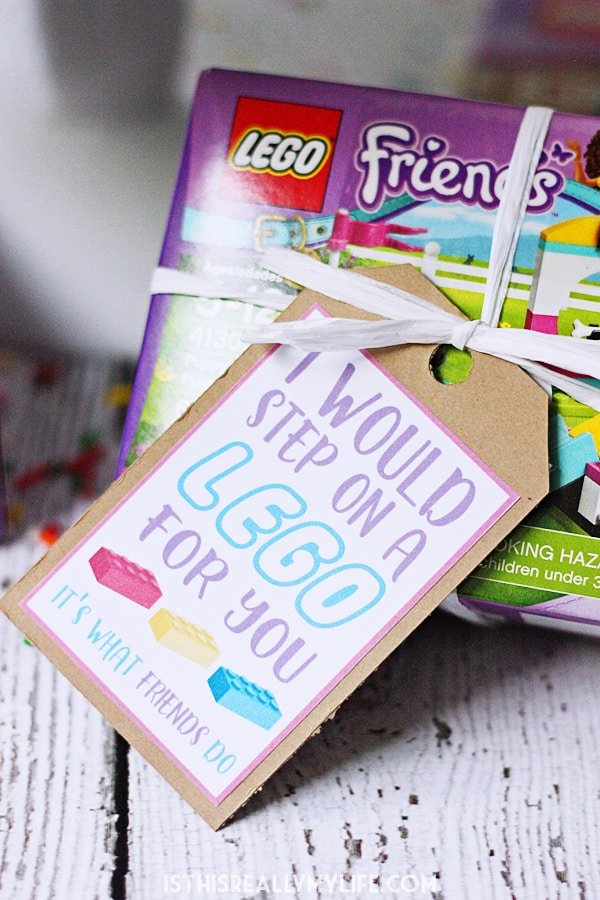 What I love most about these gift tags is their versatility. You can use them for classroom valentines or friend gifts for Christmas and birthdays. Just attach to a small bag of loose LEGOs, a small LEGO set or even to a couple minifigures!
Here's what you'll need to make the gift tags: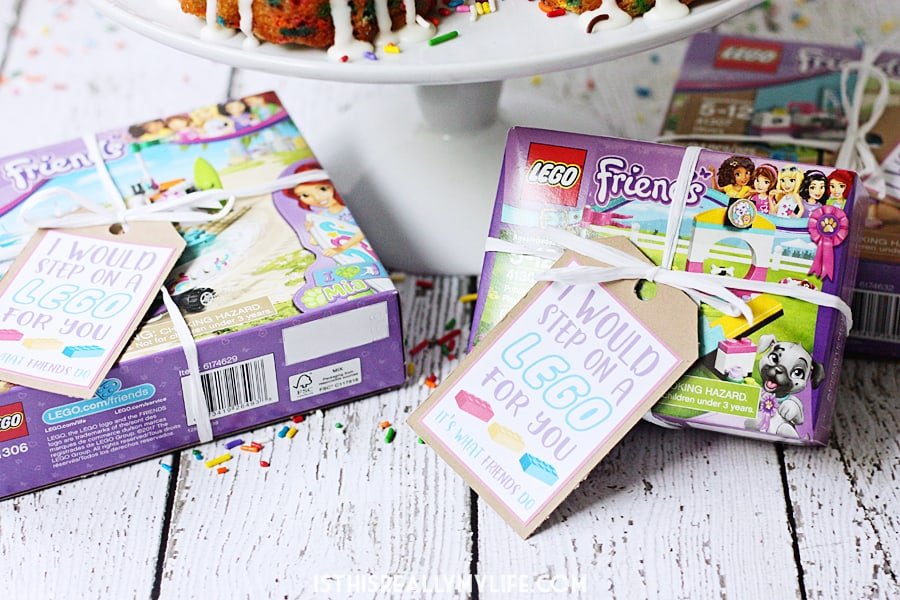 Here's how to create the gift tag:
Download both the "I would step on a LEGO for you" printable gift tag file and the gift tag cut file (links above).
Print the printable gift tag on a color printer on white cardstock and trim the tags to size.
Upload the gift tag cut file to your design software. Feed kraft cardstock into your machine and select cardstock in the media menu and cut.
Glue printable to gift tag (I like a good ol' gluestick) and use raffia ribbon or baker's twine to attach.
Note: You can totally eliminate the kraft gift tag, but I think it adds the perfect finishing touch!
Please read the following relating to the free printable:
Half-Scratched printables are for personal use only.
If you decide to re-post or use the image, you MUST cite the source and include a link to this post.
Customizations are not available on free printables; they're offered "as-is."
Here are a few other FREE printable gift tags you might like!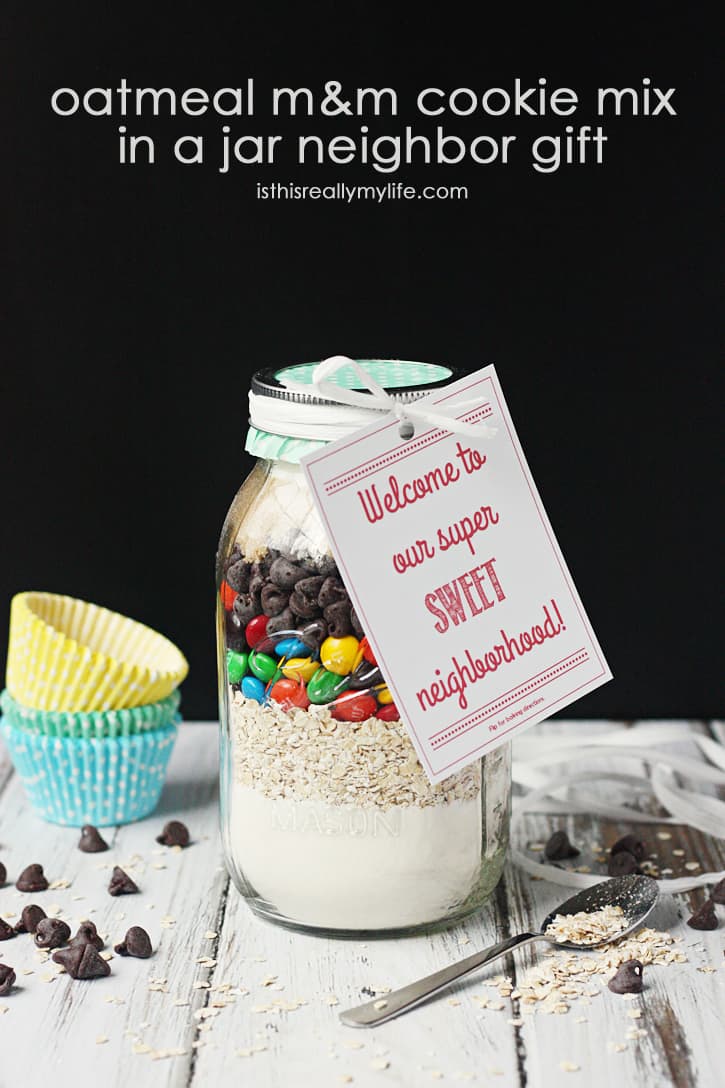 Neighbor gift: Oatmeal M&M cookie mix in a jar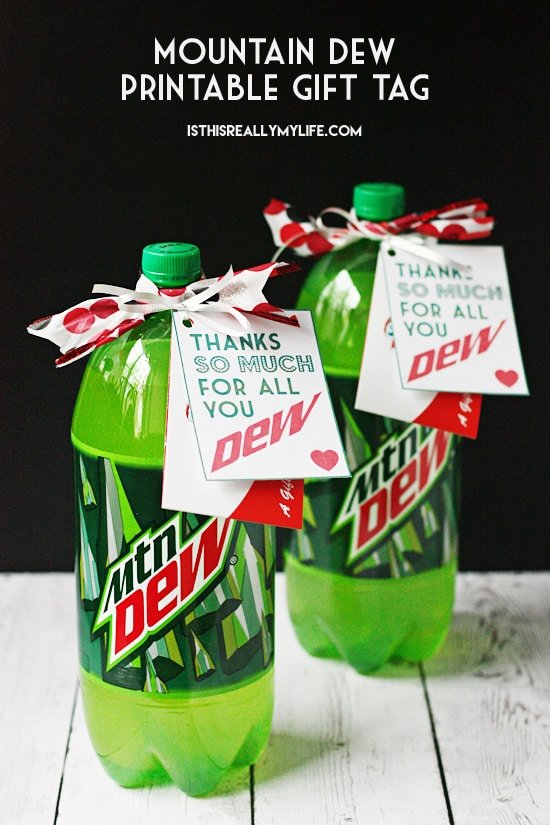 Mountain Dew printable gift tag