This is a sponsored post for Fortsy. All thoughts, opinions and gratitude for finally discovering an amazing fort solution are mine.
Boy, do I have a Kickstarter campaign for you.
Raise your hand if your kids think building a fort requires every couch cushion, chair, barstool, blanket and pillow in the house. Raise your other hand if it creates one of the biggest messes (next to LEGOs) and usually requires parental help when it comes to cleanup.
Both my hands are raised, how about yours?
Get excited because the time for double hand raising has come to an end thanks to Fortsy, a collection of inflatable forts that will change your life as it expands your child's imagination.
.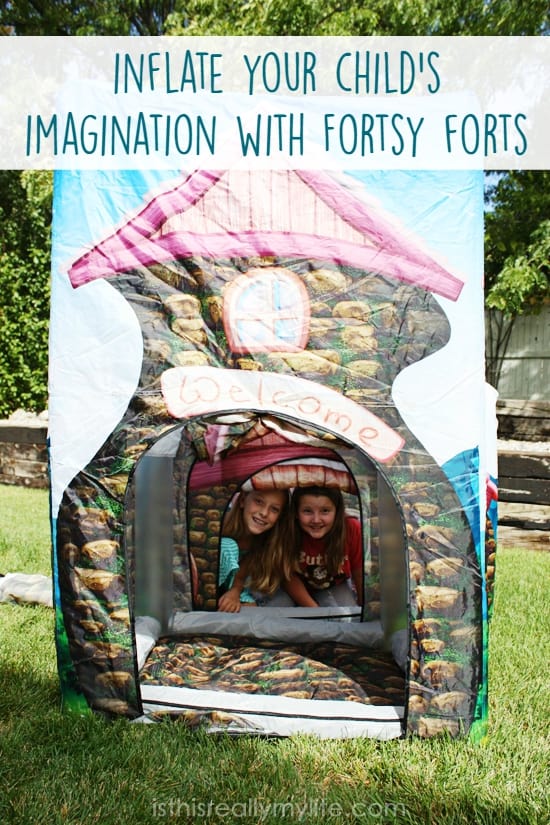 .
Here's why you and your kids will love Fortsy forts. They are:
Safe: The forts consist of flexible, phthalate-free, eco-friendly inflatable frames surrounded by light, breathable (i.e., no suffocation hazard) custom-printed nylon covers.
Sturdy: That same breathable cover is also tear-resistant, and all seams are carefully double stitched to maximize strength. These forts are built to last (unlike those books your kids are using to hold down the blankets). And guess what. The covers are washable. Hallelujah!
Easy: Oh my, are they easy. Livi was able to set it up and take it down herself...at least three times.
Portable: The nifty little tote bag is always attached to the base of the fort and their light weight and compact shape make them easy to pack for Grandma's house.
Modular: Your children can combine bases and towers to their hearts' content. They can mix pirates and aliens with a side of tea party.
.
Just in case you don't believe me, we gave our Fortsy Magic Cottage base and tower a thorough test drive.
First, we unzipped the totes finding it hard to believe a fort was hidden inside.
After showing Livi how to connect the pump to the inflatable frame, I let her have a go.
Then her friend had a go.
Why will they pump up a fort without complaint but throw a royal tantrum when asked to put their shoes away?
The girls took turns inflating both the base and tower and had them ready to go in about 5 minutes.
.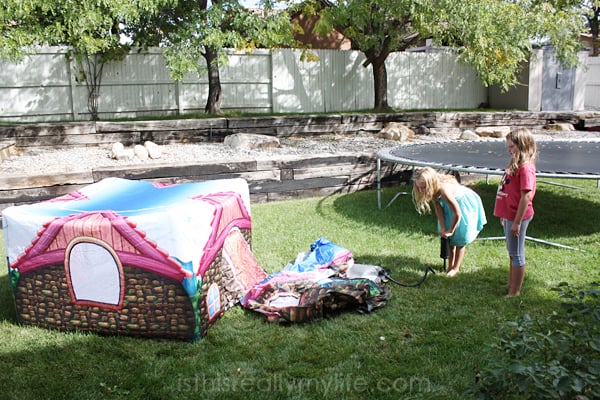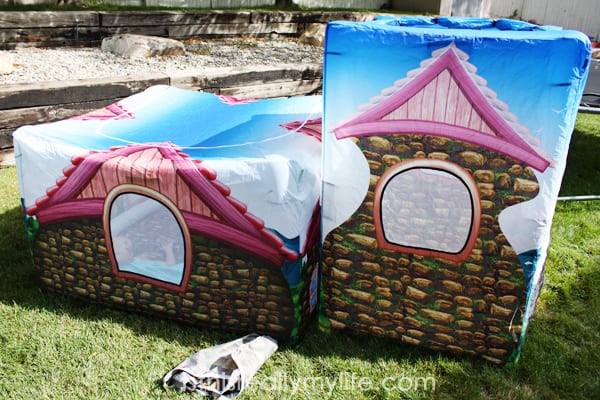 .
Before I knew it, they were working on the perfect formation and gathering necessary items like blankets, snacks and dress-up clothes.
And then they had it atop the trampoline finding it all kinds of fun to bounce inside their new Fortsys.
Please do not try this at home. It was a bit sketchy.
.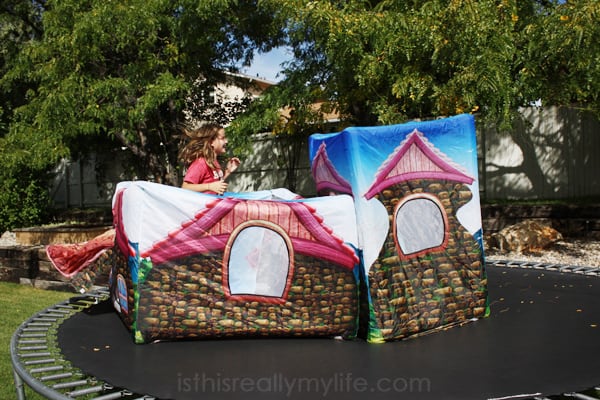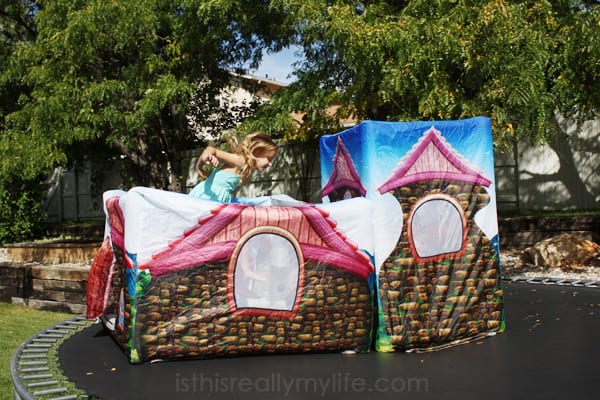 .
The only complaint I have about Fortsy forts is how many times my kids asked to set them up, but that was my fault for repeatedly taking them down. Silly me to think they were done once they'd left the house. Little did I know they were simply gathering more friends to play in their Fortsy. This happened at least twice leading to at least three Fortsy setup sessions.
Apparently we're not the only ones who think Fortsy is cool.
.
.
For those who want specifics, there are two types of Fortsys:
Base: Approx. 5' wide x 5' deep x 3' high and easily accommodating 4-5 kids; includes 3 zipper-less doors, 1 mesh window and 1 zippered top.
Tower/Tunnel: Approx. 3' wide x 3' deep x 5' high; includes 2 zipper-less doors, 2 mesh windows and 1 set of zippered top and bottom panels
.
Those towers are cool because their design allows them to turn into tunnels so you can connect two Fortsy forts together or provide a serious entrance into a single fort. Speaking of forts, you can pick from five different Fortsys: Castle, Treehouse, Pretty Playhouse, Magic Cottage and Moon Base. Or like I said, you could always mix and match!
To get your hands on a Fortsy, watch for their Kickstarter campaign scheduled to launch October 14th. Head to Fortsy.com for details; while you're there you can enter to win a FREE Fortsy! You can also keep up to date with all the Fortsy fun by liking the Fortsy Facebook page.
Do it. Your kids—and your sanity—will thank you.
If you're looking for more product reviews, browse my ITRML reviews Pinterest board.
.
Follow Emily Hill's board ITRML reviews on Pinterest.
.

Feel free to "like" is this REALLY my life? on Facebook. It won't always earn you an extra entry in a giveaway but it will give you warm fuzzies.
Don't forget to sign up for free is this REALLY my life? updates via RSS or email so you don't miss a single awesome post.
.