I will be the first to tell you I'm not one of those moms who keeps having babies because she loves the baby stage so very, very much. Nor am I one of those moms who cries on the first day of kindergarten. I love my babies, I love my toddlers…I even love my pre-teen and teenage daughters. But I also love "me" time; lunches dates held someplace other than the local Chick-fil-A; sleeping in; adult-only vacations; and only brushing one set of teeth (preferably my own). I don't get super weepy when I pack away clothes that no longer fit, though I may have been a little sad when I put away Livi's tiniest of baby outfits. And I only have about 860 days until all four kids are in school for a full day, but who's counting?
But last night. Last night was one of those rare times I found myself wishing I could stop time. George had come partway down the stairs after having fallen asleep and sat there whimpering until we heard him. As I asked him what he needed, he pointed to his toes and told me his feet were so cold they hurt. (I felt his little toes and they were nice and warm, but who knows what goes on in a five-year-old's brain when he's half asleep.) I picked him up, carried him back to bed and put a pair of nice, warm socks on his feet before pulling up the covers.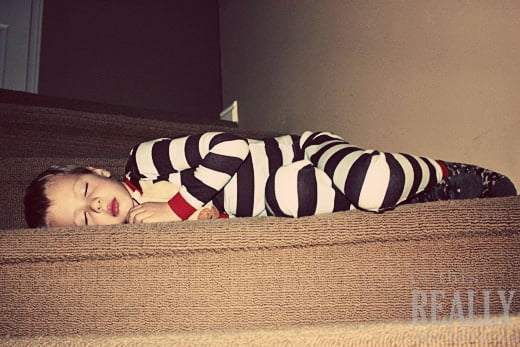 Then, like I always do at bedtime, I quietly sang him a song or two while gently stroking that beautiful blond hair. As he closed his eyes, I thought to myself how I could stay here all night, no matter how sore my knees or droopy my eyes, and stare at that angelic face…the same angelic face that will be starting kindergarten in just a few short months. And I wasn't okay with that, not at that moment. Even now as Olivia sits at Nathan's desk and looks over at me with those big blue eyes and sparkly bow in her hair (you always need a sparkly bow when you're wearing polka dot pajamas), I might not be as anxious for them to grow up.
Don't get me wrong. I am still hoping and praying they start all-day kindergarten by the time Olivia is 5 and look forward to the day I no longer have to buy Goldfish crackers by the truckload, but I am also enjoying the now a little more than I used to.
P.S. It seems most of those "I'd love to stop time" moments happen when the kids are sleeping. I do seem to like them best between the hours of 9pm and 7am, though they do have moments of awesomeness at other times as well.