Summer's in full swing, which means picnics complete with juicy burgers, scrumptious side dishes and all-American apple pie. For those of us with blogs, it also means a few food photos sprinkled among the posts. For full-time food bloggers, it means a heck of a lot of food photos…so they better be mouthwatering.
I mean, what convinces me I need to make a recipe from a food blog? First, chocolate is in the ingredient list (obviously), but second, the photograph of the finished dish makes me want to lick the screen. Literally.
Whether you're a serious food blogger, a blogger who posts recipes on the side or a granddaughter putting together Grandma's All-Time Favorite Recipes cookbook, you can use a few added photo skills. What better way to turn your food photos into drool-inducing works of art then by attending a food photography workshop by my good friend and food photographer extraordinaire, Quinn Curtis?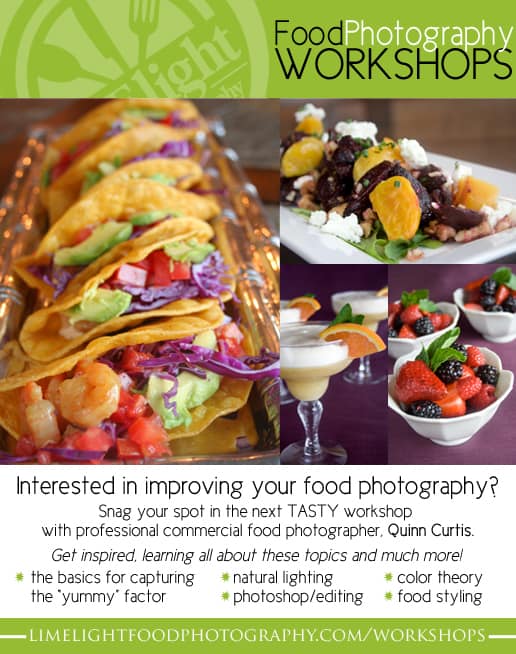 …
Quinn is offering six classes, from basic to advanced. Each class is offered only once this session, so secure a spot before they're gone! Quinn knows what she's talking about—her work has been featured in numerous publications and the photos make you want to tear out the page and eat (or drink) it. I kid you not.
For more information on the workshops you can click on the image above or