I can't remember if I've mentioned it on ITRML—heck, I can't remember my children's birthdays most of the time—but in April I started working with Jo Packham and Stephanie over at Where Women Create and Where Women Cook as a social media specialist.
I know. Social media specialist sounds totally fancy. I totally love it.
One of the awesome things I get to do is help with the Pinterest boards for the magazines, and let me tell you, Jo has set up some gorgeous boards. These babies are full of inspiration no matter your fancy be it:
…
color
studio essentials
dessert
kitchen organization
fabric

jewelry making
brunch
artistic journals
fashion
table linens

knitting
restaurant fare
bookshelves
garden parties
dessert
…
The Where Women Create boards and Where Women Cook boards have it all. Here, have a look.
…
Where Women Create on Pinterest
Where Women Cook on Pinterest
…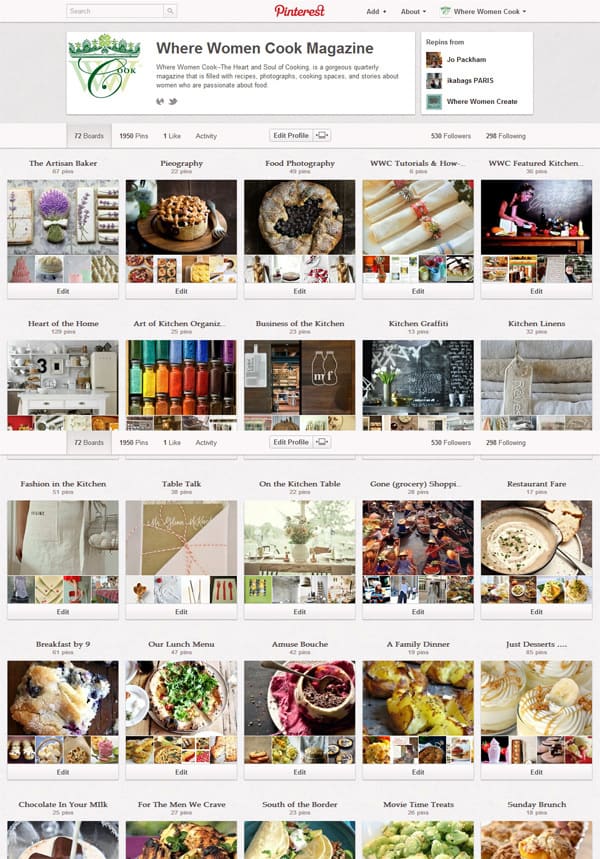 …
Though I tend to pin more shoes than studios, I still find myself inspired by the Where Women Create and Where Women Cook Pinterest boards. I mean, how can you not when one of the boards is titled Chocolate In Your Milk?
You too can be inspired. Just follow the links below!
…
P.S. Don't forget to sign up for free is this REALLY my life? updates via RSS or email.
…