This is a sponsored post written by me on behalf of Gorton's Seafood. All opinions are 100% mine.
.
Combine delicious homemade tartar sauce, omega- & protein-packed fish fillets, shredded lettuce and hamburger buns for easy fish fillet sandwiches!
.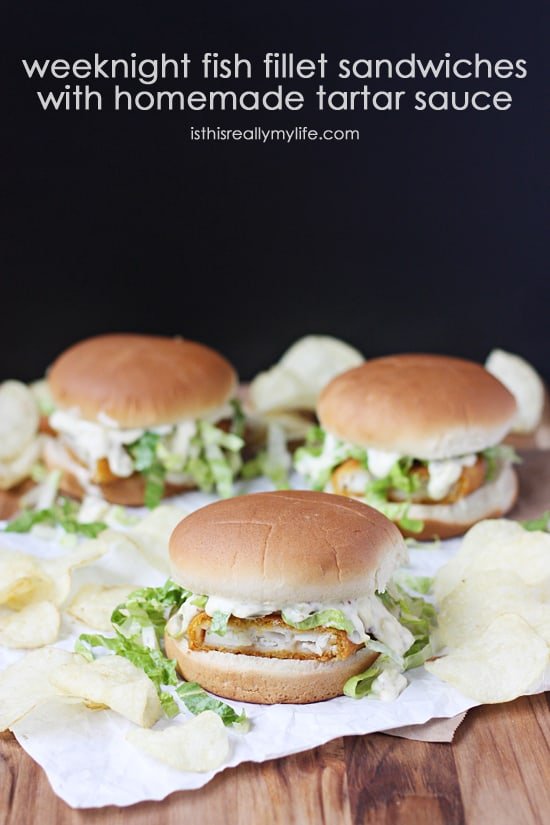 .
My mom used to fix us fish fillet sandwiches, but we always topped them with bottled thousand island dressing. I thought it might have been fry sauce but I'm pretty sure fry sauce hadn't been invented yet. I've in turn fixed my family the occasional fish fillet sandwich but it usually featured a poor excuse for a fillet. Maybe that's why they aren't on our regular rotation—they paled in comparison to double bacon chili cheese dogs, grilled chicken & avocado quesadillas and meatball marinara grilled cheese sandwiches...all amazing last-minute meals.
.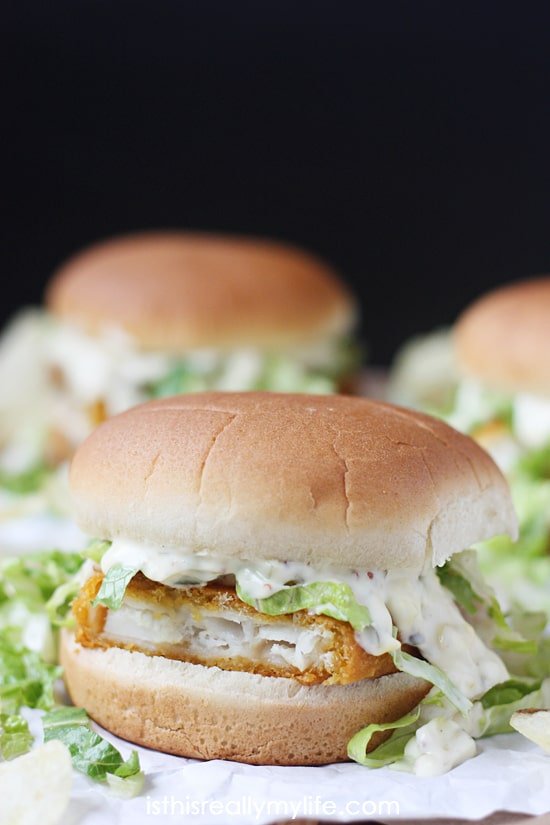 .
It was time to turn a sad excuse for fish fillet sandwiches into something heartier, healthier and a whole lot more appetizing thanks to two things: a homemade tartar sauce that beats all tartar sauces and a fish fillet that beats all frozen fish fillets.
.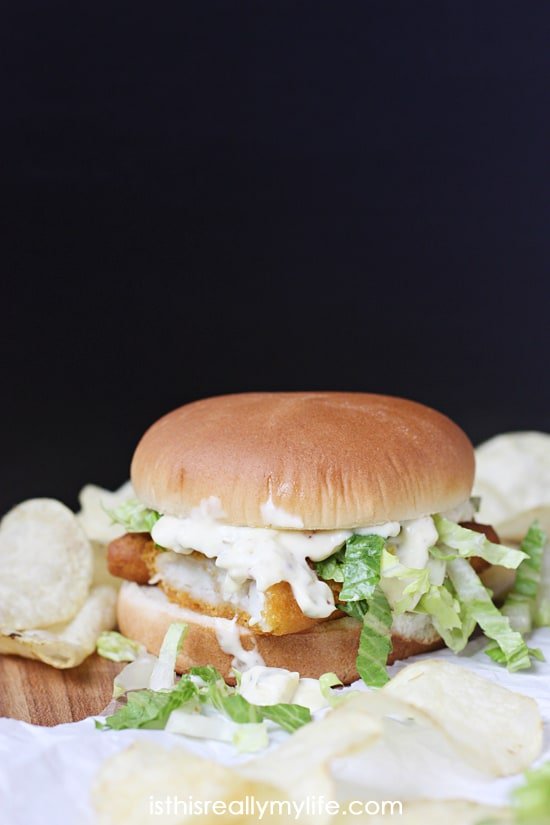 .
The homemade tartar sauce in this recipe is one you'll want to keep in your fridge at all times. Take it from this girl who doesn't usually go for tartar sauce—I may have found myself licking my fingers as I styled the photos.
And the fillets? Beer battered, crispy and filled with wild-caught cod. You'd find it hard to believe they're frozen, trust me. Somehow Gorton's has upped the ante on frozen seafood, and it's one tasty ante.
.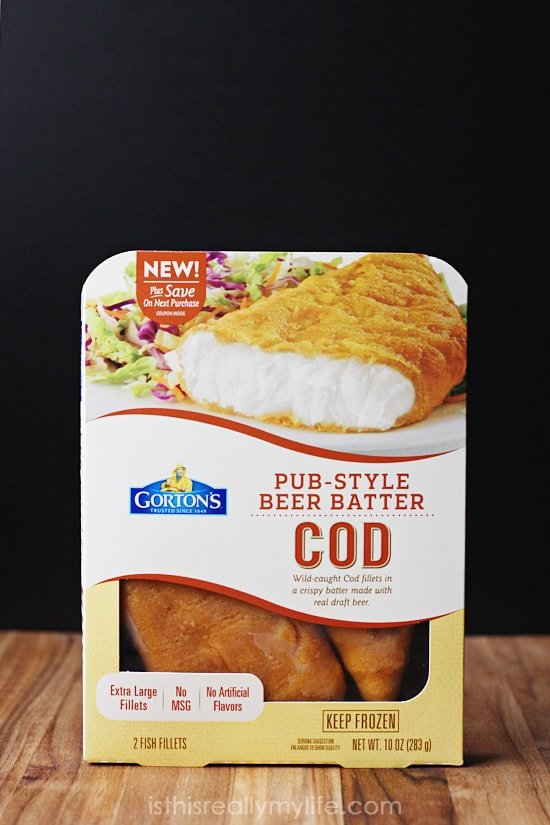 .
It's common knowledge seafood is good for you because of all those natural omega-3 fatty acids, lean protein and critical vitamins and minerals that can aid brain development, promote heart health, help fight obesity, improve arthritis and joint pain and overall health. It's a pretty impressive laundry list of benefits, which makes it no surprise the USDA, American Heart Association, American Cancer Society and American Diabetes Association recommend eating seafood at least twice a week.
I think we eat it twice a year.
This year I'm determined to get more seafood in our bellies. I think Gorton's has the same goal after tasting the Pub-Style Beer Batter Cod from their new line of Gourmet Fillets. (Other flavors include Parmesan Crusted Cod, Tuscan Garlic & Herb Tilapia and Signature Seasoned Salmon.) All four chef-inspired varieties of these extra-large fillets are made with real ingredients like roasted garlic, parmesan, butter and oregano and have no artificial flavors or MSG.
If you're looking for other great weeknight recipes like these fish fillet sandwiches with homemade tartar sauce, GoGortons.com has recipes for seasonal side dishes, simple salads and more that perfectly complement any of their seafood any night of the week. Plus, Gortons is offering a 1$ off coupon to make it even easier to try new Gourmet Fillets.
.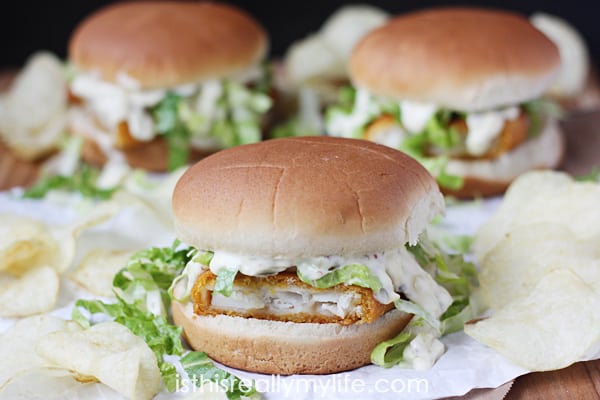 .
You can like Gortons on Facebook and follow them on Twitter, Pinterest and Instagram for more delicious recipe ideas!
Printable recipe for weeknight fish fillet sandwiches with homemade tartar sauce below. Enjoy!
.
.

Weeknight Fish Fillet Sandwiches with Homemade Tartar Sauce
Combine delicious homemade tartar sauce, omega- & protein-packed fish fillets, shredded lettuce and hamburger buns for easy fish fillet sandwiches! Makes approx. 6 sandwiches and 1½ cups tartar sauce.
Author:
Emily ~ isthisREALLYmylife.com
Ingredients
Sandwiches
2 pkg Gorton's Pub-Style Beer Battered Cod
6 hamburger buns
Shredded lettuce
Homemade tartar sauce (see below)
Tartar sauce
1 cup low-fat mayo
¼ cup dill pickles, finely diced
2 T champagne vinegar (or white wine vinegar)
1 T capers (or more to taste), minced
2 tsp stone ground mustard
Pinch kosher salt
Pinch freshly ground black pepper
Instructions
Sandwiches
Bake cod fillets according to package directions. While baking, prepare tartar sauce (see below).
Remove fillets from oven. Gently cut fillets in half so you have a square and a triangle. One solid square fillet equals one sandwich. The two leftover triangles placed together to make a square equals another sandwich.
Place one square fillet piece (or two triangle fillet pieces) on bottom bun. Top with shredded lettuce and a healthy dollop of tartar sauce. Top with remaining half of bun. Serve immediately with your favorite chips and/or french fries.
Tartar sauce
Place all ingredients in a medium bowl and whisk until thoroughly combined. Refrigerate until read to serve. Store leftovers in refrigerator.
.
.
If you're looking for more yummy recipes, you should browse my best of Is This Really My Life Pinterest board.
.
.

Feel free to "like" is this REALLY my life? on Facebook. It won't always earn you an extra entry in a giveaway but it will give you warm fuzzies.
Don't forget to sign up for free is this REALLY my life? updates via RSS or email so you don't miss a single awesome post.
.