If my kids could have fettuccine Alfredo every Thursketti, they totally would. (I would too if Alfredo sauce didn't consist of butter, cream and Parmesan cheese.) One the rare occasion we do have it, I make the sauce from scratch. I have yet to find a bottle Alfredo sauce that tastes edible.
Ew.
This pasta recipe is a supposed copycat of the Alfredo pasta from Olive Garden. (I'm not a huge Olive Garden fan but I am a huge Alfredo fan.)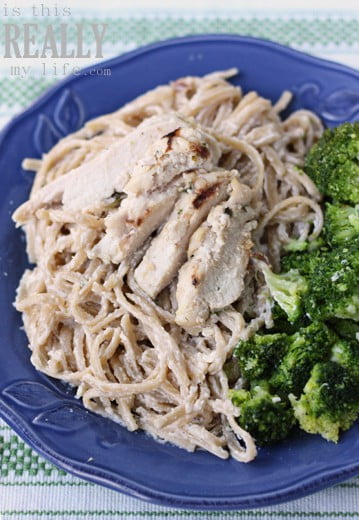 I'm sure Olive Garden uses some sort of magic to keep the sauce creamier longer; mine tends to separate after it cools a bit (see photo; it looked much creamier before I started taking photos). Maybe if you're making Alfredo sauce by the gallon, it holds its consistency better.
Or maybe if you don't toss all the ingredients together like I do and then spend too long taking photos, it stays looking all restaurant style.
*sigh*
It doesn't really matter because we polish off the entire batch in one sitting...and that is why I don't make it very often.
The last time I made fettuccine Alfredo it was really "whole wheat spaghetti Alfredo." For added protein (i.e., so I could feel less guilty about having seconds), I topped it with sliced garlic basil chicken. It was absolutely delicious...and absolutely easy.
I used Gourmet Garden Basil Herb Blend (chopped fresh organic basil) in the marinade because I didn't have fresh basil on hand. This was my first time trying Gourmet Garden's refrigerated fresh-chopped herbs and I'm totally hooked. This stuff is as life-changing as pre-shredded cheese and online shopping.
But I digress. As usual.
Feel free to substitute Parmigiano-Reggiano or Romano for the Parmesan cheese. I use whatever I have on hand. I've even added marinara for a creamy tomato sauce. Mmm...
Printable recipe for fettuccine Alfredo with garlic basil chicken below.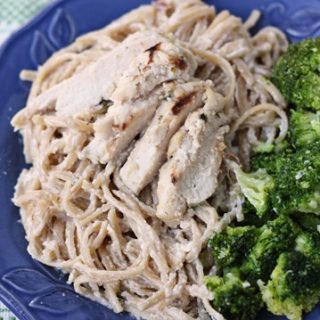 Fettuccine Alfredo with Garlic Basil Chicken
Total Time:
2 hours
15 minutes
My family loves this Alfredo sauce. We toss it with fettuccine, spaghetti...whatever we have on hand. The added garlic basil chicken makes it even better!
Ingredients
Garlic basil chicken
3 T olive oil
1 to 2 T Gourmet Garden Basil Herb Blend (or 1 to 2 T fresh, chopped basil)
½ to 1 tsp minced garlic
2 whole boneless, skinless chicken breasts
Alfredo sauce
½ cup salted butter
2 cloves garlic, minced
2 cups heavy whipping cream
¼ to ½ teaspoon pepper
Pinch of salt
½ cup grated Parmesan cheese
1 12- to 16-ounce box fettuccine or your favorite pasta
Instructions
Chicken
Use a meat pounder to flatten chicken so it will cook evenly (optional).
Combine all ingredients in a large Ziploc bag and marinate in refrigerator for at least two hours.
Cook chicken however you'd like (outdoor grill, indoor grill, stovetop, oven) until done.; slice and keep warm.
Alfredo sauce
Bring a large pot of salted water to a boil.
Add pasta and cook according to package directions.
Drain but do not rinse and return to pot.
While pasta is cooking, melt butter in a medium saucepan over medium-low heat.
Add garlic, cream, pepper and salt and bring mixture to a simmer. Turn heat down if it reaches a rapid bowl. Add the cheese and continue simmering for 8 minutes or until thick, stirring occasionally.
Spoon pasta onto serving plates and top with Alfredo sauce, then sliced chicken (or toss all ingredients together and serve).
Notes
Feel free to substitute Parmigiano-Reggiano or Romano cheese for the Parmesan.
Nutrition Information:
Yield:

8
Serving Size:

1
Amount Per Serving:
Calories:

1479
Total Fat:

45g
Saturated Fat:

24g
Trans Fat:

1g
Unsaturated Fat:

17g
Cholesterol:

129mg
Sodium:

292mg
Carbohydrates:

215g
Fiber:

9g
Sugar:

9g
Protein:

50g