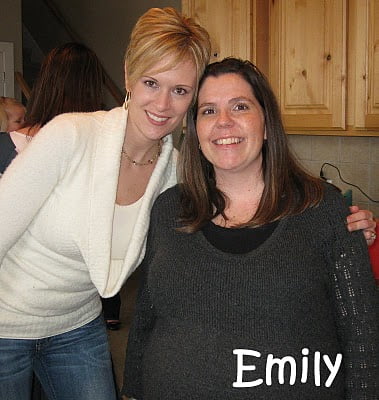 Almost a month ago Vanessa, Quinn and I helped throw a baby shower for our very pregnant, very cute, very feisty (I love me some feisty!) Evonne from Sell…Party of 3 (she'll be changing that to "4" very soon). Of course Evonne was quick to post her baby shower wrap-up while I, on the other hand, have taken my own sweet time. (If only it were my own sweet time. How would that be?)
I've finally sat my butt down long enough to write the first of two baby shower recap posts. Today's post features all the photos you could ever want of some seriously yummy cupcakes and the process it took to make them super cute—or at least presentable cute—for Evonne's baby shower. The second post will feature fabulous food, festive decorations and friends. When Evonne's the guest of honor, you know it's going to be an awesome party!
On to the cupcakes. I knew I couldn't pull off The Sweet Tooth Fairy's or Dippidee's decadent designs but I wanted to do something other than through Funfetti frosting on the top. I'll just tell you now: the image in my head was pretty dang awesome but only about 23% of it made it to the cupcakes. At least they were made with lots of love!
I found a recipe for Royal Icing so I could pipe some light blue flowers for the tops of the cupcakes. I'm glad I did this a couple days before because the royal icing was an adventure in itself. I did substitute almond extract for the lemon and also used about six or seven cups of confectioner's sugar. Here's what the first batch looked like:
Looks great, but of course experienced royal icing-ers would quickly notice this was not nearly thick enough to pipe a good, detailed flower. Me? I didn't have a clue so I went ahead and filled a trusty Ziploc bag and got right to piping:
TIP: If you're going to use a Ziploc bag for piping, go for the thicker quart or gallon-size bags. Sandwich bags tend to spring leaks. Trust me. Oh, and a little masking tape around the tip secures it rather nicely.
After trying a few flowers I quickly discovered the icing was far too thing. Let me tell you how much fun it was to squeeze the stuff back into the bowl so I could mix in more confectioner's sugar: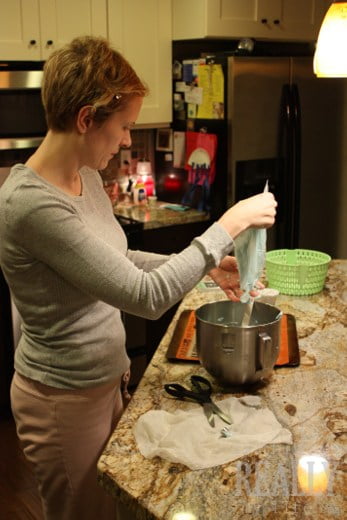 I think I did this a second time because they were still too runny, but it's all a late-night blur in my memory. I do know I finally got it right and after a few false starts, started crankin' out those flowers: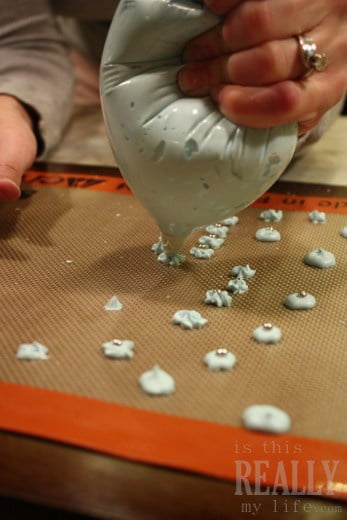 You can see the failed attempts in the photo above. Good thing I'm a quick learner! The next day I surveyed my work and decided the learning experience was well worth it. I'm still not in the running for America's Next Top Professional Icing Flower Designer but at least these icing flowers had character: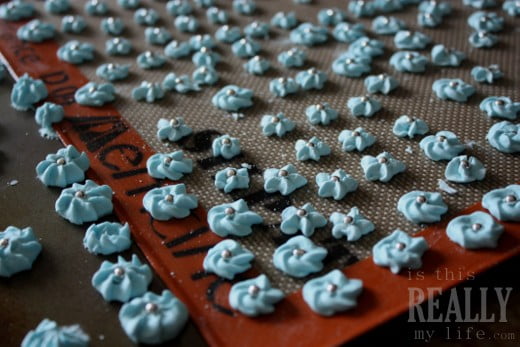 By the way, I used silver dragées for the center rather than frosting. It was simple and added a little "bling" to the flowers. And then in my typical Type-A style, I sorted the flowers by size so I knew about how many I could put on each cupcake. What you don't see is how these groups went from about five to three as the amount of cupcakes I made (and under cooked) changed throughout the day. But I had to share this photo because I knew my dad would get a kick out of it (I'm SO my father's daughter):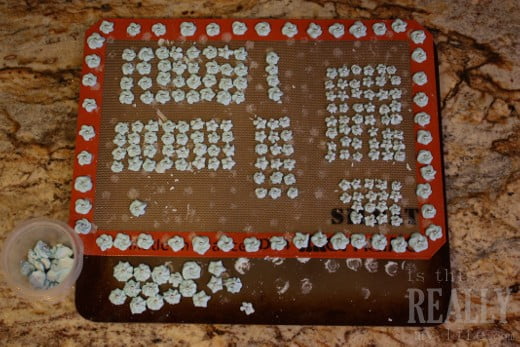 The flowers were done and set so it was time to dive into the cupcakes. I found this drool-worthy recipe for Chocolate Chip Cookie Dough cupcakes on Allrecipes.com and knew I simply had to make them for Evonne's baby shower. Of course I changed up the recipe a bit and used a fudge cake mix for the first couple dozen, and then changed it up again and used peanut butter cookie dough with a fudge cake mix for the second couple dozen. (About six dozen cupcakes were made but I had a few casualties due to under cooking the first batch.)
First, you whip up a batch of the cookie dough, roll it, place it on a cookie sheet and then freeze for a good two hours: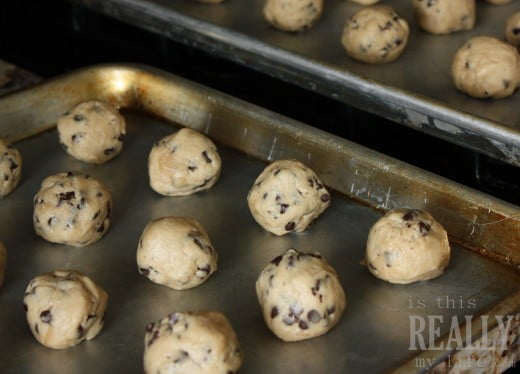 Next you mix your cake mix batter, spoon into your cupcake liners and place a frozen cookie dough ball in the center: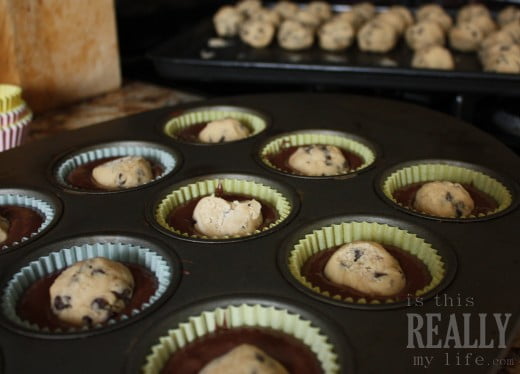 Then you bake for about 20 minutes, though as you can see from these photos, it can take a few more minutes than that. I learned to make sure the cupcakes were rounded on top and didn't look too moist. I'm sure if you used a yellow cake mix like suggested in the recipe it would be easier to tell when they're done:

That night I started the fondant letters and the frosting.The fondant was a piece of cake compared to the cupcakes and upcoming frosting adventure. I used Wilton's Ready-to-Use White Rolled Fondant, pulled off a hunk, added some food coloring, rolled it out and used some super cute mini cookie cutter letters I found at Walmart to cut out a plethora of V's, I's and N's: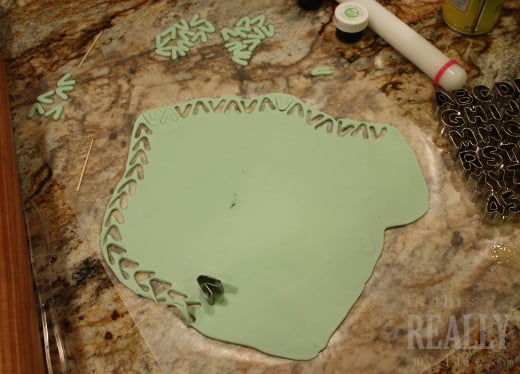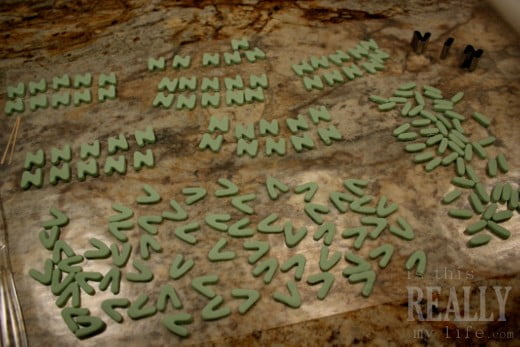 As for the frosting, I won't go into detail but let's just say I went to bed during the wee hours of the morning and picked up a huge Diet Coke on the way to the shower the next day. In summary, I started with this Chocolate Ganache recipe, using Nathan's mad knife skills to chop the rather large block of bittersweet chocolate: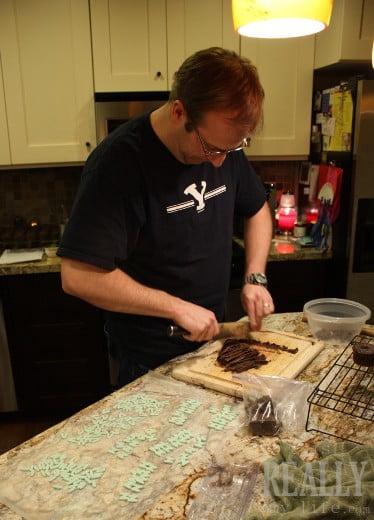 But I found it to be way too bitter (that's what I get for using serious gourmet bittersweet chocolate) and tried adding vanilla and confectioner's sugar. When that didn't work I tried this Rich Chocolate Frosting recipe, which was closer to what I wanted but way too light and not rich enough. I almost resorted to a can of Pillsbury chocolate fudge frosting, and trust me, if I'd had two I'd have done it. Here's the proof (rich chocolate in the bowl, ganache in the plastic container, Pillsbury next in line):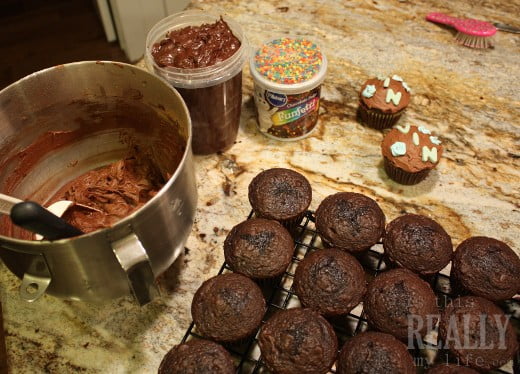 Instead, in a wild act of desperation, I mixed the chocolate ganache with the rich chocolate frosting and came out with something more to my liking. It still wasn't super fudgy like I'd hoped; perhaps next time I'll scrape off the frosting from Costco's All American Chocolate Cake and use that instead! But the frosting was pretty rich so I only spread a thin layer on the cupcakes. I didn't want to overpower the flavor of those cookie dough-filled goodies!
I finally frosted the cupcakes and added the flowers and fondant letters. All in all I think they turned out pretty cute! (The one in the middle I made especially for Evonne's daughter):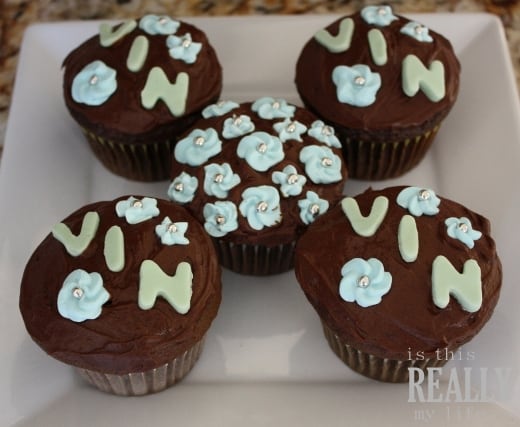 Vanessa and Quinn can attest to the fact that this was quite the roller coaster ride, but of course I brought it on myself. At one point—I think it was 1am the night of the frosting episode—Nathan asked me if it wouldn't be cheaper to buy four dozen cupcakes. Of course it would…what kind of question is that? But that's beside the point as so often those questions at that time of night are.
For Evonne or any of my favorite people, I'd do it all over again (and I probably will). Just don't tell Nathan).
Look for Evonne's baby shower, Part 2 later this week. You won't want to miss the amazingly easy appetizer that quickly won the hearts—and the tastebuds—of many a gal at the shower. I'm not exaggerating. Promise.