Bring adventure, excitement and a little mayhem to your game night with the new Escape Room: The Game. Nothing like a good prison break to bring people together!
.

.
A few months ago Nathan, Lauren and I were able to experience—and nearly solve—one of those escape rooms. What's an escape room, you ask? An escape room (a.k.a. breakout game, get-out game) is a real-life game where you're locked in a room (every room has a theme) with a group of people and you have 60 minutes to solve all kinds of puzzles in order to escape. Some rooms even have chained zombies whose chain gets longer as time goes on. I'm so very glad we didn't have on in our room.
Whether you're successful or not, trying to escape the room is seriously so much fun. I'm not gonna lie, there are moments when you want to smack someone upside the head. (Ask me one more time of I've checked under every chess piece on the table...) But overall, it's a total blast. When I heard Spin Master had come up with Escape Room: The Game, a board game version of the popular escape room, I was all over getting the older kids together to give it a try.
.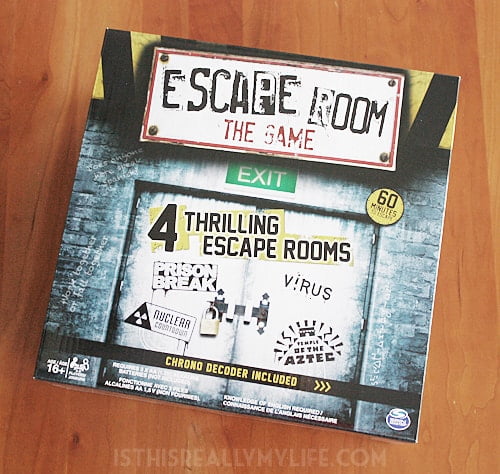 .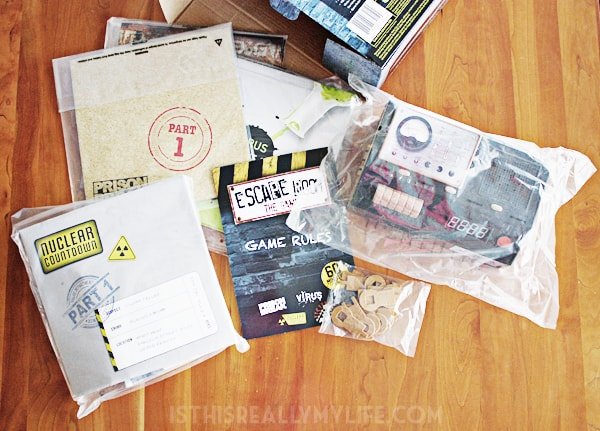 .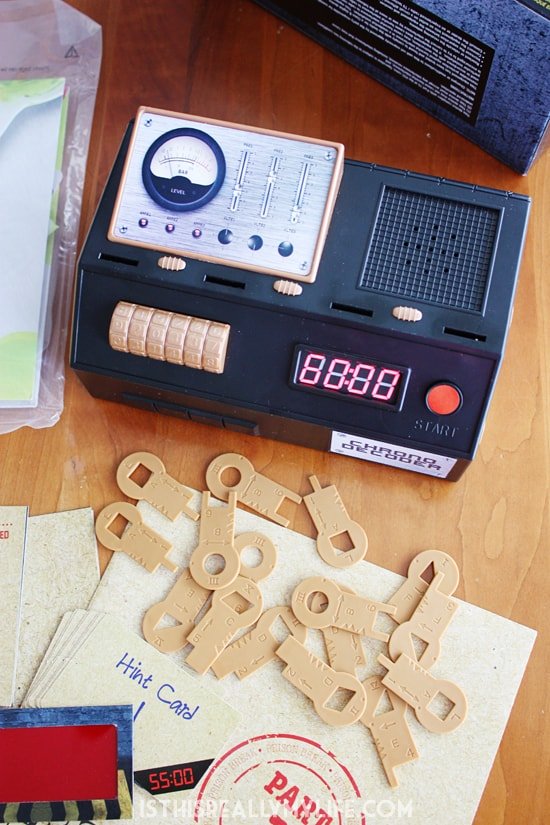 .
The game is designed for players age 16 and up, but we decided to let George give it a try. (Livi was happy to provide moral support.) While George had all the enthusiasm, we moved a little too quickly for him to keep up. But he was an excellent note taker, so keep that in mind if you have younger kids who are driving you crazy begging to play.
.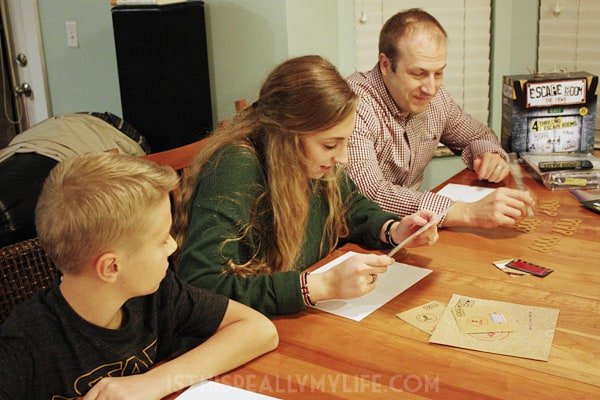 .
The gist of the game is this: players have 60 minutes to work together, find hidden clues and solve puzzles to escape from one of the four included rooms. (The escape room adventures vary in level of difficulty: Prison Break, Virus, Nuclear Countdown, and Temple of the Aztec.) To make their escape, players must correctly enter a four-key combination into the Chrono Decoder. You have to think quickly because that clock is ticking! Even more stressful, if you get the combination wrong, you lose a minute.
We may have tested this functionality a few too many times...
.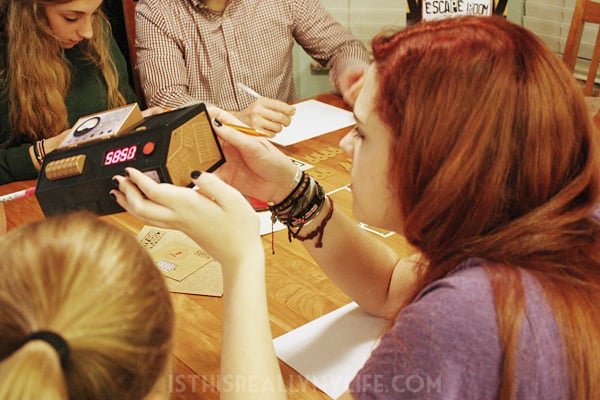 .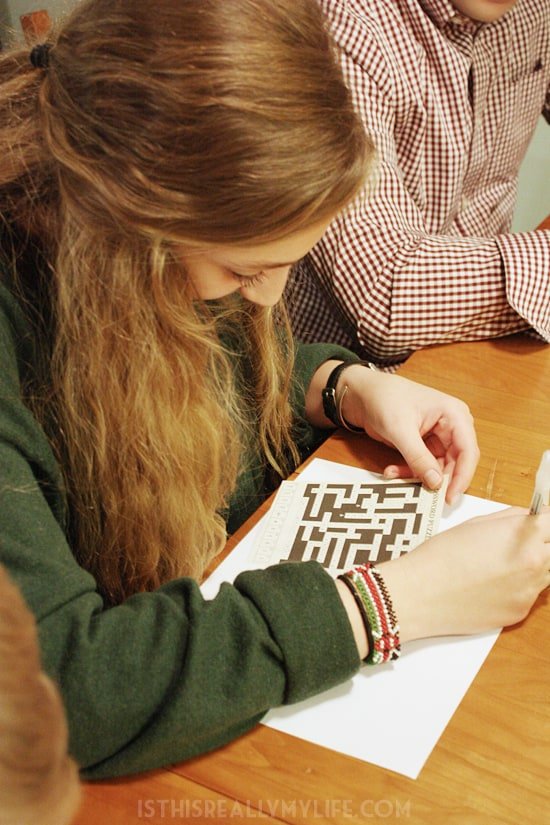 .
Solving the Prison Break scenario took nearly the full 60 minutes and all four brains (plus George's mad note-taking skills). It also took a few of the included hint cards; good thing I'm not above hints.
.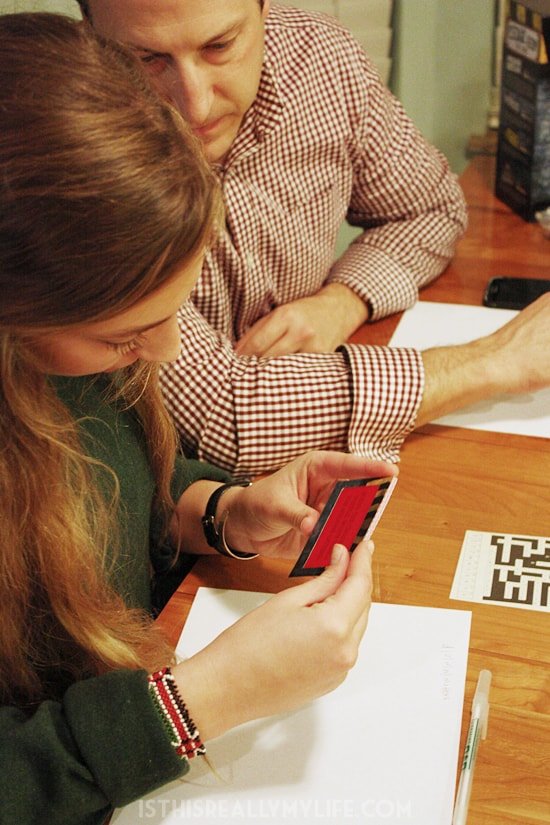 .
Though we had a few moments of frustration—and yes, someone actually climbed on the table—we absolutely loved the game. We're already planning to escape a few more rooms over Christmas break. I sure hope my brain is up to it!
.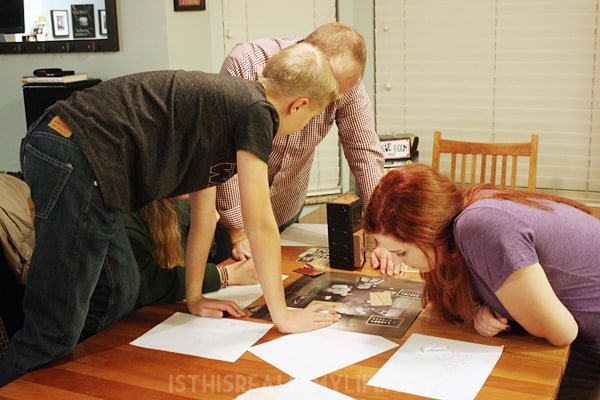 .
Escape Room: The Game would make a really fun double date for teens and college students. It's a lot more interactive than going to a movie, and you can see how your possible future significant other responds to stressful situations. You can even enhance your game experience by downloading the free Escape Room app on iPhone or Android for thematic background music and to share a photo of your team's moment of victory.
We were so relieved to have solved the dang thing we didn't even think of snapping a photo. *sigh*
.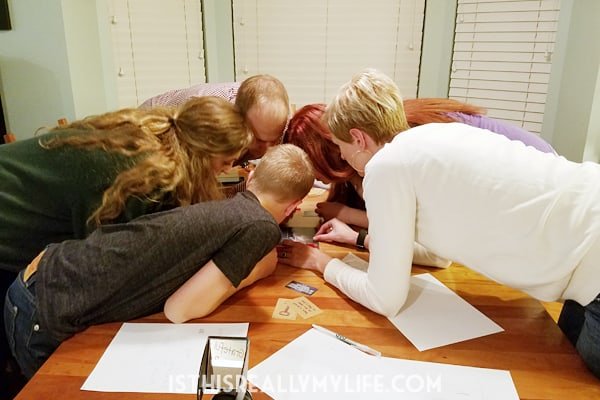 .
To learn more about Escape Room: The Game, click HERE. If you're already sold, you can purchase your very own Escape Room HERE. Believe me, it's the perfect gift for game-loving families and friends alike.
I was selected for this opportunity as a member of CLEVER and the content and opinions expressed here are all my own.
.
.
Looking for more fun reviews and the latest recipes from the blog? Check out my best of Is This Really My Life Pinterest board. I guarantee you'll find quite a few!
.
.

Feel free to "like" is this REALLY my life? on Facebook. It won't always earn you an extra entry in a giveaway but it will give you warm fuzzies.
Don't forget to sign up for free is this REALLY my life? updates via RSS or email so you don't miss a single awesome post.
.