Disclosure: Equal Exchange provided me with product in exchange for sharing information about the Equal Exchange Holiday Bazaar. All thoughts, opinions and mugs of decadent hot chocolate are 100% honest and all mine.
When I hear the word fundraising, the first things that come to mind are wrapping paper, cookie dough and outdoor thermometers.
In elementary school I went door to door selling decorative thermometers you suctioned to the outside of a window so you knew the outside temperature. Pretty awesome, right?
When Equal Exchange contacted me about their fundraising programs featuring fair trade products, I was intrigued. I'm pretty sure the parents at our elementary school would love an alternative to overpriced rolls of wrapping paper and magazine subscriptions.
The 25-year-old democratic worker cooperative, one of the largest in the country, has an impressive mission statement:
Equal Exchange's mission is to build long-term trade partnerships that are economically just and environmentally sound, to foster mutually beneficial relationships between farmers and consumers and to demonstrate, through our success, the contribution of worker co-operatives and Fair Trade to a more equitable, democratic and sustainable world.
…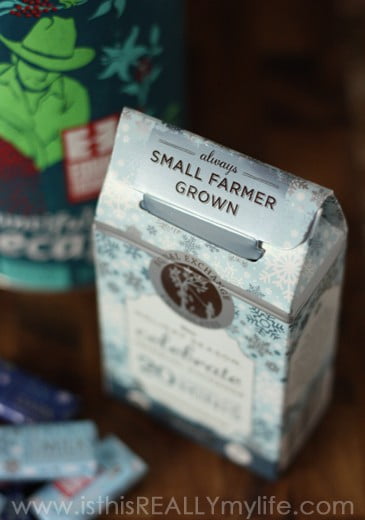 …
Equal Exchange, with its collection of fair trade coffees, chocolate, cocoa, tea, bananas (yes, bananas!) and Fair Foods (e.g., olive oil from West Bank and pineapple from Uganda), offers a variety of fundraising programs including catalog, online and table sales.
But what is super awesome for the holidays is the Equal Exchange Holiday Bazaar, which allows organizations the opportunity to offer Equal Exchange fairly traded coffee, foods and artisan crafts to the community as part of a holiday boutique.
Here are a few reasons you might want to look into hosting a holiday sale with Equal Exchange:
Products that are not only fair trade but also make great holiday gifts.
Easy ordering and friendly customer service.
Purchases support small farming communities around the world.
…
Plus, when you sign up for their starter kit, you'll automatically be entered to win $500 in free products for your holiday boutique including a tablecloth, gift wrap, two boxes of chocolate minis, two cases of candy bars, a case of their new canned coffee.
To learn more about Equal Exchange you can visit their website at EqualExchange.coop. For details on the Equal Exchange Holiday Bazaar or to sign up for the start kit, click here. You can also follow Equal Exchange on Twitter and "like" them on Facebook.
…


Feel free to "like" is this REALLY my life? on Facebook. It won't always earn you an extra entry in a giveaway but it will give you warm fuzzies.
Don't forget to sign up for free is this REALLY my life? updates via RSS or email so you don't miss a single awesome post.
…