For over three years I've been part of a wonderful group of women who've been supporting and promoting local Utah businesses through the site SassyScoops.com. Originally started by three very sassy women (that would be Vanessa, Quinn and I), Vanessa and I have been the ones managing the site for well over a year now and as much as we love what we do, it is time for us (sadly) to close up shop.
Don't get me wrong—we enjoy our review nights, adore our Sassies and love promoting Utah business. There's nothing better than getting our readers excited about a unique restaurant, hidden flower shop or new boutique.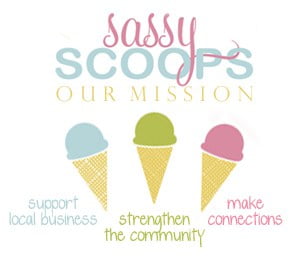 As we said in our final post on SassyScoops.com:
The reason we put so much time, work and heart into this site is because we believe in local. We believe in community, we believe in supporting those around us, we believe it is essential to help all of us thrive. We think it is an important and beautiful part of our country, and the movement to put more importance into it continues to need your help and support.
...
Your local community, business owners, farmers, shops, restaurants, etc. NEED YOU. Please always consider supporting local, it is so vitally important for you to do so.
With SassyScoops.com such a hit among Utah locals, we've been asked why we'd ever move on from the site. As many of you know, there's a time and a season for everything. Right now Vanessa's "season" is to give birth to her fourth beautiful daughter and move to another country for a short time. (Way to cross off something on your bucket list, Vanessa!)
As for me, my "season" is to do more with isthisREALLYmylife.com and co-work part time with Steph for Where Women Create and Where Women Cook magazines. That combined with two teenagers and two little ones and way too much time spent in the car makes for a life that is brimming with busyness.
Or rather it's overflowing. Brimming is an understatement.
The good news is we'll be keeping the site live due it its wealth of information on over 100 local Utah businesses. We're talking hundreds of photos, some great videos and lots of honest feedback. (Trust me on the honest feedback.)
The best news is Vanessa spent a good chunk of time putting together a GIANT list of all the reviews on SassyScoops.com complete with links to the reviews and the city in which the business is located. She even separated the reviews into seven categories: Food, Shopping, Family Activities, Wellness, Photography and Other.
It's an impressive list and you can see it in all its glory here: http://www.sassyscoops.com/fashion/the-end-of-sassyscoops-com/.
SassyScoops has made for some truly wonderful experiences which have turned into some of the best memories. My life has been enriched by my fellow Sassies and I am blessed to call them my friends.
...


And Vanessa, thank you for being my super sassy partner-in-crime and a dear, dear friend. I shall toast you with my Route 44 next time I visit Sonic. Love you!
...