Enchilada style burritos feature enchilada sauce, dirty rice, and a versatile recipe that makes enough for two 9x13-inch pans. That means you can bake one tonight and freeze one for a future Taco Tuesday!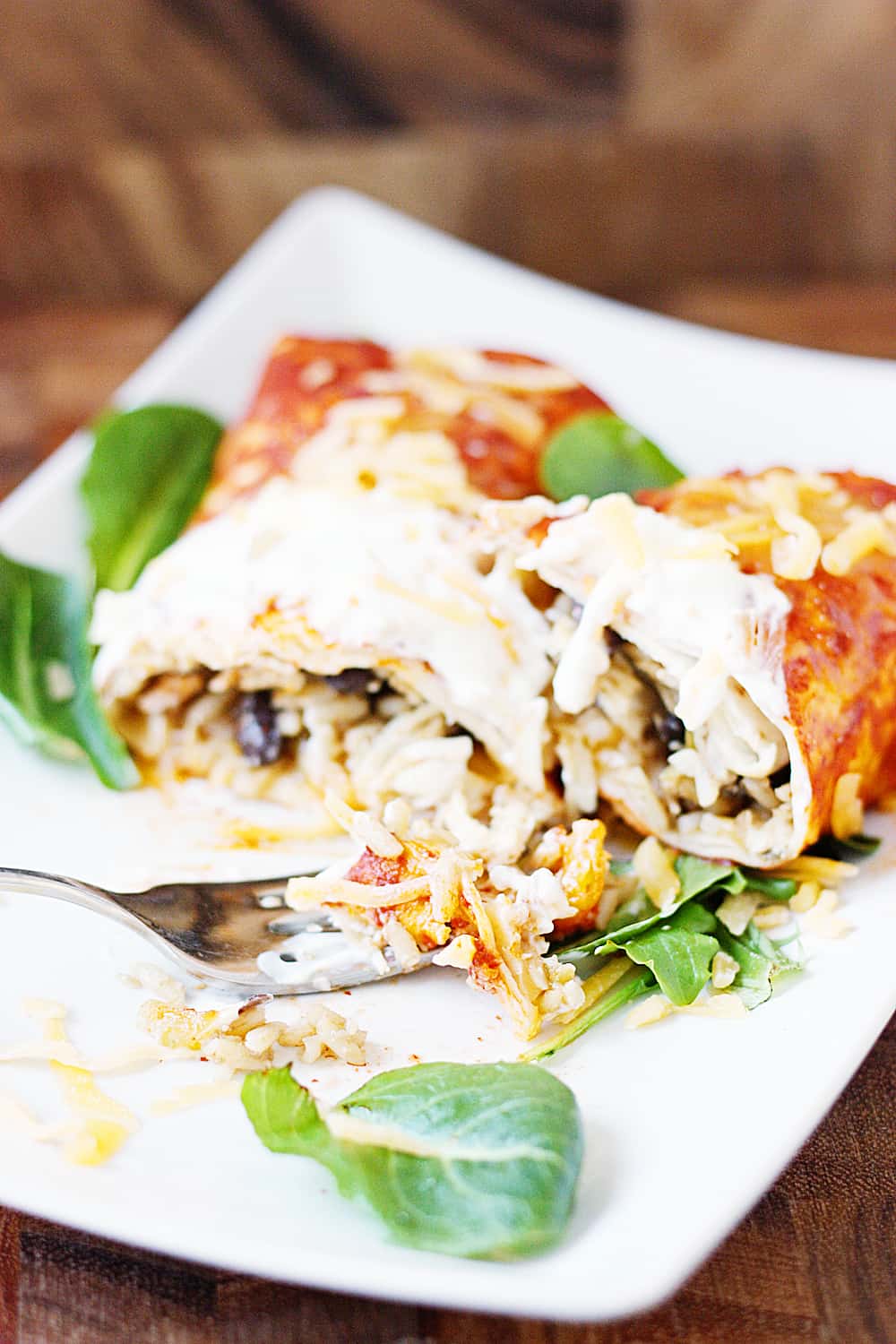 Today is Taco Tuesday (yay!) and I'm super excited because I have a pan of these enchilada-style burritos in my freezer. I wish I had these slow cooker refried beans to go with them but oh well...
Though my kids don't love these as much as they do Mexican lasagna or Taco Bell chicken quesadillas, I could care less because Nathan and I think they're delicious.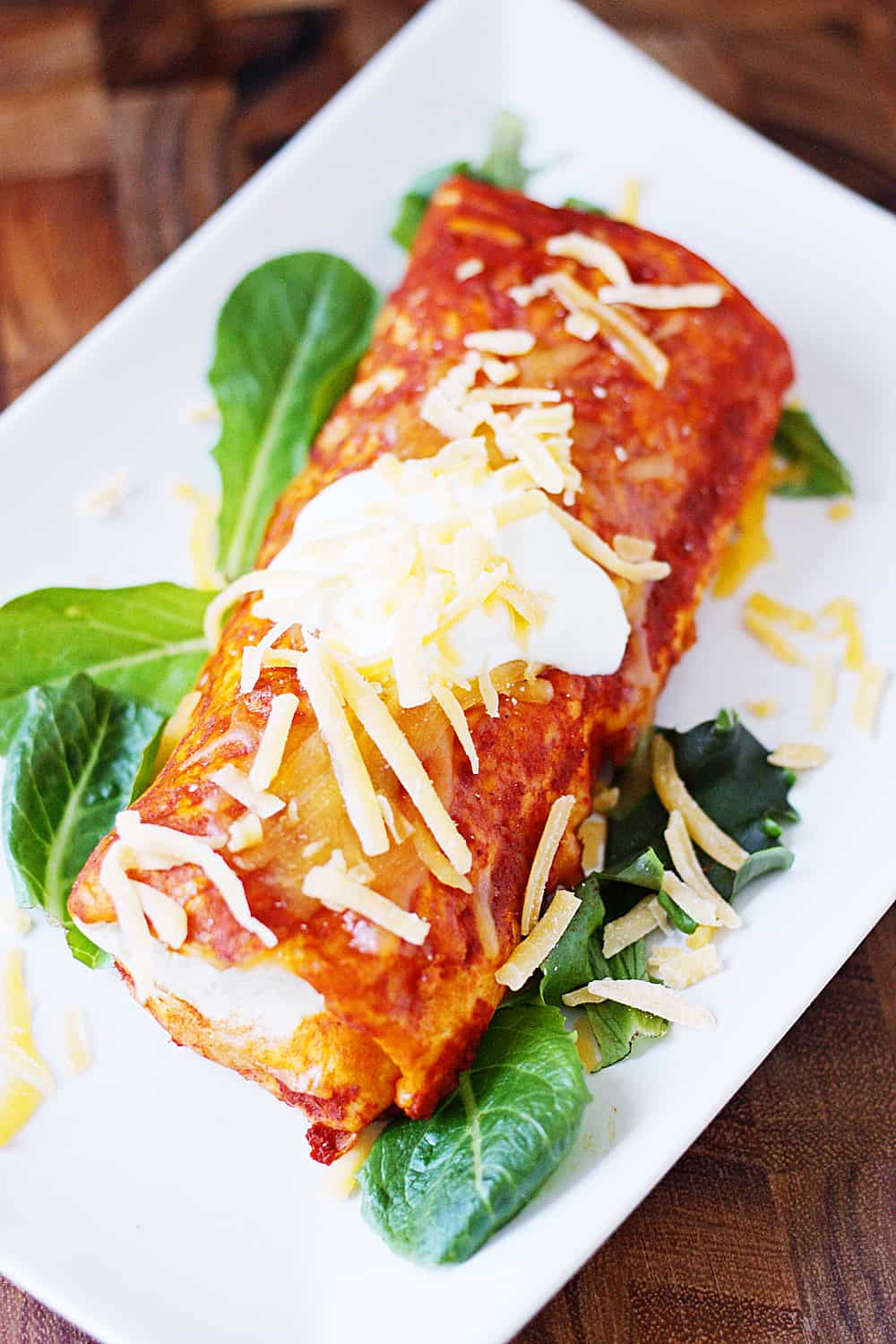 Sometimes it has to be about what the grownups want to eat. Just sayin'.
One recipe—if you use enough chicken and add black beans and chilies—makes enough for two 9x13-inch pans. That means I can freeze an extra pan for a future Taco Tuesday or use this recipe when entertaining. Score!
The nice thing about a solid freezer meal recipe is you can use it for friends and family who may need meals during an especially crazy or challenging time. Or you can plan ahead if you're going to be out of town and don't want the kids to live off McDonald's and mac & cheese the entire time you're gone.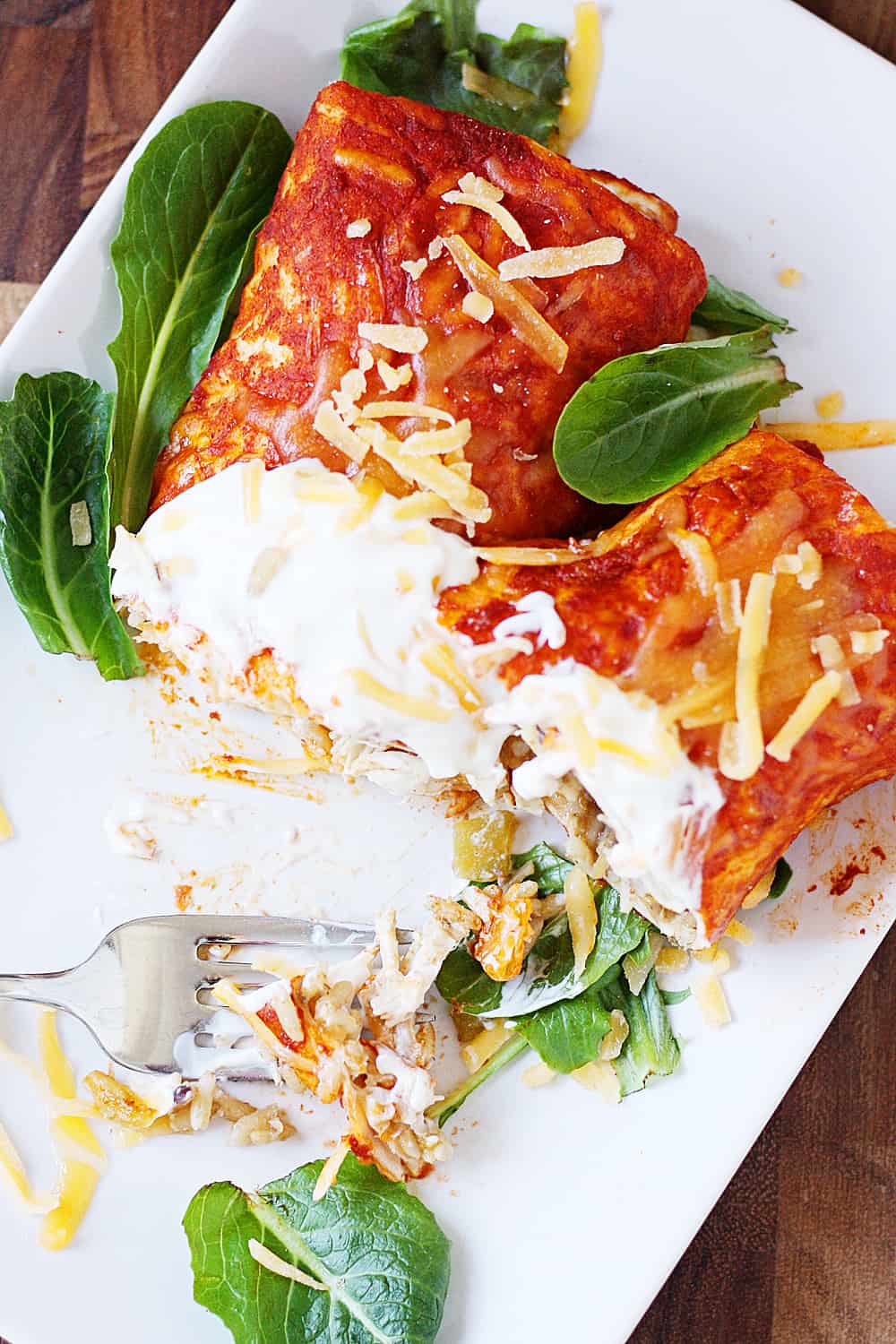 I'm not going to judge if they do, of course. But enchilada style burritos sound like a bit of a healthier option... especially if you know they're having sugar cereal every morning during those days you're gone.
Feel free to change up this recipe however you'd like. Leave out the black beans and green chilies and throw in diced jalapenos and pinto beans instead. I bet these freezer-friendly enchilada burritos would taste pretty great with shredded beef or leftover Cafe Rio sweet pork. Mmm...
Printable recipe for enchilada-style burritos below. Enjoy!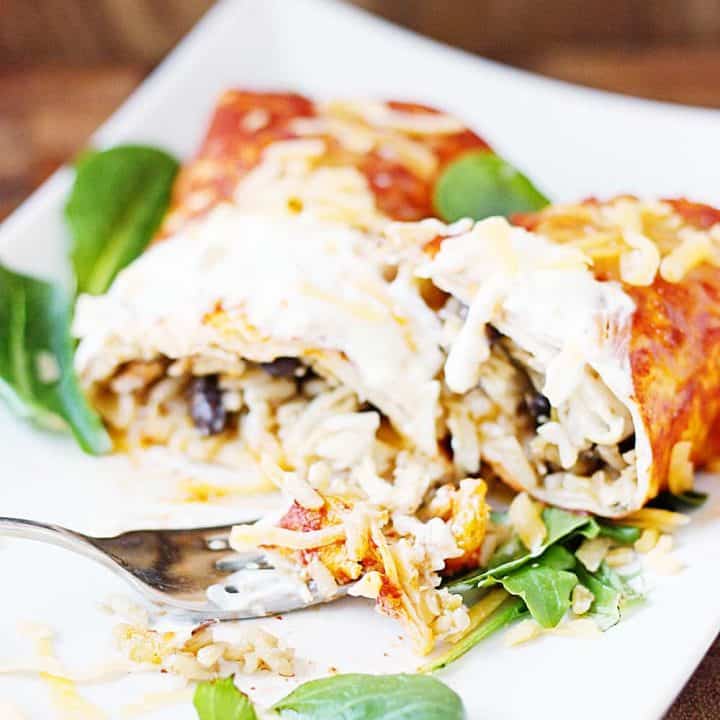 Enchilada-style burritos
Enchilada sauce, dirty rice and a versatile recipe make for a fun way to change up the typical burrito. This recipe--if you throw in the black beans--makes enough for to two 9x13-inch pans. If I'm not making this dish for a large group, then I freeze the second pan for a future Taco Tuesday dinner. You can also freeze the leftover filling if you don't want to make an extra pan of burritos.
Ingredients
2-4 chicken breasts, cooked and shredded
1 (8-oz) package Zatarain's New Orleans Style Dirty Rice Mix
1 (15-oz) can black beans, drained and rinsed (optional)
1 small can diced green chilies (optional)
1 lb. cheddar cheese, grated (or 3-4 cups shredded Mexican blend cheese)
10-15 burrito-size flour tortillas
2 (10-oz) cans mild enchilada sauce
1 small can diced olives
Shredded lettuce
Sour cream
Guacamole
Instructions
Preheat oven to 350 degrees.
Cook rice using directions on back of box (minus the meat). Add shredded chicken, black beans and green chilies. Mix well.
In a 9x13-inch pan, pour a small layer of enchilada sauce. Put ½ cup rice mixture and ¼ cup cheese in a tortilla and roll burrito style. Repeat for remaining tortillas.
Arrange in pan and top with remaining sauce, cheese and sliced olives. Cover with foil and bake 25-30 minutes.
Top with shredded lettuce, sour cream and guacamole.
Nutrition Information:
Yield:

8
Serving Size:

1
Amount Per Serving:
Calories:

1237
Total Fat:

53g
Saturated Fat:

24g
Trans Fat:

1g
Unsaturated Fat:

23g
Cholesterol:

162mg
Sodium:

2662mg
Carbohydrates:

124g
Fiber:

20g
Sugar:

11g
Protein:

67g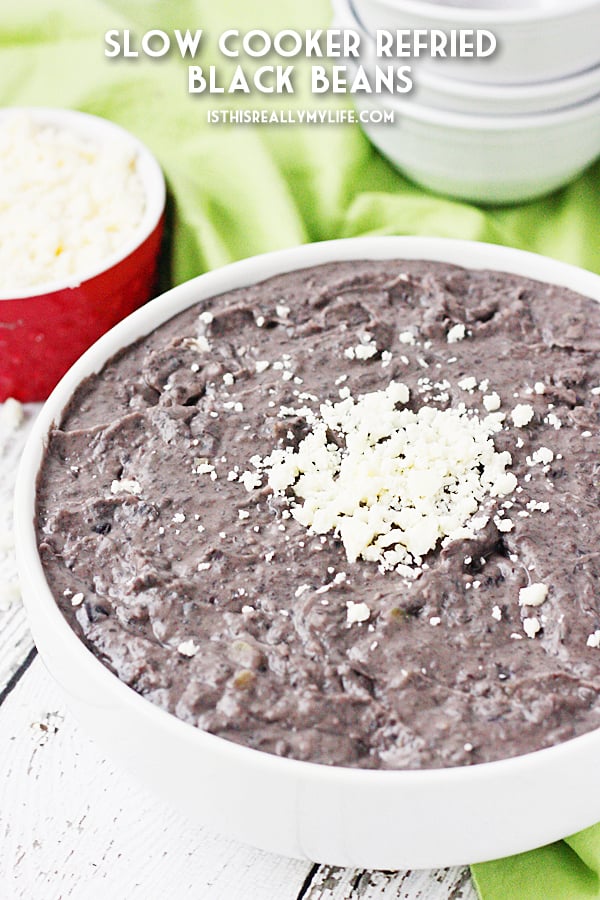 Slow cooker refried black beans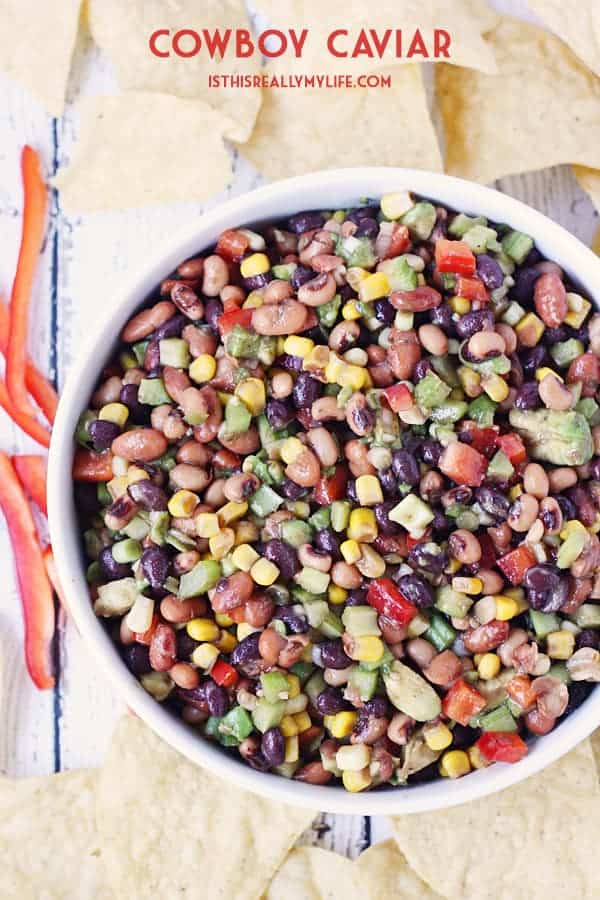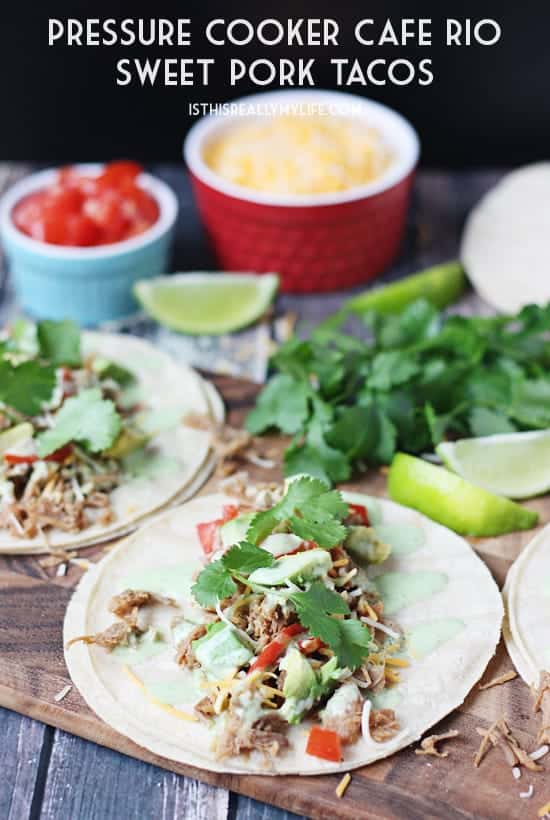 Pressure cooker Cafe Rio sweet pork