Even if you're not a Walmart shopper, their new Empowering Women Together campaign may change your mind.
…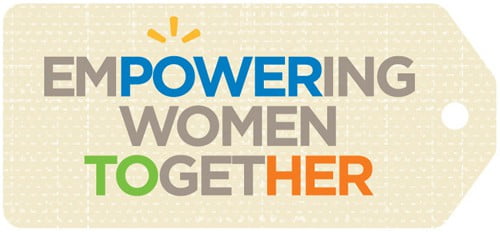 As part of a corporate commitment to empower women worldwide to build better lives for themselves and their families, Walmart announces the launch of Empowering Women Together, an online destination that gives shoppers who want to buy unique and interesting products the opportunity to do so while supporting small women-owned businesses around the world.
Empowering Women Together is an element of Walmart's Global Women's Economic 5-year commitment through 2016 to source $20 billion from women-owned businesses.
Yes, $20 billion from women-owned businesses like Gahaya Links and Full Circle Exchange.
…
With each purchase made through Empowering Women Together, not only are new jobs created but also lives and communities improved.
…




…
At launch, Empowering Women Together will offer more than 200 items from 19 businesses in 9 countries. Products include:
Jewelry from Peru, Rwanda, Kenya and the U.S.
Home accessories from Rwanda and Haiti
Paper mache from Haiti
Apparel and accessories from Rwanda
iPad and laptop cases from Cambodia and Nepal
Coffee and tea sets sourced globally and made in America
Specialty foods made in America and Canada
…
The Empowering Women Together Pinterest board shows a sneak peek of some of the gorgeous products offered through the campaign:
When shopping supports a cause—especially one supporting women-owned businesses—I'm all over that shiz.
To shop this Store for Good…
…click on the image above or head to Walmart.com.
You can also find Walmart on Facebook, Twitter and Pinterest.
Disclosure: I am part of the Mom It Forward blogger network. Mom It Forward and Walmart partnered in support of this campaign. Walmart compensated me for participation in this campaign. However, all thoughts and opinions are my own. And I do love empowering women.
…


Feel free to "like" is this REALLY my life? on Facebook. It won't always earn you an extra entry in a giveaway but it will give you warm fuzzies.
Don't forget to sign up for free is this REALLY my life? updates via RSS or email so you don't miss a single awesome post.
…