Disclosure: I am participating in a sponsored campaign hosted by Emergen-C. I received compensation for this post. While all opinions stated are my own, I make no claims about Emergen-C as a product or its effectiveness.
This may be a sponsored campaign for Emergen-C, but we've been drinking Emergen-C for years. Ever since Emergen-C came out with its original Super Orange flavor, Nathan and I have used this vitamin supplement drink mix to support our immune system and help enhance our energy naturally.* Before our last trip to Italy, I stocked up on multiple flavors of Emergen-C so our immune system got its daily support of vitamin C—a must when dealing with jet lag. Who wants to feel under the weather while in Tuscany?
We also have Emergen-C on hand for our kids. They love the treat of a fizzy drink and I love knowing we're providing them with immune support year round.* How can you go wrong with 250 mg of vitamin C (417% daily value), antioxidants zinc and manganese, and B vitamins in each packet?
But did you know you can do more with an Emergen-C packet than simply dumping it into 4 to 6 ounces of water? I didn't until I checked out their collection of Emergen-C recipes. From mocktails to muffins, you can add Emergen-C to just about anything including your favorite parfait.
We first tried the Pump You Up Vanilla Protein Smoothie. We tweaked it a bit (the recipe is forgiving that way) and came up with a super refreshing drink.
...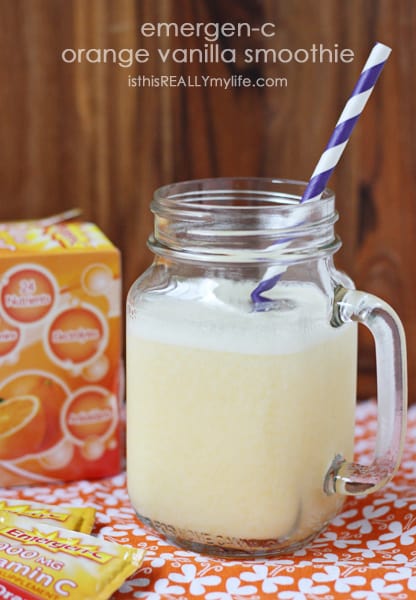 ...
Here's how the recipe looks with the changes. You could even switch it up by adding fresh or frozen strawberries or raspberries, Greek yogurt or crushed ice.
...
Emergen-C Orange Vanilla Smoothie
1 packet Emergen-C Super Orange
1 cup low-fat vanilla yogurt
1/2 cup 50% less sugar orange juice
1/2 cup pineapple juice
2 tsp honey
1 banana (optional)
Add all ingredients to blender and blend until smooth. To make the smoothie "frostier," add 1/2 to 1 cup of ice and blend.
...
The recipe we truly fell in love with was the one for Hot 'N' Toasty Orange Muffins. Man, these babies were divine! I made a couple slight changes and the end result was delicious...even if this batch of super orange breakfast muffins was slightly over baked.
...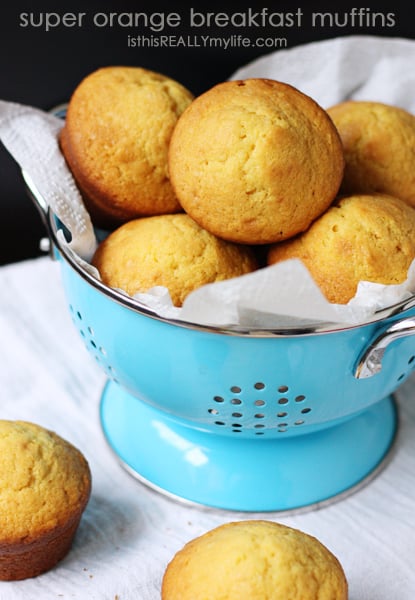 ...

Super Orange Breakfast Muffins
Our family loves these orange muffins. Perfect for breakfast on the go or as a healthy snack option.
Author:
Emily ~ isthisREALLYmylife.com
Ingredients
1 packet Emergen-C Super Orange
1 orange, peeled with seeds removed
¼ cup 50% less sugar orange juice
1 large egg
½ cup unsalted butter, softened
1¾ cups flour
½ cup sugar
1 tsp baking powder
1 tsp baking soda
¼ tsp salt
Instructions
Preheat oven to 400 degrees. Spray a muffin tin with non-stick cooking spray or line with paper liners.
Separate peeled orange into quarters. Place in food processor with orange juice and blend until pureed. In a large bowl, combine pureed orange and juice, egg and butter. Mix until smooth.
Combine dry ingredients in a separate bowl. Add to orange mixture and stir until thoroughly combined.
Fill muffin cups ¾ full. Bake for 15 to 20 minutes or until a toothpick inserted in center comes out clean. Let cool 5 minutes in pan; remove to wire rack to cool completely.
...
I'm anxious to try a few of the other Emergen-C recipes like the
Smartfait
,
The Pominator
and
Rock Your World Healthy Mocktail
.
Let's be honest. This girl loves a good mocktail.
Did you know that Emergen-C does more than support health and energy?* The company also supports many worthy causes:
For every 30-count box of Emergen-C Pink sold, 25 cents is donated to fund breast cancer awareness, research and prevention efforts (up to $100k annually).
For every box of Emergen-C Blue sold, 25 cents directly supports the efforts of the Surfrider Foundation, an organization whose main goal is to protect our oceans.
Through Emergen-C Kids, 25 cents is donated to the Vitamin Angels, who provide essential nutrients to one child for one year every time a box is sold (up to $100k annually).
Emergen-C has partnered with Operation Gratitude and sends packets overseas to help keep morale high and support the troops.
...