And in your basement, your garage, your cupboards and those storage bins that haven't seen the light of day since 1999?
I don't know about you, but I skipped spring cleaning this year. (I'm sure I had an awesome excuse like a three-week cruise in the Mediterranean and not something lame like I just didn't want to do it.) For me, spring cleaning is more about decluttering and simplifying than it is about battling the dust bunnies behind my fridge. Due to the skipped spring—and possibly fall—cleaning, my home is twice as cluttered as it should be.
I am more than ready to find our myriad of treasures a new home…and make some money in the process. That's where eBay comes in.
Long ago I had a "one in, one out" rule for my closet. If I bought a new pair of jeans or shoes, I had to sell a pair of jeans or shoes on eBay. Considering how easy it is to sell on eBay (even easier than it was 15 years ago when I started), this was a fab way to keep my closet updated without it getting out of control. Unfortunately I haven't used that "one in, one out" rule in quite a while, so my closet looks like this:
…
Actually, it looked a little worse.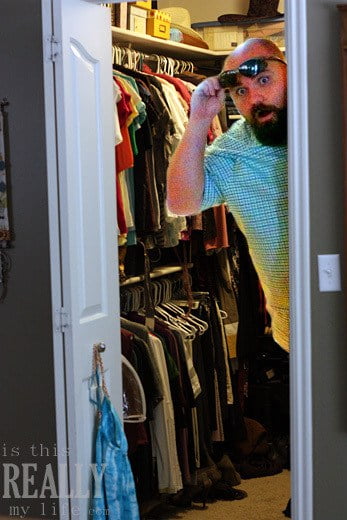 Kidding. That's my friend Scott. And you won't find him in my closet (as far as I know) except in this photo (thanks to some awesome Photoshop skills).
But my closet really did look a little worse earlier. The photos above (sans Scott) were taken after I found a pile of new and gently used items perfect for selling on eBay. Oh, and you can't see the pairs of shoes tucked under that bottom rack of clothes and under the shoe organizers. They're everywhere!
Here's a video I put together showing the treasures I found amidst the piles. It includes a couple selling tips and maybe even a cameo by Livi. (How do my kids know the moment I close my bedroom door?!?!)
…
…
For a great outline of what fashion sells well on eBay, check out their Fashion Selling Guide. You might even want to print out a page or two and keep it with you while treasure hunting in your closet!
I took oodles and oodles of notes during the eBay On Location workshops and have a wealth of selling tips and tricks to share with you. But if you can't wait and want to get started right away, take a few minutes and browse eBay's Seller Information Center. You'll find both quick-start and in-depth eBay selling guides.
The wonderful thing is eBay has truly made it super easy to sell items on their site. I bet you could do it without even reading the tutorial because you all are super smart like that. A few important things I learned in Danna's (@powersellingmom) Selling 101 class to get you started:
Register for a PayPal account. This is the best and safest way to accept payments on eBay.
Use searchable keywords in your title to make it effective (e.g., "Hudson," "long-sleeve," "silk," "women's," make, model number and condition).
Write a detailed description. Include searchable keywords, the item's condition, your terms of service, etc. Keep it positive and friendly.
Take good photos. Natural light is best. Eliminate background "noise" by placing the item on white poster board or foam board, or use those as a backdrop.
Set a competitive price. You can research pricing by searching eBay for similar items. You can even search completed listings to see what's sold and at what price (a green price means the item sold).
Know your shipping costs. You can package the item and use a scale to estimate weight. TIP: Don't have a postal scale? Weigh yourself, then pick up your item and hope back on the scale!
My tip? Use USPS Priority Mail flat-rate envelopes whenever you can. I've been known to fit a pair of jeans and a hardcover book inside the envelope! (Use packing tape so the seal is extra tight.)
Who's up for a challenge? While I'm decluttering and treasure hunting, I'd love for you to do the same…
Find at least three items you'd like to sell on eBay. Return to this post and leave a comment telling us what items you plan on selling.
If you end up listing the items, leave the URLs so we can check them out…perhaps someone here will want to bid on them!
***
I couldn't end without giving you a sneak peek of eBay's new "When it's on your mind, it's on eBay" advertising campaign. Announced on the eBay Ink blog today, the campaign focuses on "mobile shoppers and shopping enthusiasts." Hello, I'm both of those!
This ad will seriously make you laugh out loud…
Disclosure: As an eBay Parent Panel member, my eBay-related posts are sponsored by eBay. My opinions, thoughts, views and love of eBay are mine, all mine.