Disclosure: I received a new Galaxy S4 in exchange for a blog post describing my experience using eBay Simple Flow to sell my current Galaxy S2. All thoughts, opinions and love of eBay are 100 percent honest and true.
Within four days, I should have my "ancient" Galaxy S2 sold and a the latest and greatest Galaxy S4 on its way as a very merry early Christmas present to me. With all the tweeting, Facebooking and pinning I do, I need a smartphone with a bigger screen and better resolution. The faster processor and better battery life are important too. Plus, being on the Instagram as much as I am, I am super jazzed about the better camera (F2.2 versus F2.6 aperture).
Why four days? Because I felt a five-day listing on eBay gave possible buyers a couple weekdays and a weekend to do some comparison shopping.
I'm nice like that.
…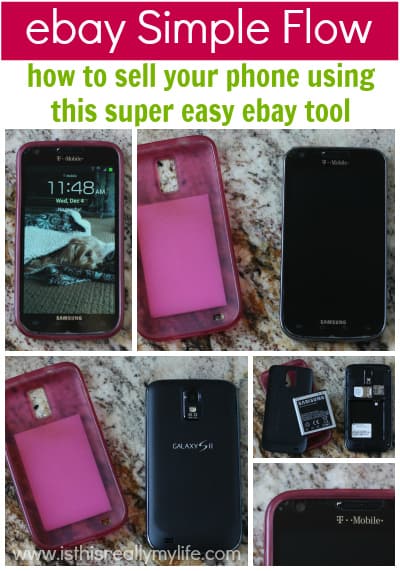 …
If you've been a reader of ITRML for a while, then you know I'm an eBay fan. I was a fan the minute I made my first purchase over 15 years ago. (My first sale quickly followed.) Since then I've bought and sold my fair share of goodies on eBay and I've seen the process of both get easier and easier.
The new eBay Simple Flow interface for selling cell phones like my Samsung Galaxy S2 has me wishing I had more smartphones to sell. It took me less than 15 minutes to list the S2, and most of that time was spent taking quality photos (SUPER important), editing the photos and doing a bit of research to make sure I had the best pricing on the listing. We're talking a phone worth over $200, so you better believe I'm going to make the listing pop. But even more important than the amount of time it took to list my S2 was how dang easy it was.
I swear they created an interface around a theme: "listing your smartphone for dummies."
Here's how it works (though you so don't need my help, it's that intuitive).
…
How to sell your phone using eBay Simple Flow
Visit eBay Simple Flow at http://www.ebay.com/own/sellyourphone/index.html and choose your phone. (You can also sell your tablet or game console just as easily!)
Choose your carrier (or select the "Is my phone unlocked?" option).
Choose your model. (I told you this was easy!)
Choose your color.
Choose the condition of your phone…and be honest!
Once you've chosen the condition, Simple Flow will give you an idea of what you can expect for your phone. Click "Next" to move to the listing page where you can finalize the details, upload photos, etc.
eBay will populate a listing with the information you've selected. Edit anything you'd like. My favorite is the option to automatically relist your item if it doesn't sell!
I chose to edit my product details so buyers would know my Galaxy S2 always had a cover and screen protector. I pointed out the small scratch on the front with a note to see the photo and mentioned the power button had been professionally replaced. I also noted I would include the charger and gave the reason for selling the phone (merry early Christmas to me!)
Before accepting the suggested pricing, do a bit of research to see what other T-Mobile Samsung Galaxy S2s have sold for. I love using the Completed listings option (bottom left corner) when searching eBay.
At first glance, the search results seemed to confirm the Buy It Now at $168, but after reading through a few listings, I found quite a few selling for closer to $220. I thought I'd take my chance with that because I was also offering an auction. I figure if I'm lucky, an impatient buyer will go for the $220. If not, I should still get around $150-ish in bids. Oh, and I threw in free shipping for good measure.
Of course, I'm not too proud to revise the Buy It Now price after it's listed if I feel I've priced it too high.
Add photos to the listing. Like the product details, the more you can offer buyers, the better. You can reorder your photos by clicking on the thumbnail and then dragging and dropping in the pop-up window.
…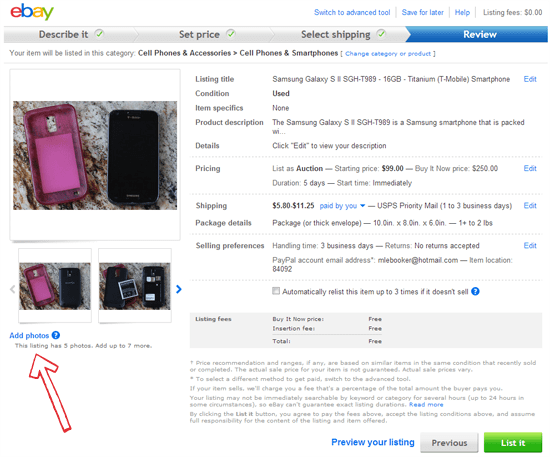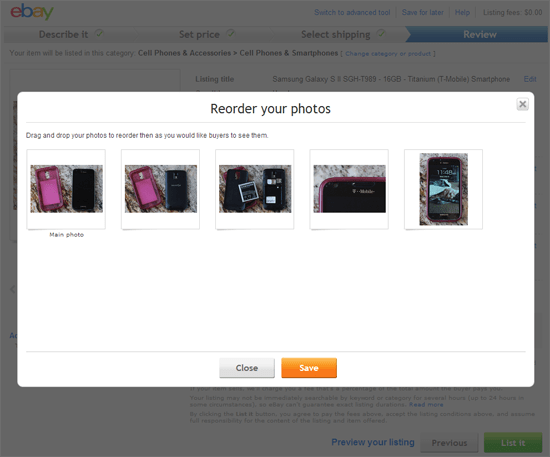 …
Preview your listing before committing. Once you're happy, go for it!
I kind of wish that applied to life in general.
Check your live listing on eBay and tweak until you are 110 percent happy with it.
You can see my completed listing for my Samsung Galaxy S2 on eBay here.
If you're even considering upgrading your smartphone, now is the time to do it. Electronics are hot on eBay during the holidays and you can get top dollar for your smartphone, tablet or console. It's quite possibly the best time to sell and buy…and one of the easiest. Sell your device now to get the best price using eBay's Simple Flow.
For more eBay selling tips, check out my guest post on the r house: "How to Sell on eBay | For Beginners."
And yes, I really do the eBay thing. You can check out my eBay seller ID: emihill.
…


Feel free to "like" is this REALLY my life? on Facebook. It won't always earn you an extra entry in a giveaway but it will give you warm fuzzies.
Don't forget to sign up for free is this REALLY my life? updates via RSS or email so you don't miss a single awesome post.
…