I just caught sight of this infographic on eBay Ink today:
…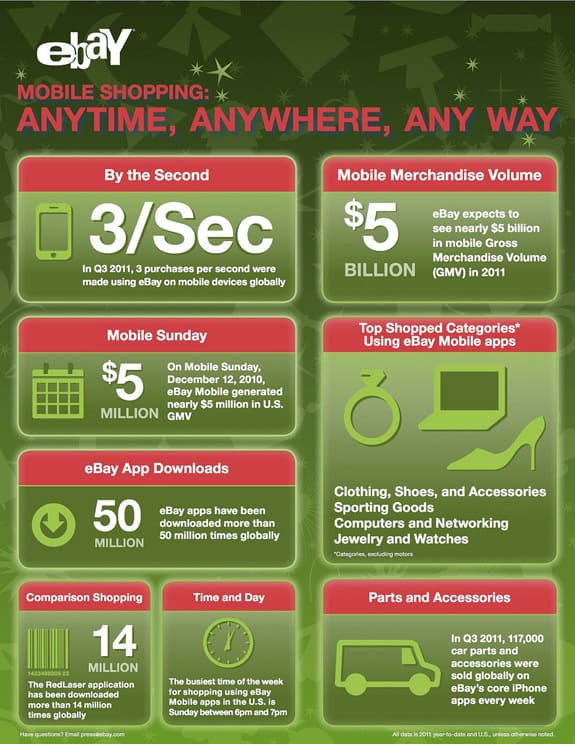 …
Apparently other people love shopping as much as I do…and they're doing it on their smartphones…and helping eBay see nearly $5 billion in mobile gross merchandise volume. FIVE BILLION DOLLARS.
(FYI, I had to Wikipedia gross merchandise volume. If you already knew what GMV was, you're super smart.)
I have the eBay Mobile app on my Android phone but I haven't used it yet. My budget might be safer if I don't. Then again, I'd probably save some serious cash if I used RedLaser to comparison shop when out and about. I really need to get on that.
Ready to be impressed (overwhelmed, amazed, in awe) twice? Check out PayPal's holiday infographic in yesterday's The Mobile Holiday: By the Numbers. Here's a teaser: PayPal expects to see over $3.5 billion in mobile payment volume for 2011.
Again, holy crap!
How much do you think I can get for this pile of over 65 eBay soon-to-be-listed items that includes clothing, shoes, MP3 players and other miscellany? I'm hoping at least $400.
…

…
'Tis the season to sell so I can help Santa with the kids' Christmas wish lists. I bet if you checked your closets you'd find a few things you could sell as well. You know, like last year's gently used, barely-touched-after-New-Year's-Day Christmas presents.
Disclosure: As an eBay Parent Panel member, my eBay-related posts are sponsored by eBay. My opinions, thoughts, views and love of buying and selling (basically selling so I can buy) on eBay are mine, all mine. And yes, I really do the eBay thing; check out my eBay seller ID: emihill.