Even though I listed it second, I'm going to give you the announcement first. (I'm sure you were anxiously waiting for the news; plus, I like to keep you on your virtual toes.)
Thanks to my Twitter friend @JDNorton, a member of the eBay Green Team and one of the few male attendees at EVO '11, and my somehow managing a good first impression (it might have been when I confessed a 15-year love affair with eBay), I am one of the newest members of the eBay Parent Panel...an eBay ambassador, if you will.

I've loved eBay since my first purchase, which I believe was a slightly cheesy super cute Halloween dress with matching striped tights for my firstborn. Flash forward a good decade and a half and you'll find an entire family of eBayers. Though I do most of the selling, 4 out of 6 household members recommend buying. (I'm sure George and Livi would too if they only knew my eBay username and password.)
Though Nathan sticks to electronics and the girls do the same (Madison recently shopped eBay for a Samsung Vibrant), I've purchased everything from cell phone lariat straps to white Kenneth Cole heels for my sister's wedding. I've also sold everything from children's shoes to an HP notebook computer. (I'm often tempted to sell one of the kids but eBay has some sort of policy against it.)
Though I was never one to feel nervous about selling on eBay, many people are. That's why I love e Bay's fabulous Seller Information Center. It's a treasure trove of info for newbies and experts alike.
...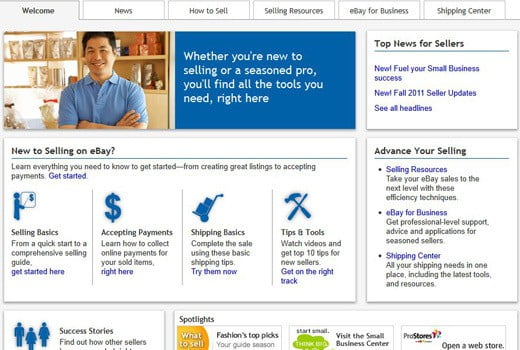 ...
They even have an entire section on eBay for business. (Crafters, I'm talking to you!)  Looking back, I'm wondering if eBay might have been a better solution for georgie tees than trying to run our own website. Hindsight is always 20/20, right?
And now for the how-to...
...
eBay How-to: Designer Denim
One of my most favorite things to buy AND sell on eBay is designer denim. I learned some good tips and tricks of doing both when I went through what I call the "eBay Jeans Adventure." A form of therapy after a miscarriage, I went on a designer denim buying spree: Hudson, Joe's Jeans, Miss Me, 7 for All Mankind... The problem was, not every pair I bought actually fit, so I would turn around and sell them while still on the hunt for the perfect pair...or pairs as it were. Here's where you can learn from my experience.
...
When buying designer jeans:
Do whatever you can to make sure the jeans you're buying are authentic (if you care; if you don't care, then skip this step). You can do this buy checking the seller's feedback, his selling history and sometimes by simply using that women's intuition thing. Also, most will include photos of designer labels, tags and/or logos.
Stick with photos of the

actual

pair of jeans you're buying. Some buyers will only show stock photos of the jeans. If you don't find one in the listing, email the seller and ask him or her to send you one.
Do NOT go just by size or generic size charts. Every pair of designer jeans is going to measure slightly differently. (See next bullet point.)
KNOW YOUR MEASUREMENTS. (See previous bullet point.) Take your favorite pair of jeans and take some measurements: the waistband lying flat, the inseam, the front rise (crotch to top of waistband), the back rise and leg opening. Only buy jeans that have the measurements for which you're looking. If the seller doesn't list them, ASK!
If you've fallen in love with the perfect pair of jeans but the waistband is an inch too large or the inseam a couple inches too long,

take them to your local tailor

. Factor those few extra dollars into the total you're willing to pay. (Mine charges about $8 for hemming and about the same for taking in a waistband. I subtract that from the maximum I'm willing to pay for those to-die-for designer jeans and place my bid accordingly.)

Don't ignore shipping fees.

Some sellers might offer those Rock & Republic skinny jeans for $10 less than other sellers but charge you $15 for standard delivery.

Check the buyer's return policy.

If you're really nervous about buying on eBay, go with sellers who offer a good return policy. Most eBay shops offer them; most private sellers do not unless an item was misrepresented.
When selling designer jeans:
State—and show—their authenticity. If you know they're authentic, great! If you're not sure (because you bought them on eBay and are now selling them because you couldn't pull them up past your hips), be honest. You can let buyers know that as far as you're aware, the jeans are authentic. Include a photo of any tags, labels or logos. If the jeans are new...say, a pair of 7 for All Mankind pink A-pocket jeans you found at Nordstrom Rack for less than $50...include a snapshot of the jeans with the tags still attached. "New with tags" or "NWT" designer jeans are a hot sellers.


...





...

Include at least two good photos showing the front and back of the jeans and the leg openings. If the pair is gently used, buyers like to see any wear and tear on the bottom of the jeans and seat. Include a closeup of any flaws, irregularities or tailoring. Also, natural daylight is best to show the true color of the jeans. If your photos aren't doing a great job with the color, let buyers know whether the pair is darker or lighter than pictured.


...





...




...





...

List the size and link to the designer's size chart

if you can find it. But don't stop here! (See next bullet point.)
LIST THE MEASUREMENTS. You'll find it totally worth your while to take multiple measurements. You'll field less questions and buyers will be able to tell you took the time to put together a thorough listing. Below are examples of what I like to include (waistband, front rise, back rise, inseam and leg opening). No, you don't need to include photos of the actual measurements; these are just a guide. Oh, and I always say measurements are approximate.


...





...





...





...





...





...

List any alterations you or your tailor made

; be as detailed as possible.

Set a reasonable shipping fee.

I quickly discovered that with a little creative folding and packaging, you could fit one pair of jeans into a USPS Priority Mail flat rate envelope ($4.90 for 2- to 3-day Priority Mail).
Have a return policy with which you're comfortable. If you're way okay accepting returns (less the cost of shipping, of course), go for it. I prefer to offer a "no returns unless item is misrepresented" policy.
Yes, that pair of Hudson triangle pocket jeans was purchased on eBay a few years ago, and yes, I didn't pay attention to the waist measurement. That is why you see two large darts in the back. But they are still one of my comfiest pairs of jeans and have survived many an eBay closet clean-out. On the other hand, these items did not:
...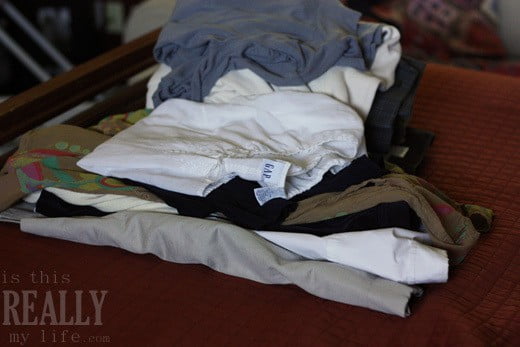 ...
If you want to find out what's hot and what's not in the eBay fashion world, check out their Fashion Selling Guide. You'll find seasonal selling guides, year-round top ten sellers and even a page on "goldmine categories and brands."
...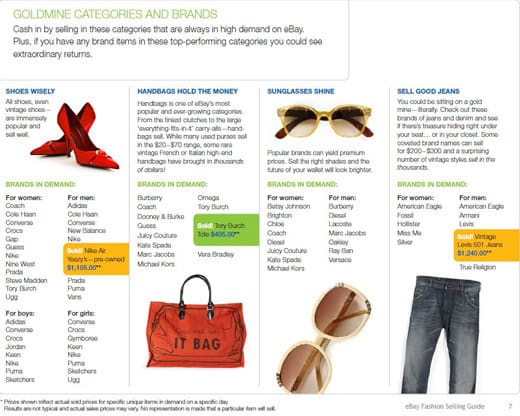 ...
Looking at the list for women, I'm going to start thinking of my shoe collection as my version of a rainy day fund. Less guilt that way.

Disclosure: As an eBay Parent Panel ambassador, my eBay-related posts are sponsored by eBay. My opinions, thoughts, views and love of eBay are mine, all mine.