I have to admit, Kermit the Frog made a great case for the difficulty of being green when he shared this on The Muppets many years ago. (Some of us still remember it...sad but true.)
...
...
Lucky for Kermit, being green has become oh, so much cooler since he first sang his sad tune.
It's all about reduce, reuse, recycle and eBay wants to make it as easy as possible for you to do this by launching a site dedicated to being green.
Say hello to eBay Green, your new destination for eco-friendly education, inspiration and shopping:
Did you catch the tagline?
"Inspiring the world to buy, sell and think green every day."
Awesome.
If you hover over the graphic on the eBay Green homepage, pop-ups appear with ideas to get you thinking green. For example, I hovered over that adorable wingback chair and this popped up: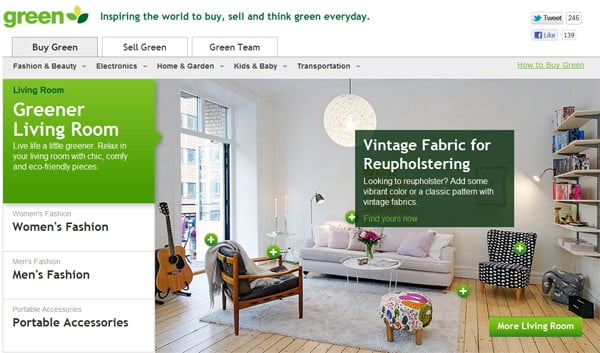 ...
Before you think eBay Green is simply a shopping portal, check out Green Team Talks where you can get educated on things like composting, the impact of the aluminum can and even eBay's partnership with Patagonia as they launched their Common Threads program.
Have a question? Try posting it in Ask the Green Team Community where other eBay Green community members can help answer. (Be patient...the community is brand new and still growing!)
My favorite aspect of the new eBay Green site is the lists. Community members* can create Eco Shopping Lists on everything from cleaning supplies to the greenest of baby nurseries. I even tried my hand at the list thing creating two of them: Going Green at Sundance and Yoga for mind, body and earth.
Now I just need to find things to sell so I can post my own "green" things in an Eco Shopping List.
By the way, you'd be surprised what's considered green when you look past things like bamboo, reusable totes and organic cotton. Try these adjectives on for size: refurbished, pre-owned (aka "pre-loved"), and repurposed. Pretty much anything—with the exception of old appliances—is "green" if it's already in existence and you can use it. To quote my favorite eBay Green Team member:
"The greenest product is one that already exists."
Amen, JD. For some reason I'd never thought of it that way before. Heck, thanks to eBay, I've been doing the green thing for close to 14 years and didn't even know it. Awesome!
One last thing. Check out eBay's super cool "green" boxes:
...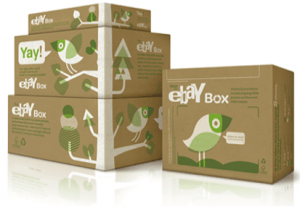 These babies are:
Made from 100% recycled content and are 100% recyclable.
Made to be used over and over again.
Numbered so you can tack your box as it moves across the country.
Designed with a place where sellers can include a note to buyers.
Inspiring thanks to suggestions printed on the box for things you could easily sell and ship in that very container.
...
But enough about eBay Green and their super nifty boxes. (I'm still trying to get my hands on one.)
I bet you'd like to know how you can do that whole "rolling in the green" thing and I'm more than happy to tell you. It does require a little bit of eco-friendliness on your part but I think you can handle it.
For your chance to win that $1,000 eBay gift card, follow these steps below:
Visit http://green.ebay.com/.
Sign with your eBay User ID and password.
Join the Green Team (

link is at the bottom of the page

).
On the homepage (green.ebay.com) identify the "Greener Alternative" and "Eco Shopping Lists" sections.
Next to these sub headers, you'll see "add an item" or "create a list."
To enter the contest, select the proper category and click on "add an item" or "create a list."
By adding an item URL from the eBay marketplace and explaining why it's a greener alternative or creating a list of eco items, you are entered to win.
Once the listing appears on the site, you are entered to win a $1,000 eBay gift card!
...
Note: The items you add can be anything from the marketplace; you could even choose an item you're selling for further promotion. The contest limits one entry per category for every user.
...