April is Earth Month, and while we're not huge tree huggers here (we prefer to hug small trees—less bark rash), we are taking baby steps toward being a more eco-friendly, environmentally-aware, "green" family.
You already know what a fan I am of selling a lot of my family's pre-loved clothes, shoes and accessories on eBay.  In fact, I just finished listing about 20 items and earned about $200 in spending money for the family. Guess what? Selling pre-owned items is totally "green" move.
Also, this week I recycled at least 12 cans of Diet Coke and a few dozen Easter candy wrappers.
I'm on a roll.
Of course, we have a lot more rolling to do, which is why I had a lot of fun taking eBay Green's Earth Day quiz. (The chance to roll around with a $5,000 eBay gift certificate didn't hurt either.)
…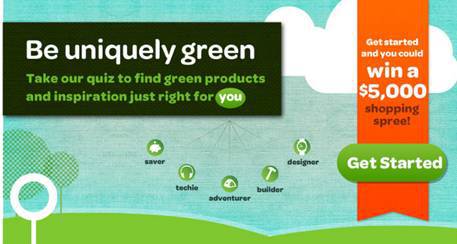 …
After about 30 seconds and 8 questions, the quiz gave me my "green" profile:
At least I'm well balanced, though the whole 19% in the adventurer category has me scratching my head a bit.
The profile came complete simple suggestions like choosing organic cotton bedding and eco-friendly shoes.
Any excuse to buy another pair of shoes is way okay by me.
But the "it's easy being green" didn't stop there. The page also offered:
handpicked products
eco lists from fellow eBay Green team members
"green" facts
a great cause
suggestions for greener alternatives from name brands
…
Thanks to the "Shop now " button, I discovered a fabulous little Matt & Nat Calihan crossbody bag in cherry—a totally adorable greener alternative. (It probably needs some cherry red eco-friendly shoes to go with it…)
If you take the eBay Earth Day quiz between now and April 22nd, you're automatically entered to win a $5,000 eBay gift certificate.
AND if you take the Common Threads Initiative pledge by April 22, you'll be entered to win one of their daily $50 gift card prizes. (Your pledge keeps you entered to win for the duration of the campaign, so make sure to do it early!)
You can learn more on the eBay Green site or follow @eBayGreen on Twitter. In fact, they're having a Twitter chat this coming Monday, April 16th, hosted by Sommer Poquette (@greenmom). Sommer (aka Green and Clean Mom) and the eBay Green team will be chatting about best practices for green living from 8:30 to 9:30pm EST.
When Earth Day rolls around on April 22nd, I think we'll meet with the kids and jot down some ideas of more ways we can help the environment. Knowing my kids, they'll come up with some really great suggestions like plant a forest in the backyard, raise a dozen chickens, run around naked so we don't waste water doing laundry or even better, skip bathing for the very same reason.
I think we'll start with remembering to turn off the lights when we leave a room or hallway, taking 5-minute showers rather than 15-minute showers and joining a local CSA.
And I'll keep recycling those cans (or bottles—I'm not picky) of Diet Coke.
…


Image by niallkennedy, shared via Flickr.
…
P.S. I just started an Earth Day board over on Pinterest. Check it out!
Disclosure: As an eBay Parent Panel member, my eBay-related posts are sponsored by eBay. My opinions, thoughts, views and love of buying and selling (basically selling so I can buy) on eBay are mine, all mine. And yes, I really do the eBay thing; check out my eBay seller ID: emihill.