I'm thinking someone should start a support group for those of us (slightly) addicted to designer deal websites. The ones with limited-time boutiques are my downfall. Rue La La is my favorite followed closely by 6PM.com, zulily and SmartBargains.com. (If we were talking offline designer deals, Nordstrom Rack would be at the top of the list.)
If it weren't for Rue La La (and Nathan going to Europe for two weeks without me…and over Mother's Day), I wouldn't have this fabulous Coach tote. Hell0000o, summer!
…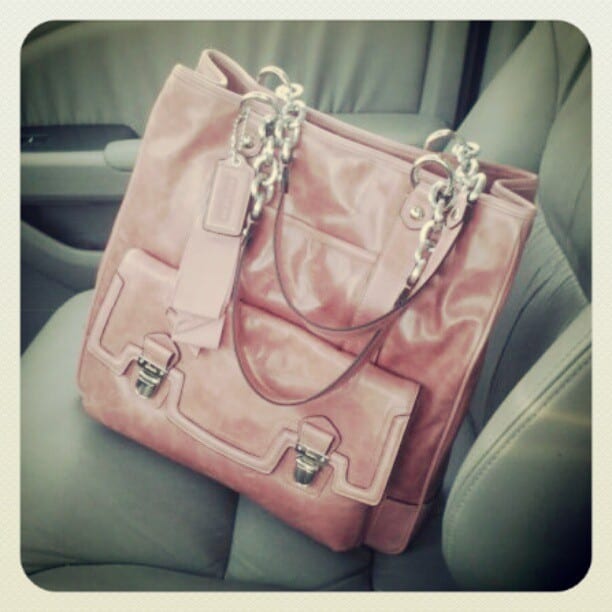 …
Just when I thought I knew about all the designer deal sites, I discover a new one.
Now, you'd think with my being on the eBay Parent Panel and all, I'd have known about Fashion Vault, eBay's designer deal site. But I didn't until just recently.
It's not looking good for my designer deal addiction. Or maybe it's looking really good…
…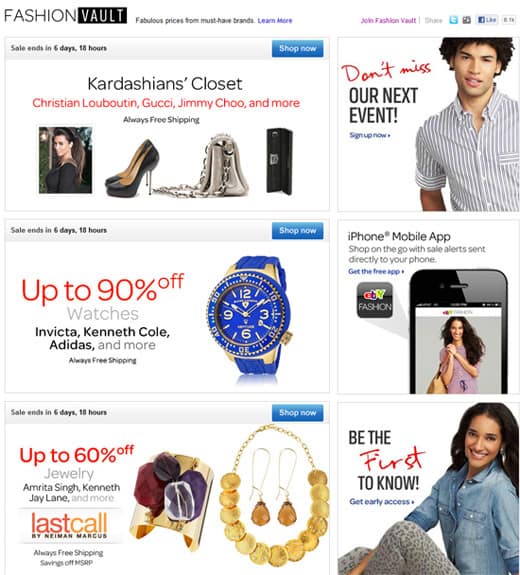 …
You better believe I registered as a Fashion Vault member (free) as fast as my little fingers could type. Now I feel all special because I get cool stuff like:
Early access to events.
Exclusive coupons and promotions.
Members-only secret sales.
Did you see what's on eBay's Fashion Vault this week?
No?
Scroll back up and check out the top left corner. Yep, the Kardashians' closet complete with Jimmy Choo, Fendi, Chanel and Christian Louboutin. If only the Burberry maroon patent leather heels, Christian Louboutin bow front leather heels, Fendi gray suede t-strap and pretty much every shoe pictured below weren't out of my price range already…dang.
I circled my faves just in case Nathan's feeling really guilty about that two-week "gelato in Italy, Les Miserables in London, streets of Paris" thing.
Maybe I can still snag the Chanel black dress on the second page.
Then again, it's already at $300 and not my size. Double dang.
Here are the Fashion Vault deets for members:
Top Designer Brands: Shop your favorite fashion brands—top designers, latest styles.
Exclusive Events & Promotions: One-of-a-kind events and blowout sales up to 85% off compared with retail or MSRP. Plus there's always FREE SHIPPING!
Limited Time: Events are held for a limited time and items sell out quickly.
Members-Only Secret Sales
…
Are you a member yet? Better get on it before I snag your favorite designer deal. I have been known to snipe a sale or two…
Disclosure: As an eBay Parent Panel member, my eBay-related posts are sponsored by eBay. My opinions, thoughts, views and love of buying and selling (basically selling so I can buy) on eBay are mine, all mine. And yes, I really do the eBay thing; check out my eBay seller ID: emihill.