Fettuccine Alfredo with Garlic Basil Chicken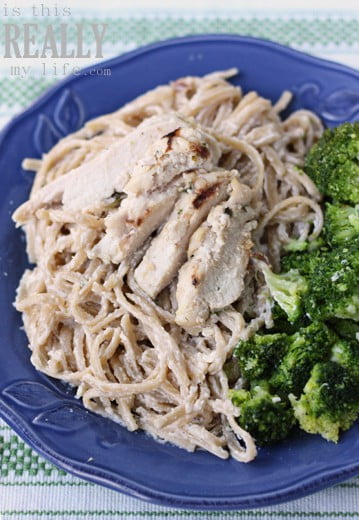 Author:
Emily ~ isthisREALLYmylife.com
3 T olive oil
1 to 2 T Gourmet Garden Basil Herb Blend (or 1 to 2 T fresh, chopped basil)
½ to 1 tsp minced garlic
2 whole boneless, skinless chicken breasts
½ cup salted butter
2 cloves garlic, minced
2 cups heavy whipping cream
¼ to ½ teaspoon pepper
Pinch of salt
½ cup grated Parmesan cheese
1 12- to 16-ounce box fettuccine or your favorite pasta
Use a meat pounder to flatten chicken so it will cook evenly (optional).
Combine all ingredients in a large Ziploc bag and marinate in refrigerator for at least two hours.
Cook chicken however you'd like (outdoor grill, indoor grill, stovetop, oven) until done.; slice and keep warm.
Bring a large pot of salted water to a boil.
Add pasta and cook according to package directions.
Drain but do not rinse and return to pot.
While pasta is cooking, melt butter in a medium saucepan over medium-low heat.
Add garlic, cream, pepper and salt and bring mixture to a simmer. Turn heat down if it reaches a rapid bowl. Add the cheese and continue simmering for 8 minutes or until thick, stirring occasionally.
Spoon pasta onto serving plates and top with Alfredo sauce, then sliced chicken (or toss all ingredients together and serve).
Feel free to substitute Parmigiano-Reggiano or Romano cheese for the Parmesan.
Recipe by
Half-Scratched
at https://www.halfscratched.com/fettuccine-alfredo-garlic-basil-chicken/